Remmick.Home.Site. CCC Camp Section. Page 17
Last Updated: 1 Aug 2000
Schooling In CCC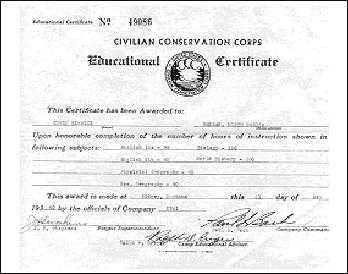 Edwin Remmick attended the CCC Camp School
and
recieved his educational certificate of the Civilian Conservation Corps.
The subjects he studied were:
English 11a
English 11b
Physicial Geography
Ecc. Geography
Biology
World History
Awared 31 May 1940
Signed by:
J. H. Stephens - Project Superintendent
Paul L. Bach - Company Commander
Ralph D. Criger -Camp Educational Adviser.
.
..
Return to Index Page of CCC

Return to Index Page of CCC