Remmick.Home.Site. CCC Camp Section. Page 38
Last Updated: 15 Aug 2000
The Crews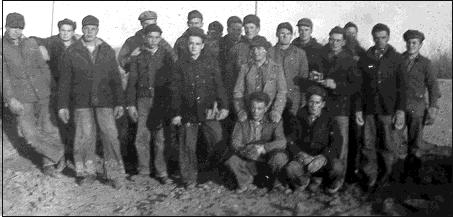 .
.
"The tents were set up for serving us hot lunches out where we were working during the day. Some days were pretty cold and we were happy to get anything that was hot," told Ed Remmick.
"How cold?" asked I, his daughter.
Sometimes 20 or 30 degrees below zero and that doesn't count for the wind chill, " Ed Remmick replied. Then he remembered one night when he took off his work boot and saw his big toe had turned black. He had frostbite. He was sent in the infirmary where he spent the next week where they nursed his big toe which he didn't lose. It wasn't long and he was back working. "Others wen't so lucky," Ed added, "some of the guys lost toes and fingers."
Return to Index Page of CCC

Return to Index Page of CCC
Return to Remmick.Home.Site.

Return to Remmick.Home.Site