Last Updated: 30 April 2003

Ochsner Family continued: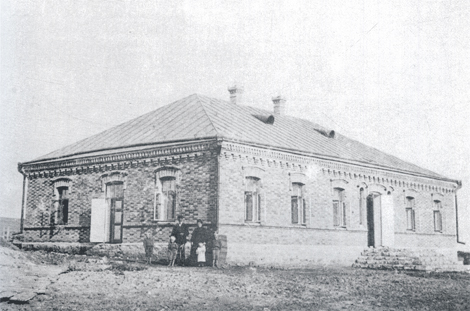 Ochsner Khutors
http://www.remmick.org/Remmick.Home.AOLSite2/Page13.html

Scroll down to "O" then to Ochsner Chutor section
See Photo of Peter Ochsner's Chutor Main House on Cover of AHGRS "Journal".
See Map showing positions of chutors north of the Black Sea Port of Odessa / Kherson Province, S. Russia [Ukraine].

Life on the Oschner Khutor by Cleon F. Ochsner [Small outline of original story] pps. 15-21:

Peter Ochsner, the younger bought 5,000 acres of land
Names his chutor "Podguriewka"
Became a breeder of Merino sheep and at one time held 15,000 to 20,000 head
Each flock of sheep was tended with a sheepherder

"...because the fathers of these rather sizable estates hired mostly native herders, did not mean the children, like my grandfather, were not expected to help. They had to learn the trade and worked alongside the employees."

Orchard held 250 fruit trees: apple, plum, apricot, cherry and peaches
Field crops were mainly: wheat, oats, barley, rye and some flax plus the hay needed for the animals
Bought new implements and machines from Germany, other European countries even a John Deere from the USA
Horses and oxes were used for the heavy work
Harvest time was very important time for everyone. The women prepared the food for canning, drying and pickling. Some fruit, like apples, would be stored for a longer period of time in the cellars. The preservation of some fruit was turned into liqueur such as Schnapps and vodka....
Another profitable source of income came from the manufacturing of "high quality brick".

"The kilns had a capacity to produce about 24,000 bricks at one time."

There were separate dwellings for the families who were permanent workers on the property. There was a large building ("dormitory style") for the single men, "who were not allowed to bring their families" and dwellings just for families who were allotted some land for their garden, cow and whatever they wish to raise in their space.

Later, Jakob Ochsner bought 800 acres of land from a widow. Name is not given.
As you can see by the photo the main house was built with brick and often rooms were added as needed until the "abrupt stop to any plans" occurred in 1917 and the Russian Revolution.
An inventory was taken (date not known):

12 rooms brick house with metal iron roof, double ceiling with wooden floors
Storage building of brick, iron roof, brick floors with 3 large rooms, 2 cellars
Servants brick building that served as a kitchen with iron roof, brick floor, attic and 6 rooms
Storerooms that contained the blacksmith and carpenter's shops plus storerooms
Large brick stable with separate stalls for carriage, riding, trotting and draft (heavy working horses), plus an area for wagons, carriages, harnesses and other equipment...
The younger horses had a stone building that was divided into two rooms with a thatched (earthen) roof...
Stone cellar with iron roof and brick floor
Ice house with thatched roof
Servant dwellings (number not given) but mentions some with two, four and five rooms
Machine shop which was open air with two by fours holding up a timber roof for protection
Well for animals
Brick hen house with three rooms
Brick pig house with three rooms and a shingle roof
Brick cellar for lime
Orchard [250 fruit trees] with a park
Pond with embankment

At some point in time, a large barn was built for the "German Red Cows" and bulls plus corrals....
Not noted in the inventory was the family well which was used just for the family.
Trees in the park would have been oaks, acacias, poplar and a grove for different nut trees.
House staff:

Cook and assistant cooks
Maids who did housework, tended the chickens and geese

For some reason the inventory does not mention the brick house which had been built for the aging parents who wanted space of their own...