Last Updated: 21 April 2007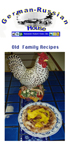 GRAPES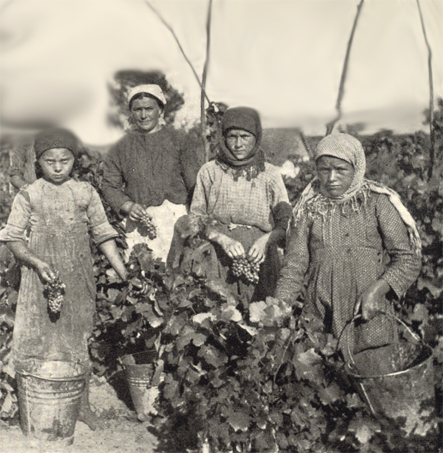 German-Russians Picking Grapes in Besssarabia
Variety of Grapes Found In Georgia
WIKIPEDIA: http://en.wikipedia.org/wiki/Georgian_wine
Grape varieties in Georgia
Traditional Georgian grape varieties are little known in the West. Now that the wines of Eastern and Central Europe are coming to international awareness, grapes from this region are becoming better known. Although there are nearly 500 to choose from, only 38 varieties are officially grown for commercial viticulture in Georgia:
* Rkatsiteli (white) is a variety that is so widely grown in Eastern and Central Europe that it ranks third in the world in hectares grown. It is the most important grape varietiy used to make Georgian white wines. It is high in acidity and is capable of producing wines with fine character.
* Saperavi (red) produces substantial deep red wines that are suitable for extended aging, perhaps up to fifty years. Saperavi has the potential to produce high alcohol levels and is used extensively for blending with other lesser varieties. It is the most important grape variety used to make Georgian red wines.
* Mtsvani (or Mtsvane) (white) is also important in Georgian wines, and is often blended with Rkatsiteli to which it adds a fruity, aromatic balance. In the Georgian language Mtsvane means green.
* Alexandrouli (Alexandreuli,Alexsandrouli, red)
* Alexandria
* Tsolikauri (white)
* Tetra (white)
* Mujuretuli (red)
* Ojaleshi (red) is cultivated on the mountain slopes overhanging the banks of the Tskhenis-Tskali river, particularly in the Orbeli village and Samegrelo district (Western Georgia).
* Usakhelauri (red) is cultivated mostly in the Zubi-Okureshi district in Western Georgia.
* Izabela (red)
* Tavkveri (red)
* Asuretuli (red)
* Cabernet Sauvignon (red)
* Aladasturi (red)
* Tsitska (white)
* Khikhvi (white) is grown in Kardanakhi.
* Dzvelshava
* Krakhuna
.