YELLOWSTONE COUNTY by Richard R. Hein was written and coyprighted in 1979.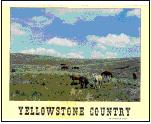 The cover "the grassland and Big Sky photo, courtesty of the Pacific Power & Light Co", Montana, USA.
Preface: He wrote: "This story covers one hundred years of history, plus comments of the times before and after. I will write about fifty years of stories as told to me by the old timers, my grandparents, my parents and friends of the family, of the Indian Wars, buffalo hunting, the cattle barons ....the Indians, the droughts and the killer storms."
Page 5 -"I am starting with a very cold day in December just before Christmas....and I do fel I was Welcome because I was the second-born of ten," [living children], " the first boy, so I was a Christmas present. However, when visiting Mother she stated I had a close call, as my sister Maggie offer to trade me for a goat to the neighbor."
His father, now Richard, owns one of the earlier brands of the old west. It is the waling Y , lazy V purchased from Robert Olson. [p. 122]
173 Pages