Frederick Hoffer I sons: A Story of Escape from Russia in 1899. Hoffer Genealogy. Remmick-Hubert Home Site
Hoffer Page 3 continued

Escape From Russia
See more information on Schauer Family Bottom of page.....
When Jacob and Anna Maria Schauer migrated to the United States in 1899 they agreed to take the three Hoffer boys, Friedrich, Jacob and John, who were without proper papers. This was a great risk for the Schauer family. But, they pushed the risk aside and the Schauers and the Hoffer boys, took the train west and toward the Russian border.

When the Hoffer boys were reported missing by the local authorities in Neudorf / Od. S. Russia, work was sent out to the officials. When the officials searched the train for the three missing Hoffer boys, they looked everywhere the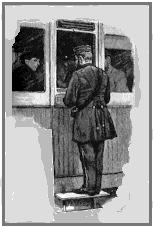 boys would hide to avoid detection. None of them paid any attention to the Hoffer boys who seated with the Schauer family, which was quite large, six children, and had their officials papers.
This is what Jacob Hoffer 's family wrote about the escape from Russia:
" Jacob Hoffer came to America with his brothers, Fred and John when he was sixteen years old. The three brothers traveled with Mr. Jacob Schauer and family, as sons of Mr. Schauer's brother. A Mr. Schmeier also helped the boys to leave Russia by destroying any evidence of their true identity: even to tearing out fly-leaves on which their names were were written, in the books they happened to have. When the conductor on the train came looking for three Hoffer boys who were reported as having left the village, Mr. Schauer answered his queries with the statement that there was no one in his group by that name. The conductor peered under seats of the coach to see if the boys were hiding anywhere. But were they sitting on the seats. After arrival in America, the boys resumed their own last name."
p. 182 Tappen 1878-1966/
To the Schauer Family we, descendants of Friederich, Johna and Jacob Hoffer give you our SPECIAL THANKS!
Schauer Families
Jacob and Anna Maria, nee Kneckht, Schauer
Jacob and Anna Schauer

Johan Jacob Schauer and his wife Anna Marie, nee Knecht.
Mr. Jacob Schauer, Sr., son of John and Magdlena Schauer , b. 2 Nov 1845 Neudorf, S. Russia d. to m. 4 Nov 1869 Anna Maria Kneckht of Hoffnuntsal / Zebrego, S. Russia. They lived in Neudorf until they migrated to USA in 1899. Issue:
Christina Schauer m. John Schwarzwalters of Streeter
Magdlena Schauer m. Christof Rau of Russia
John Schauer of Streeter
Emanuel Schauer m. _____ Ketterling. Lived in Dawson.
August Schauer of Dawson
Jacob Schauer of Bismarck
Ruth, nee Schauer, Davison, R-60 wrote: Jacob was Johann Jacob Schauer b. 3 Nov 1845 Neudorf d. 3 Jan. 1847 m. 11 Feb 1869 in Gluestal / Od. to Anna Maria Knecht b. 29 Aug 1848 Hoffnunstal/ ___, Russia d. 15 oct 1924 Streeter, ND, USA. He is the son of Johannes Schauer and Magdalena Deschler..

His grandfather's data:

Johann Friedrich Schauer b. 22 Feb 1770 Pommern, Prussia married twice. m. (1) Dorothea Henriette Low b. 15 Jan 1762 Birkenau, Hesse, Darmstadt, Germany, dau. of Johannes Low and Elizabeth Catharina Erhardt and m. (2) Anna Ladner b. 28 Nov 1789 Seewis, Graubunden, Switzerland, dau. of Johannes Ladner and Ursula Davaz. . The second wife was Jacob's granddmother.
#1 Christina Schauer b. m. 11 Feb 1892 to JohnSchwarzwalter, son of Andrew and Dorothy Schwearzwalter, b. 11 July 1873 Neudorf / Od. S. Russia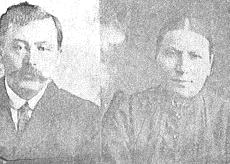 Issue:
John J. Schwarzwalter of Streeter b. 27 May 1893 m. Matilda Pfiefle
Mary Schwarzwalter m. Adolph Eisenbeis of Streeter, ND
Eva Schwarzwalter m. John Graff of Jamestown, ND
Walter Schwarzwalter of Streeter, ND
Emilie Schwarzwalter of Streeter, ND
Ester Schwarzwalter m. Emil Wieland of Streeter
Martha Schwarzwalter
p. 69 Streeter, ND Book
#3 John Schauer b. 5 Sept 1883 Neudorf, S. Russia m. Fredricka Enzminger.
Issue:
Ida Schauer
Anna Schauer
Emil Schauer
Adam Schauer
John Schauer, Jr.
Anton Schauer
Reuben Schauer
Iona Schauer
Harry Schauer
Fred Schauer
p. 55 Streeter, ND Book
#4 Emanuel Schauer's Family

Row One: Anna, Gilbert, Richard, Melvin, Ted, Lydia, Bertha,

Row Two [front] Vernon, Ruth, Emanuel, Mrs. Schauer [nee Ketterling], Magdalnea and Emelia
See Schauer Web Site: http://homepages.msn.com/HobbyCt/ve7eji/index.html
includes Hieb Family information.
Andrew Schauer and Anna Martie Burr Photograph is their 50th anniversy fr. Ruth M.Schauer, Davison.
21. Jacob Karl Schauer #2157 (11.Carolina3, 4.Jacob2, 1.George1) b. 17 Jun 1877, Neudorf, Odessa Co., South Russia, m. 8 Feb 1900, in Neudorf, Russia, 20 Jan 1900, Karoline Hoffer #2159, b. 30 Nov 1877, Neudorf, Odessa Co., South Russia, (daughter of Theobald Hoffer #2360 and Anna Marie Eberhardt #2361) d. 23 Mar 1934, Regent, ND, USA, buried: Tepee Butte Cem., ND. Jacob died 8 Mar 1948, buried: Amboy, Lee Co., IL, USA. Arrived in USA 29 Dec. 1907 at New York on the vessel Blucker. Certificate No. 332849 St. Petersburg records give marriage date as 20 Jan 1900, Neudorf.