Hubert Families who migr. to Perjamosch /Banat, Austria-Hungary
Last Update: 3 Sept 2002
Huberts in Oberkirch / [Landreis] Offenburg, [west of Freudentstadt], Baden-Wuerttemberg
Important notes and dates of the village of Oberkirch:
Location:

northeastern Ortenaukreis which is on the ede of the Black Forest
Rench River flows through the village
18 km fr Offenburg
75 km from Karlsruhe
75 miles fr Freiburg
population is under 19,000 in year 2000
the following villages are in 2002 part of the city of Oberkirch:

Oberkirch, Bottenau, Butschbach-Hesselbach, Zusenhofen

History

recorded in the 11th century as the headquarters of the Dukes of Zaehringen
1303 ownership was transferred to the Bishop of Strasbourg
1326 the village was granted a charter (Stadtrecht)
1618-1648 Thirty Years War

Swedish troops occupied the village

1649: village was burned when the Sweds left the village
1650-1668: Johann Jakob Christoph von Grimmelshausen lived in Oberkirch from 1650 to 1668 and wrote "Simplicius Simplicissmus"
the ruins of the fortress of Schauenberg is located above the village which has a view of the Rench Valley and the Rhine Plain
1747: Huberts migr. before 1748.....
1803 village came under the authority of the Grand Duke of Baden

Catholic Parish information

very old Parish
Mother Church was Nussbach
records from 1647 to 1900 are in the LDS family centers

Lutherans became part of Oberkirch from 1604-1664

Evangelical parish not established until 1862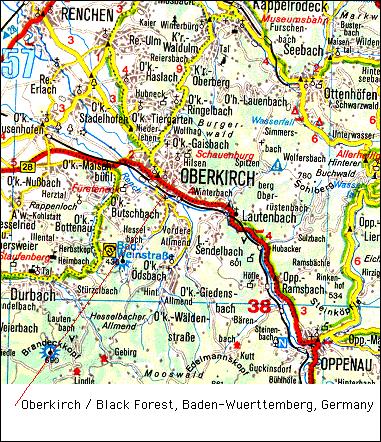 *Hubert from Oberkirch / [Black Forest], Baden-Wu.
Looking for the birth place of the Perjamosch / Arad, Banat, Austria-Hungary [Rumania] colonists Franz Xavier Huber[t] ....
The following is a list of possible places:
*Hubert from Oberkirch / [Black Forest], Baden-Wu.
Hubert from Luxemburg to Beschenowa.... Austria-Hungary

Hubert from Serrig / Saarburg in Saarland [n. Trier]

Huber [Hubert] from Schwarzenholz / St. Wendel

Hubert [Hiubert] from Urexweiler / St. Wendel, Saarland
A Hubert [no first name given] is listed as having migr. from Oberkirch which is east of Saarland.
The reason I've taken time to mention this village is because of an old family story which claims the Huberts were from the Black Forest and were Saxons.
In the history of a village just north of Oberkirch is Sasbach which may have been an early settlement of the Saxons. During the Thirty Years War troops from Austria marched into the area and 27 July 1675 the French General Turene was killed near Sasbach.
During this occupation of the Austrians, some the Huberts may have fled west to Saarland or some of the Hubert may have joined the Austrian army.... There is a tale that the Huberts were horse traders... Troops needed horses during a war..... A good business to be a part at that time.
At this time, all we know is Franz Xavier Huber[t] migr. from a German state and arrived about 1747 in Perjamosch / Arad, Banat, Austira-Hungary. He wold marry Marie S. Fixmer who was b. in Schemlingen, n. Merzig, Saarland.
If anyone has any farther information please contact me:
Record of the family of Franz Xavier Huber[t] and bride Marie S. Fixmer, who migr. to Perjamosch / Arad, Austria-Hungary about 1747.