29 July 2011

Luncheon 30 July 2011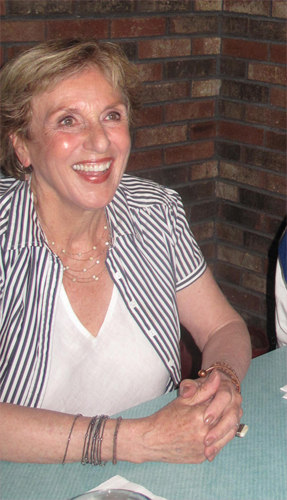 Shirley Savig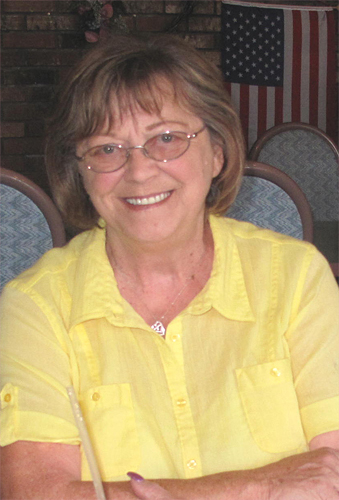 Cheryl Reutter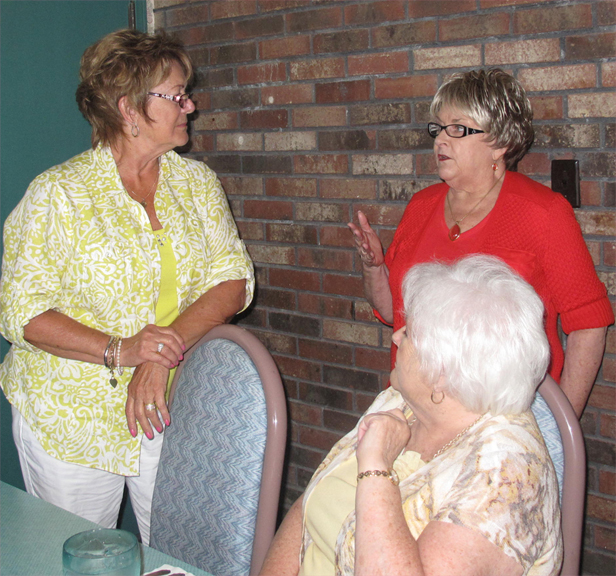 Lynette Walther, Kay Rozir and Janice Woehl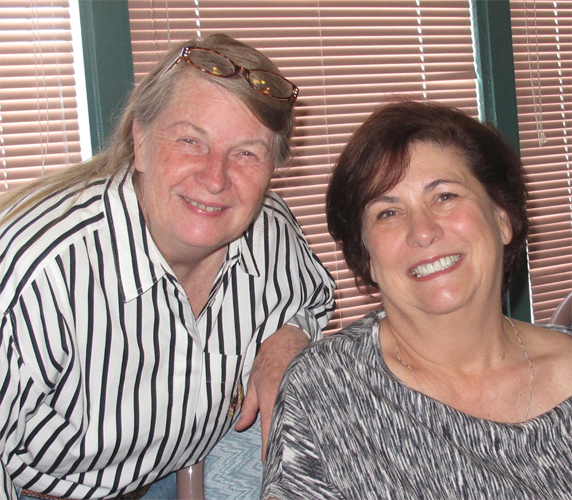 Judy Remmick and Elvera Thornsberry
Ladies Luncheon #18
From Marxha Sanger
Twenty-one classmates attended our 18th "Class of '60 Ladies Luncheon" at Dee Dee's in Lodi.
Those in attendance were: Diane Becker, Patti Bender, Sharon Christopherson, Gayle Deutscher, Marlene hunter, Marcie Lowe, Marilyn Ostermann, Norma Petersbon, Margaret Phipps, Annette Reiswig, Judy Remmick, Cheryl, Reuter, Kay Rozier, Marsha , Shirely Savig, Mavis Seiber, Elvera Thornesberry, Lynette Walter, Kathy Welsh, Jane Woehl and Janice Woehl.
Emiles of regret...
We had a new commer at this gathering, Marcie Lowe, who now lives in Turlock. I was sending the reminders/ updates to the wrong e-dress. So, once that I got the correct e-dress in my files, Marcie was the first one to respond, "OF COURSE I'll be there". I wonder how many others I've messed up on their e-dresses? Mea Culpa! She's off to NH in October, but hopefully she'll be back soon.
Mavis said that since our last gathering, her husband, Jimmy Barker, our classmate, had a stroke. He's home now and hopefully getting stronger each day. So, she has been very busy being a full-time caregiver.
Patti Bender shared that she just returned from a trip to NYC and Washington D.C., and took in all the sites. Margaret Phipps just returned from a 4,000 mile trip to the mid-section of our country. Annette Reiswig and Shirley Savig went to Portland recently, but not together, but both had a fun time. Marilyn Ostermann went to China Last month with an OAT tour and reported that it' quite a modern place. When I was there 29 years ago, I recall bicycles and water buffaloes and modern wasn't a word in their vocabulary.
Marlene had to leave early; so early that I didn't get a photo of her nor did she have her 2 minutes of "Show 'n Tell". Norma is busy settling "Mettler corn" at the Farmer's market on Thursday nights. Elvera, Kathy, and Lynette reported that they're wonderful and keeping busy with their families! Judy went to Santa Catalina on a business rip. Cheryl is a new deacon at church.
Diane Becker is leaving for a tour to Europe next week, Gayle is heading to Tahoe, and janet and Janice are driving to Seattle next month to attend an outdoor wedding. Sharon is the #1 "texter" of our troup keeping in touch with all of her family! We're definitely in the midst of some very active folks.
Our classmates who attended Houston School are having a reunion on August 6, 2011. Contact Dianne Cooper Brown for information about this event.
On a sadder note, Mavis reported that we've lost five classmates so far this year: Siegfried Stutz, Sandy Capis, Bill Cawelti, Joan Daly and Jane Morgan.
Our next gathering will be Friday, October 29, 2011.
Do let me know ahead of time if you'll be able to attend, as I need to call in a number to the r restaurant. I'll send out a reminder a month or so in advance.
Enjoy each precious day, and I hope to see/hear from you soon. Stay HEALTHY, SAFE, and HAPPY and hope to see at our next gathering. Enjoy life; it does have an expiration date!
TTFN
Marsha Sanger