Last Updated: 6 Nov 2009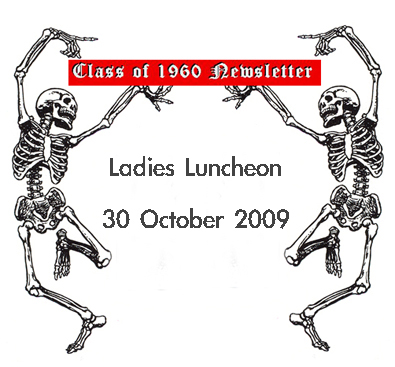 Class of 60 Ladies Luncheon Update - 30 Oct 2009
From:
Marsha Sanger <jfgrins@hotmail.com>
To:
Date:Tue, Nov 3, 2009 10:52 pm
Update for: "Alive and 65" or ....whatever
Class of 1960
Ladies Luncheon
October 30, 2009
Twenty-one classmates attended our 11th "Class of 60 Ladies Luncheon" at Dee Dee's in Lodi. You're all so wonderful for attending, or else I'd be there all by myself! You are appreciated!
Two first timers (*) joined us: Sharon Tutt and Norenna Wagenman. Please come again!
Those in attendance were: Patty Bender, Barbara Boepple, Sharon Christopherson , Gayle Deutscher, Geri Giannoni, Janie Keir, Judie Keir, Carla Norris, Norma Peterson, Margaret Phipps, Annette Reiswig, Judy Remmick, Cheryl Reutter, Marsha Sanger, Mavis Seibel, Sharon Tutt *, Felis Urrutia, Norenna Wagenman *, Lynette Walther, Janice and Janet Woehl.
Emails of regret, but tell everyone hello, came from: Kathleen Banegas, Jeraldine Best, Judy Bouska, Carolyn DeVinny, Shirley Feiock, Claire Fujita, Marjorie Garrison, Claudia Handy, Dona Holmes, Jeanette Holmquist, Linda Kundert, Joyce Leventini, Sandy Lind, Carolyn Marshall, Sydney Matts, Georgia Maul, Judith Nave, Etna Nicewonger, Marilyn Ostermann, Maxine Schaffer, Donna Schumacher, Madeline Terrell, June Truelock, Lynette Weidner, and Sue Welby.
We had our "Two-minute-show-and-tell" with each classmate participating. Thanks, everyone, for being such good sports, and sharing your latest adventures, recipes, remedies, reminders, etc.
Thanks to Patty Bender for bringing a basket of decorated "treats" for us to munch on. Many dressed in Halloween/Fall colors. Thanks all for being such good sports.
The place radiated with smiles and so many happy, good-looking members of our Class of 60. It was just such "good medicine" to see so many classmates.
Thanks to Judy Remmick for taking photos of those who gathered. I too took photos, but that's the easy part. From there I seem to lose interest. I will try to upload them and send them to you. I'm sure that Judy will get the job done in a more professional and timely manner.
It was reported that Corky Veit is now home and doing well. He didn't have the scheduled kidney operation, as last reported, but it was discovered that he had internal bleeding due to a fall.
There is no "next assignment", other than just to stay healthy, be happy, and scatter joy each day.
Please forgive me if I forgot to mention someone; it's not intentional, but rather I just don't always write things down, and if I do, I then must retrieve the paper ...... and well, I hope you know how THAT goes. Please also let me know if I'm spelling names incorrectly.
Our next gathering will be Friday, January 29, 2010.
Do let me know ahead of time if you'll be able to attend, as I need to call in a number to the restaurant. I'll send out a reminder a month or so in advance.
Enjoy each precious day, and I hope to see/hear from you soon.
As you can see, I found a new option on my computer to change the color. I could always find it on my hotmail account, but I'm just now finding it on my "new" Mac.
Stay HEALTHY, SAFE, and HAPPY and hope to see at our next gathering.
TTFN
Marsha Sanger
jfgrins@hotmail.com