Last Updated: 2007-8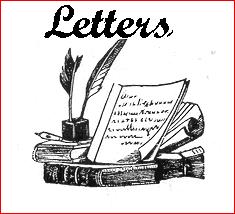 Letters 2007-2008

GERALDINE PERMAN
#1
Kibler, Geri K <KiblerG@sutterhealth.org
Date:
Mon, Apr 30, 2007 2:27 pm
DEAR JUDY, THIS IS A NAME FROM YOUR PAST. YOU MAY, OR MAY NOT REMEMBER ME... BUT I WAS A YEAR UNDER YOU AT WOODS SCHOOL. MY VERY BEST FRIEND FOR MANY YEARS, HAS BEEN DOLORES GRIBAUDO COOPER. WE WENT TO NURSING SCHOOL TOGETHER. I ATTENDED WOODS SCHOOL FOR 8 YEARS (1st. thru 8th). THERE WAS NO KINDERGARTEN WHEN I STARTED SCHOOL. DOLORES SHARED HER PICTURES WITH ME. AND WHEN I SAW YOUR YOUNGER PICTURE, I IMMEDIATELY THOUGHT OF BOTH YOU AND ROSELLA. YOU AND SHE WERE ALWAYS TOGETHER, AND I FELT AT THE TIME, THE BEST OF FRIENDS. I WAS SO SORRY FOR HER, AND ALL HER LOVED ONES - FOR THE MEDICAL SITUATION SHE HAD TO ENDURE. WITH YOU BRINGING UP ALL THOSE NOTES, AND PICTURES, I STARTED TO GO INTO SHOCK AT ALL THOSE FAMILIAR MEMORIES/THINGS ABOUT OUR YOUTH. I WAS ALSO SO PLEASED... THANK YOU SO MUCH... THE BOY (YOU HAVE LISTED AS SPENCERS FRIEND) IN THE WOODS SCHOOL PHOTO, WAS BRADLEY LITZ... IN YOUR 7TH GRADE CLASS PHOTO, THE # 29 IS KENNEY WEBBER. AND THE # 25, THE TEACHER, IS VIRGINIA BELT. SHE WAS MY 5th. GRADE TEACHER. 1st. WAS MRS. LOVELL... 2nd. WAS MRS. STEVENS...VERY STRICT... 3rd. WAS MRS. VOLBRECT (VERY MILITARY)... 4th. WAS MRS. HANDLE...VERY OLD!! 5th. WAS MRS. BELT,(( AND OUR CLASS WAS IN THE SCHOOL AUDITORIUM THAT YEAR/SPLIT THE AUDITORIUM IN 1/2 WITH THE 6th. GRADE/RE-MODEL I THINK...)) 6th. WAS MR. BORIACK... 7th. WAS MR. JANICULA...WHO TALKED US TO DEATH ABOUT SEX, BIRDS AND BEES... AND 8th. WAS MR. DENMAN... WE WERE THE 1st. CLASS TO GO THRU THE 2 HIGH SCHOOLS... ANY WAY, MY NAME IS GERI KIBLER... YOU KNEW ME AS GERALDINE PERMAN... I HAVE BEEN AN R.N. FOR 42 YEARS!! THANK YOU AGAIN SO MUCH. IT WAS A WONDERFUL WALK DOWN MEMORY LANE, SO TO SPEAK... MY ONLY e-mail IS THE ONE LISTED AT THIS TIME. WOULD LOVE TO HEAR FROM YOU NOW AND THEN... TAKE CARE OF YOURSELF... GERI...
#2
RE: HIGH SCHOOL/'61/ MEMORIES/WOODBRIDGE/THANK-YOU, THANK-YOU, THANK-YOU...
From:
Kibler, Geri K <KiblerG@sutterhealth.org>
Date:
Thu, May 3, 2007 1:37 pm
JUDY, HI... I JUST GOT BACK FROM LUNCH... THIS, AS YOU MAY HAVE DISCOVERED, IS MY WORK PLACE e-mail... I CURRENTLY DO NOT HAVE PERSONAL e-mail... SOON, HOPEFULLY. BUT THIS WORKS!! EXCUSE ME, BUT I USE CAPS, AS IT IS EASIER FOR ME... SO, I AM NOT "SHOUTING"... YEP, I'M AT WORK!!! DARN, DARN, DARN!!! ONE DAY I WILL BE RETIRED, BUT YOU KNOW THOSE OLD NURSES... NOSE TO THE STONE... YES, PLEASE SHARE MY CURRENT e-mail ADDRESS, AND NOTES... THAT IS GREAT. ALTHOUGH, I AM "A YEAR YOUNGER, BEHIND" YOUR CLASS, I DO REMEMBER ALOT OF DETAILS... ESPECIALLY OF WOODBRIDGE. MY YEARS AT LODI HIGH WERE MISERABLE ONES. I CAME FROM A VERY RELIGIOUS FAMILY, AND WAS VERY RESTRICTED/HELD BACK/FORBIDDEN - TO DO ANYTHING... I REMEMBER ROSIE MORE THAN YOU IN THAT SHE WAS 'LOUDER"... I SAY THAT IN FUN, AND LOVE, OK?? SHE WAS, OR RATHER HER PARENTS, WERE BEST FRIENDS OF MY AUNT AND UNCLE... SO AT FAMILY FUNCTIONS WITH THIS PATICULAR AUNT, I WOULD SEE THEM... ROSIE DIED FROM MULTIPLE SCLEROSIS, WHICH WAS SO, SO HARD FOR HER SINCE SHE, LIKE YOU, WAS SO ATHLETIC, AND MOVABLE, AND ACTIVE, AND A BEAUTIFUL PERSON... SHE WAS VERY YOUNG, BUT ALREADY MARRIED, AND A MOTHER... YOU MAY BE RIGHT, IN THE RELATION PART. MY HERITAGE IS FROM THE UKRAINE ALSO, NURDORF, SOUTH RUSSIA.... OUR GROUP/ COLONY WERE REFERRED TO AS THE "BLACK GERMANS". MOST CAME TO AMERICA IN 1908 *(ON THE BATTLE SHIP, KAISER WILHEIM, DER GROSSE'), OR IN 1912 *(ON THE ROYAL CROWN PRINCESS CECILIA)*... SMALL WORLD, ISN'T IT?? HAD WE ONLY KNOWN IN GRAMMER SCHOOL, WHAT WE KNOW NOW!! BUT I KNOW THIS IS OUR AGEING THING, AND MATURITY... I HAD VERY LONG HAIR, WORE IT IN A 'CORK SCREW' PONY TAIL, HUNG AROUND WITH JUDY KOSAKA, AND CLAIR COHEN, AND XELPHO ASHLOCK... I WAS A BOOK WORM, VERY OLD FASHIONED, OVERWEIGHT, MADE FUN OF, AND BULLIED BY DICKIE HANDLE... NOT MUCH FUN, HUH??? BUT YOU KNOW, NOW I AM PROBABLY ONE OF THE MOST STRONG (MENTALLY, AND PHYSICALLY), WELL ADJUSTED,WORLDLY, STREET WISE, YOUNG-AGED, MATURE - 64 YR. OLDS YOU WOULD WANT TO KNOW!! AND BEING A NURSE FOR 44 YEARS, PUTS ONE IN A CATAGORY ALL TOGETHER DIFFERENT... THEY DO NOT!!, AND I REPEATE - DO NOT MAKE NURSES FROM OUR MOLD ANY MORE!!! AS YOU CAN SEE, CHOPPY, INTERRUPTED CONVERSATION... *(HA, WORK GETS IN THE WAY)* THANKS AGAIN FOR THAT WONDERFUL WALK DOWN THAT 'MEMORABLE LANE'... TAKE CARE OF YOURSELF, AND THOSE YOU LOVE, GERI...
KiblerG@sutterhealth.org

Hi Judy
Hey don't want to complain. but - - - - - my email is showing mine changed a year ago.
Was: buscons@sbcglobal.net
Now sarawarr@att.net 4-08
Please change this for me.
Also, is it really true that the memories page hasn't been updated since Feb. 2006? I don't hear much about what our classmates have been up to, but I love to keep tabs on things.
Thanks
Marjorie Garrison
----------
---
Letters 2008

Hi All,
I'm awufully busy and will be for the rest of the year and probably through 2009. We're adding a in-law unit onto our house because my parents are going to be living with us. They no longer can drive, my mother has heart problems and my Dad has Alzheimer. If you want to view what's happening, , take a look at my HOUSE CONSTRUCTION DIARY which you can find at:
http://web.me.com/remmick/Diary.Of.Construction/BeforePg1.html
Judy A. Remmick.-Hubert

Mike Zeitner <mjzeitner@comcast.net>
To:
RemMick@aol.com
Date:
Tue, Aug 5, 2008 12:49 pm
Hi Judy -
Thanks for reconnecting! Also thanks for the link you sent in a separate email. I'll see if I can populate it with my recent photo, etc. It seems when we reach a certain "age" that we start remembering our old friends even more. To answer your question, yes - it's OK to add the info I sent to the LUHS website. If I recall, the last time I saw and met with Pat it was when I lived in Santa Clara in 1966 after I returned from the service. He was working for the telephone company at the time. I was in touch with Stan Melchor for a time back in the mid eighties - he seemed to be doing well.
I would like to touch base with Mike Haney if you know where he might be these days.
Thanks again Judy. You have an awesome site!
Mike
-----
Mike Zeitner <mjzeitner@comcast.net>
To:
remmick@aol.com
Date:
Sat, Aug 2, 2008 8:55 am
Hi Judy -
Saw that you have recorded Brian Pietzke as deceased - thanks! I also connected with Jerry Bartells a couple of years ago. He was living in Wenatchee, WA at the time, however a websearch doesn't list him there any longer.
Can you send me the private URL so I can see what I've been missing? Also, feel free to use any of the previous email info that I sent earlier for an update - We also have three sons, all living within ten miles, each have two children (four girls, two boys).
Do you know of a website for LUHS class of '62? (from Linda)
Thanks!
Mike
-----
Hi Judy
From:
Mike Zeitner <mjzeitner@comcast.net>
To:
remmick@aol.com
Date:
Sat, Aug 2, 2008 8:31 am
Hi Judy!
I just wanted to contact you with my new address & location so I can stay up to date on the "class of '60". I've just retired after nearly 40 years as an engineer, and am now starting a second career as executive pastor at our church in Tacoma, WA.
Also wanted to let you know that I was talking yesterday with a new member of our church whose last name was Pietzke, so naturally I asked her if she was related (through marriage) to Brian Pietzke who I graduated with in '60. Brian and I hung out together along with Joe Reiswig and Pat Alexander whom I have lost track of. She told me that her husband Bob's cousin was Edgar Pietzke, so I looked him up on the internet, found he had passed away, and then tried Brian - only to be saddened by his obituary whic I attach here in case you need to update your records. By the way - if you know the whereabouts of either Pat or Joe, please forward them on to me.
Sorry I have not been keeping in touch over the years - I missed the 40th in 2000, but was able to reconnect with Dave Cristofani in Reno for "Hot August Nights" which was great!. We will probably try to do that again in 2010. Here's my contact info for home and also our "GenX" church website where you will find my wife Linda (class of '62) listed under "Staff". Linda and I fell in love when she moved to Lodi with her family in my last year of school, then they moved back to LA. I remember commuting back and forth between Lodi and LA during my first year at Delta College. I joined the USAF in October of '61 and we were married on December 29, 1962 right in the middle of the Cuban missle crisis. We have been together for 45 years and feel like we could go another 45 if the Lord would allow it.
Your friend,
Mike Zeitner
6200 Soundview Drive
Q103
Gig Harbor, WA 98335
(253)851-3519
www.tacomafoursquare.com

As soon as I have time, I'll post e-mails but at this time they are going to the AOL saved folder.
Judy A. Remmick.-Hubert
remmick@aol.com
------