I am sorry to say, this newsletter will be the smallest we've ever had. I greatly appreciate those who did respond. Also, let me add that I've lost e-mails from some of you newbies, so,. please, write, again so I can add you to our list of classmates. One of our classmates was part of a production of a movie for the big screen.... He'll have to come forth so we can reconize him. Lost mail and poor memory doesn't help to remember who you were. Those who did not write, I can fully understand. My life has been hectic, too. The building, which I call my studio, is sliding down the hillside and a new foundation has to be established or a new building is built.... Yep, it'll cost $$$. Therefore, all my books and old computer which I use for my web sites are all packed in boxes. So, I have no idea where anything is because it was all packed in great haste..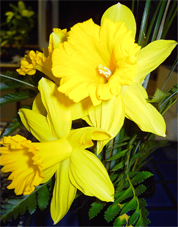 Planted about 100 of these giant daffodils last fall.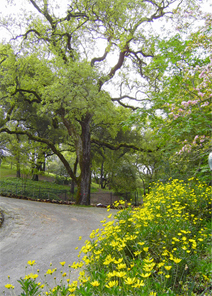 This is a view which a person sees when looking up our driveway.
When I start unpacking I'll find our old annuals and add photographs of our most recent classmates who have added their names to our list of contacts

One would think after almost a year that that I'd have so much to add that I'd be jabbering away but much of this last year has been routine, dull kind of stuff. For example, this month most of my time is given to the garden such as getting rid of weeds , caring for the perennials and planting annuals. Here are a few photographs taken in my garden.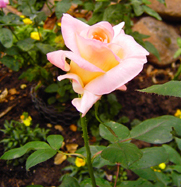 Peace Rose Bud is my old favorites.
Since we're on the shady side of the hill [north side] and live in an oak grove, the sun light isn't really good enough for roses but I planted about 50 anyway. Last year, as you probably remember, the gophers, which are huge, ate the roots of about 15 of them..... What a time I had trying to get rid of those critters. Well, I didn't rid of them, I just stopped the ones living around my roses.
I started about five from slips and they are about to bloom.
Write and tell us about your own garden or your own hobby.
This is the first rose bush, Angel Face, which blooms in it's splendor in the spring.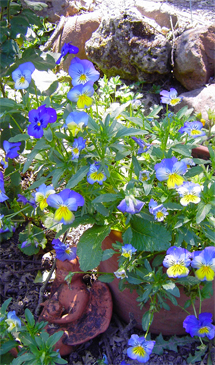 The violas bloom during the winter and into spring.
-
-
-
-
Remember, I do not accept e-mail that I don't reconize, so, if you want to get my attention, please write "Lodi" on the subject line.
Speaking of critters, a couple of weeks ago I noticed our new pup, Comet, another Golden Retriever, was hanging around the upper fence.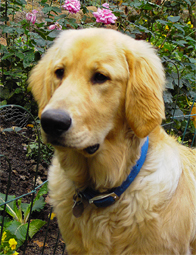 Comet
I walked up to the fence and on the other side was a corpse of a wild turkey. The tall grass all around it was knocked down. One could tell the turkey didn't give up his life easily. A large portion of the bird had been eaten. The next morning, as I sat having my morning hot chocolate, I saw an adult coyote and several pups headed toward the area I had seen the dead bird. Several days later all that was left as evidence were some feathers. I was surprised that even most of the feathers were gone. For the next week, our cats didn't go far from our garage.
Back to the new pup Comet. We lost the red Golden Retriever, Kodiak, last July to a blood disease. Terrible death. Anyway, before we knew what happened, he was dead in the arms of my younger son in twenty minutes. Made me stop and think about what is important in life.
Hope everyone out there is happy, healthy and living life to the fullness.
Judy A. Remmick-Hubert
Class of 1960
3 May 2004