Walking up the front steps of Lodi High School that first day of my freshman year will never be forgotten.

I was one of three hundred plus students flowing into these old brick walls.

I was full of excitement, anticipation, anxiety, and hunger of knowledge.
Our Class of 1960 was to be the last freshman class because a new school was almost finished and would take in the next freshman class, so, our class would be the last time freshman, sophomores, juniors and seniors would mingle on this old and worn campus.
Immediately, most of us felt the importance of being the last chapter of a freshman class attending Lodi HS.
I couldn't help wonder what path fate had set for me as I touched one of the huge pillars.
There are certain teachers who created strong memories. One of them was Mr. Levy who taught drama class which was in back of the huge auditorium building..... He was one of my best teachers. I was one of his worst actresses. My talent was writing, listening and absorbing his knowledge. It was either this year or the following year he wrote the first episode for The Rifleman, which was to become a popular television series. He also wrote for two other very popular televisions series: "Have Gun Will Travel" and "Gunsmoke". From time to time he had small parts in several Hollywood movies. [ I understand he retired in 1984.]

Don Levy - Drama Teacher
He taught more than how to speak a line in a play, he taught the history of drama as it touched and was touched by history occurring around it's creators. This included music and art. Sometimes he had us join his stage craft class so we could understand life's illusions, as well.
No one could forget Mrs. Haselbring who was in charge of mixed chorus. The moment we met, I knew I was not going to be one of her favorites. She heard each of us run up and down the scale and then placed us into sections she felt we should be. I had a huge range and could sing in the upper ranges of a soprano down to alto and into range of tenor..... Even though I would never appreciate her abilities, I did enjoy the singing and that was why I had taken the class.
I think Miss Ketchen was my Freshman English teacher. Second Period class. As usual, my papers would be returned with "A" for contents" and a far lower grade for grammar and spelling [I was branded the worst speller in all my class and continue with that deficnecy today].
Miss Ketchen - English Frehman Year
Don't recall who my teacher was for social studies. Someone has to help me on this memory.
Mr. Hanlon was my Algebra teacher. He must have been a very good teacher because with his persistence and heart, he found a way for me to understand not only Algebra I but geometry, too.
I remember I had wanted to take mechanical drawing and was told "Girls don't take this class." However, I knew that visual math was more more area.
Latin. Class.. No memory of the teacher.
Seventh period all four years would be Girls Sports with Mrs. Melby, Mrs. Boomer, Miss Andrews, Miss Bernard, Mrs. Stoh and Miss Boedde. This PE class was different than the other PE classes. We were "serious" toward sports and wanted to play other schools. Our chief competitors were the sophomores, juniors and seniors. I don't recall which sport we played first. At the end of each sport the teachers would chose a team which represented each class. Our class had some excellent taw talent and we never lost without a real struggle. I think we often surprised the senior girls and won a game or two.....
Perhaps someone else could write about what they remember.
I remember being happy about becoming reaquainted with many of my friends I had gone to school with before going to Woods. Most of them had gone to Needam Junior High School. Most of them remembered me. I suppose that tells the reader a little about my own character. And, too, I enjoyed meeting all my new found friends.
I have flashes and specks of events:
How many of you knew that S.O.L. was Dale Kretzer? Photograph from Peter Sheehan's Collection.
Varsity Boys Football: Footballs games on Friday nights. Taking school buses to away games. Even to this day if I hear the song, "99 bears of bottle on the wall" my stomach flip flops with dread of having to hear it to it's conclusion..... . We did defeat Stockton HS for the ninth time..... Beat Stockton HS by only 2....
Anyone remember building our freshman float for the parade the afternoon before Stagg game? Anyone remember the car stalling and we had to push the car down main street? Was this a bad omen telling us what was to happen that night?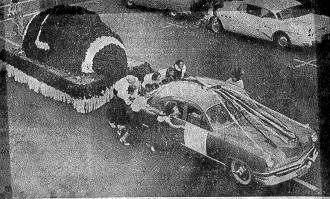 The only team we didn't beat was Stagg HS, if I remember correctly.....
Varsity Boy's Basketball: I believe we won the Conference... Almost lost to Stagg HS but we pulled ahead and beat them by 5...
Because I had seventh period PE, I was unable to watch the baseball team who played their games at that time.
Varsity Boys Swim Team: Our boys varsity swimming team was pretty good and the pool was between the girls and boys gym, so after PE the girls often went to watch....
I remember when we discovered a hole in the wall had been created so the boys could peer into the girls gym locker room from pool side on the other side of the wall. What a noise that created as we dashed into the pool area to catch the boys in the act... I don't think the girls told any teachers but we made sure the hole was useless to the boys, some of whom ended up in the pool... I wonder what would happen today if school officals discovered such "naughty" viewing today?
Do any of the girls remember our last day of Life Swimming when we threw off our suits....?
There is a keen memory on the Talent on Parade Show that year. I had thought about playing the piano and singing. I was always a "ham". But never signed up in time and regretted not having been part of the fun.
Last night as I sat thinking about my freshman year, I faintly recall there had been a ritual which occurred between freshman and seniors. I don't recall being harassed but there was something we had to do if requested by a senior during that first week. Maybe someone remembers what it was.
We, the girls softball teams of seventh period had a tournament in Stockton at Stockton College and Stag HS. on the 18th of May. Our freshman team won all their games.
Anyone remember our Freshman Class picnic at Mike's Grove on May 28th?
When I read the personal messages throughout my year book, I find some pretty funny stuff that brings back those old times. We always had the last two days to sign our year books. Those last few days were hot. Even though the windows were drawn up as high as they could be, there was never the slightest breeze.
It is through these messages that brings back memories of certain classes and teachers.
"What a blast we had in mixed chorus with "old Lady Hassselbring" ...." Judy Lowry, Class of 60.
"To a ....kid who suffered like the rest of us in art and Miss Scott's..." Margaret Stewart, Class of 58.
"I had fun exchanging answers in Algebra with ..." Judy Motoyama, Class of 60
"This cats no square accept when it comes to giving correct answers in Algebra, " Bob ___, Class of 60.
"To the little girl who sits behind me in English...Remember the tumbling times we had? Fun!" Annette Reiswig. Class 60.
"When you slide down the banister remember me as a little sliver! please." Floyd Kammerer, Class of 60.