Remmick-Hubert Memoirs: Fourth Grade, Washington, Lodi, CA, USA
Last updated: 24 March 2002
Remmick.Home.Site.School Years Page 3 continued

George Washington Elementary School, Lockeford St., Lodi, CA - 1951
Mrs. Bailey's Class -Fourth Grade
Top Row: 1. Robert Fuller, 2. Robert Kellar, 3. Dean Becker, 4. Stan Melcher,
Middle Row: 5. Carolyn Bieber, 6. Raedene Costa, 7. Lynette Weidner
Front Row: 8. Pat Bender, 9. Barbara Koroch, 10. Janet Woehl [twin] , 11. Geraldine McCaslin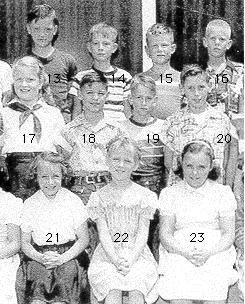 Top Row: 13. unknown, 14. unknown, 15. Dale Kretzer, 16. Mike Stemler
Middle Row: 17. unknown, 18. Clyde Ehrhardt, 19. Mike Johns, 20. Mike Haney
Front Row: 21. Janice Woehl [twin] 22. Letha Merrihew 23. Jonell Bauer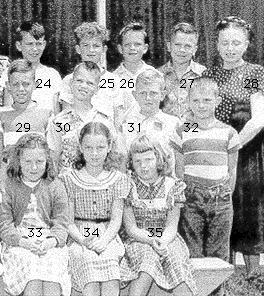 Top Row: 24. Eugene Goertzen, 25. David Hildenbrand, 26. Timothy Spittler, 27. Earl Veit, 28. Mrs. Bailey
Middle Row: 29. Gary Pierson, 30. Robert Wagers, 31. unknown, 32. Larry Leno
Front Row: 33. Kay Baker 34. unknown 35. Susan Welby
Photrograph is from Dale Kretzer who wrote: "Here's the best I can do on naming the classmates in this photo from George Washington Elementary School on Lockeford Street in Lodi. The school is this year (20000) celebrating a 50 year milestone.

This is a picture of Mrs. Dorothy Bailey's 4th Grade class in 1951, taken on the west end of the south wing.... You can see why this photo is of interest to many classmates, since all that are identified graduated with us in 1960....."
| | | | | | | |
| --- | --- | --- | --- | --- | --- | --- |
| ........... | | | Remmick Home Site | Lodi HS, Class of 1960 | | |