Last Updated: 13 Nov 2000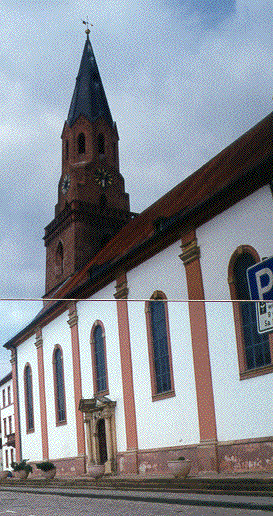 Old Protestant Church - Side View
It was difficult to take a photograph with the side of the old Protestant Church and it's steeple so I took two and set them together so you, the viewer, would get a better view.
This old church, also, has some historical interest.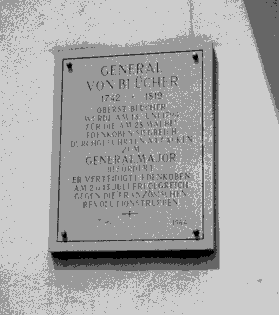 The Old Protestant Church - 1794, Headquarters for General von Bluecher
It was back in March of 1794 when he was given the command of the 8th [Black] Hussars and with them on the 28 May 1794 he defeated the French. During this campaign, he held his headquarters in Edenkoben's Old Protestant Church. By mid-June he was promoted to major general...
King Frederick Wilhlem II of Prussia rewarded Bluecher for his services and promoted him to Field Marshall Gebhard Leberecht von Bluecher (1742-1819) fought in most of the major battles which lead to the defeat of Napoleon at Waterloo with Wellington.... The honors of creating him Prince of Wahlstad came after the second defeat of Napoleon....