Example of Homes in Worms / Odessa, S. Russia before 1918
Last Updated: 9 April 2007
Pfaff Genalogy Home Site page 14

Sod / Adobe House Construction
of
German-Russians in Austria-Hungary, Russia, USA and Canada

Click on this symbol and it will take you back to this page
Odessa, S. Russia
Click On This Symbol and You Will Return To This Page
Photograph taken by .......? ?
Abobe Pfaff Homes in Nebraska [NB], USA
Ludwig Pfaff Chalk - Rock house (BD))-5)
Nebraska State Historical Society Photo by David Murphy - 1977
In and near Worms. Od. the rocks would have been adobe brick.
This picture give you a view that gives a great perspective of how homes were built.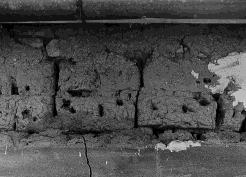 Nebraska State Historical Society Photo by David Murphy - Aug. 1976
"Detail of adobe bricks on Wilhelm Pfaff Adobe House (BD00-4)"
Back in 1977 I was contacted by David Murphy, a Nebraska State Architect for the Nebraska State Historical Society , about the Wilhelm Pfaff home which the state hoped to use as an example for the historical research of early settlers of the state. He was kind enough to send the following pictures which gives a great look of what our ancestors built not just in the USA because this is how the Pfaff built their homes in and near Odessa, Southern Russia. My Pfaff ancestors who lived near Worms supplied the villagers with the melted [liquid] lime stone.
My grandfather, Edward Remick, who's mothers was Pauline , nee Pfaff, Roemmich, use to make extra money when he was four to six years old, counting the adobe balls which wrapped around the lime that were heated in a out door kiln and when the lime turned to liquid form it was carried to the home that was being plastered.
I wrote David and explained to him what I knew about the building process and some of the background on the Pfaff families who had settled in Nebraska
Thanks to David, I can, now share them with you.
Construction of Sod Bricks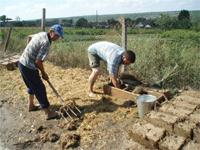 .........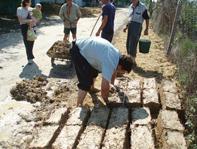 See Alfred Hein's Photo Collection - Pictures taken in 2006
The following is what I've found that was needed to construct adobe building in and around Worms / Od. from 1809 to the early 1900s:
I. Material needed:
Clay blocks [kohlsteine]

top soil is removed
underlaying clay is loosened
clay is mixed to viscous mass which is:

chopped straw
horse manure
water

clay mixture is placed in wooden molds
the clay blocks could be made into red brick or tile for the well-to-do farmers

Wood

on the steppes of Russia wood wasn't always easy to find so clay blocks [bricks] were used
if wood was available , it was used for the frame of the building
wood for entire building was used in the following areas:

north near St. Petersburg
Siberia
Volga
S. Caucasus
Tauria

Plaster

loam mixture

smeared on the building like wet paste
usually white washed with lime stone that had been liguified

limestone

large ovens or furnaces were built
lime was gathered
lime pieces were surrounded with clay and became a ball in shape
lime balls were placed in furnace heat
lime became liquid form
balls were broken and liquid was held in buckets and taken to location of construction of buildings
used like paint to white wash buildings

| | | | | | | |
| --- | --- | --- | --- | --- | --- | --- |
| Previous | | Hubert Home Site | | | | Next |