Grain Harvests In USA
USA Early 1900s

August Reimann Hauling Grain to American Fall, Idao, USA in 1910 .
Reimann's History in Photographs
by
Opal R. White
"Several of the Reimann family members came to the U.S. 1878 -1880, first to South Dakota and as land became available for homestead to Washington State to Adams, Grand and Lincoln counties where they were German-Russian settlements in communities of Ritzwille, Odesa and Quincy. Later land became available in Power County, Idaho, where my grandfather, Daniel Reimann was one of the first homesteaders in 1909.
These photographs were taken in both locations. I have added some of my own observations of what I can remember my father telling me. My father was August Reimmann.... He was born 1889 in Parkston, S.D. and died in Boise, Idaho in 1983.

Abt 1907 - "This is a fore-runner of the steam-powered threshing machine, a horse-powered thresher, " wrote Opal R. White who added, "These were all members of my family. The little arrow points to my father. Probably taken about 1907-09."
Subject: Danger of Fire While Threshing
BANAT-L@rootsweb.com
Date: Fri, 28 Mar 2003 15:08:41 -0500
From: "Nick Tullius" <ntullius@sympatico.ca>
[repeated here with permission from Nick Tullius]
>>...the steam engine driving the threshing machine was being fed with straw (that came out at the back of the threshing machine) and a little bit of wood, when available. There was dry and flammable straw everywhere, and any lack of vigilance could cause a catastrophic and unstoppable fire. Some of my oldest memories date back to these incredible steam engines and the wonderful sounds they made. The setup I remember was actually in one of our neighbor's yard: the threshing machine (and the "elevator" for piling up the straw) were sitting in the back yard, the steam engine was in the front yard and was driving the threshing machine by means of a giant transmission belt! At noon, the machinist would blow the steam whistle and then stop the process so that everybody could have lunch. My father was the "Sackmann", that's the guy who weighs the sacks (bags) of wheat, keeps track of the total, and deducts the number of sacks that go to the threshing team as compensation for their work (no cash was usually exchanged). Much more recently I have been involved in a number of high-tech developments, but I must admit that I didn't find any of them as romantic as the old steam engine threshing machines...
Best regards,
Nick Tullius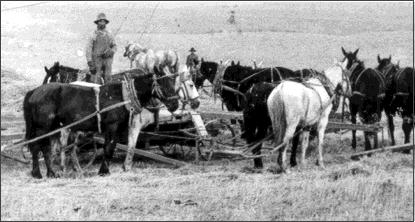 1909 - "A photo of my father (one on the rear) hauling the first combine into the Roy Valley from the rail-head in American Falls, Idaho in 1909." Opal R. White.

1909 - The combine was pulled into the fields and cut and threshed the grain in one operation. There is a photo of August on the first combine being hauled to Roy valley from the rain-head in American Fall , Idaho in 1909. " [ See hoto above this]. " It was being pulled by a team of ten oxen and traveled 35 miles. This photographs shows the combine in action.
The Order of Things
by
Kathy
I am no authority on this subject, especially in Russia, but we do have some photos from the early days of homesteading in Montana (1909-14), and I believe some of the stories I heard would probably apply.
My family still farms in Montana and I grew up driving a truck at harvest , so I'll give you a few comments.
Today, the cutting, threshing (getting the kernels of grain out of the head), etc. is done by one machine, a combine, but each of these duties used to be done by separate teams of workers, later with horse-drawn tams. According to the stories and pictures we have, each part would take 3-6 people totalling a dozen or more. First, the cutting team (or swathing team) would cut the grain within inches of the ground, then the grain and stalks was fed into a thresher, then the grain would be collected and bagged, with the bags tied with twine, and loaded onto wagons. Depending on the dampness the cut grain on stalks may be found and left to dry, even for days, and "ripen" before threshing.
As for when harvest would take place, Odessa and the US would have simliar seasons, and we harvest in late July through August, depending on how wet or hot the summer... Occasionally, harvest would extend into September.
Don't be fooled by the terms "winter wheat" or "spring wheat".... that has to do more with seeding than harvesting. Winter wheat is planted in the fall, grows a few inches, but requires a dormancy during winter for it to produce grain. Spring wheat is planted in the spring, doesn't require the dormant period, and is often harvested a few weeks after the first winter wheat is cut. If you plant a spring wheat variety in the fall, it won't survive the winter, and if you plant a winter wheat variety in the spring it won't "set" and produce grain.
Hauling Grain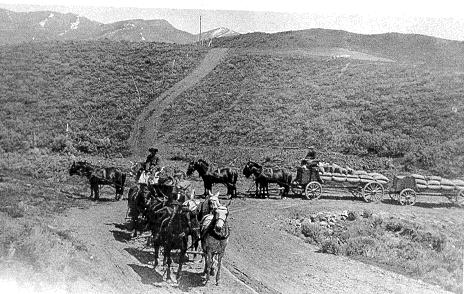 1910 - The photograph is August Reimann with the lead wagon and his brother John hauling grain from Roy to the railhead in American Fall , Idaho in 1910. Enlarged photograph on page 44.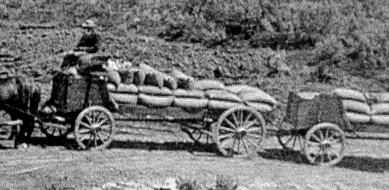 1910 - John Reiman is on this double wagon hauling grain from Roy to American Fall , Idaho in 1910. "The Thirty five mile trek would take them all day, " wrote Opal R. White, the niece of John.

1907 - "This is the earliest photo of my father, August Reimann hauling wheat to the R.R. in Odessa, Washington in 1907. He would have been 18 years old. A tiny little arrow behind the last wagon shows him, " informed Opal R. White.
Blacksmith and Grain Wagon
by
Louise
....The grain wagons that my dad made were 5 foot wide and 8 foot long. They had racks on the sides to hold the grain....these were about 30 inches tall. The wagons were pulled by a team of horses. Hay wagons were wider and about as long with no sides and were closer to the ground. He," [her father], "also made standard old farm wagons with the spring seat and iron banded wood wheels. I do have a picture of him working on a buggy wheel .... The bottoms of these wagons were flat and did not slope at all. You needed a big grain shovel to empty the wagons. The tongue of the wagon was a big 6 X 8 slab of wood that was carved down to fit. Every once in a while the wheels would have to come off and be soaked in water to swell the wood to make the rim tight. If this did not work the rim had to come off and be made smaller... When the rims were put onto the wood they were red hot and it slightly burned burned the wood and was cooled and shrunk to make a nice tight fit.:
Louise's grandfather had been a wagon and wheel maker by trade as well as mayor in the Volga. Her father was a wagon maker and after her father immigrated to Canada he became a Blacksmith. In her youth Louise had helped her father build many a grain wagon.
See the following web site:
American Memory, The Historial Collectyion for the National Digital Lirary, Library of Congress: http://lcweb2.loc.gov/ammem/ammemhome.html

Excellent serach engine that takes a person to everything from history to photographs to objects
Use SEARCH and fill in:

"grain farming equipment"
"cutting grain photgraphs"

Harvesting--North Dakota--Fullerton--1910-1919.
Harvesting machinery--North Dakota--Fullerton--1910-1919.
Headers (Agricultural machinery)--North Dakota--Fullerton--1910-1919.
Farming--North Dakota--Fullerton--1910-1919.
Agricultural laborers--North Dakota--Fullerton--1910-1919.
Horses--North Dakota--Fullerton--1910-1919.
Carts & wagons--North Dakota--Fullerton--1910-1919.
Highland Farm (N.D.)--1910-1919.
Fullerton (N.D.)--1910-1919.
USA Grain Harvest

This page