Child #8
John [Johannes] Schweigert [Schweikert] b. 6 Oct 1875 Borodino / Bess., S. Russia d. 30 Nov 1951 Ashley, ND, USA, son of Jacob Schweikert and Johanna Bippus, m. 5 Oct 1903 to Louisa Draxell
John Schweikert's picture was taken in the Crimea before they migrated in 1911 to Ashely, ND, USA.
Story from Rita Ost:
John and Louis were married Oct 5, 1903 S. Russia. They were farmers. To this union seven chilren were born. Of the 3 that died in infancy, one died while they were crossing the ocean on their way to America in 1911. They settled on a farm northeast of Ashley. In 1936, the farm was sold to Christ Denning and they moved into Ashley. John then did custom Trucking....
Issue: [Children spelled their name Schweigert in USA]
Elizabeth, Melita, Hannah and Lea Schweikert (See larger photograph)

Elizabeth Schweigert m. Red Rall Issue:
Melita Schweigert m. (1)Jacob Heil m. (2) John Pahl Issue:

Lorraine Heil
Ruth Heil m. __Malson
Vivian Heil m. Vasvick
Wilbert Pahl
Delilah Pahl
Clifford Pahl m. Lorraine Heipler Issue:

Jolene Pahl m. Walt Rihmiller
Lori Pah
Melissa Pahl
Douglas Pahl

Janice Pahl m. Clifford Bertsch Issue:

Jeffrey Bertsch m. Sally Lang Issue:

Melissa Bertsch
Amanda Bertsch

Chad Bertsch
Shayla Bertsch

Hannah Schweigert m. (1) Fred Salzer m. (2) Emil Bertsch Issue:

Irvin Salzer m. Margaret Kruger Issue:

Nanette Salzer m. Dale Christiansen Issue:

Shiloh Christiansen
Joshua Christiansen
Benjamin Christiansen
Kayla Christiansen

Cheryl Salzer
Mark Salzer m. Helen Welder Issue:

Mathew Salzer
Justin Salzer

Benton Salzer m. Bonnie Holzer Issue:

Taylor Salzer
Garrett Salzer

Irvin Salzer m. Karen Hahne
Deedra Salzer
Wendy Salzer m. Ben Holzer Issue:

Chester Salzer m. Glenda Pudwill
Edward Salzer m. Joan Lier Issue:

Ruth Salzer m. Bryan Aldrich Issue:
Patricia Salzer m. Ordeal Harberts Issue:
Angela Salzer m. Lenny Akkerman
Jonathane Salzer

Lea Schweigert m. Erie Franz Issue:

Edna Franz m. Harold Giesler Issue:

triplets who died as infants
Randa Giesler m. Mark Nill Issue:
Gary Giesler

Evangeline Franz m. Gordon Steinwand Issue:

Tracy Steinwand
Tamera Steinwand m. William Parsons

Anges Franz m. Richard Fisher Issue:

Ralph Fisher m. Melody Leonard Issue:
Cheryl Fisher
Carol Fisher

Elmer Franz m. Joyce Fleming Issue:

David Franz
Cathleen Franz

Milton Franz m. Jeraldine Hall
Roy Franz
Murray Franz m. Margo Walker Issue:

Clarence Schweigert m. Lenora Haller Changed name to Schweigert in USA] Issue:

Lloyd Schweigert
Floyd Schweigert
Robert Schweigert
Betty Schweigert
Barbara Schweigert
David Schweigert
Susie Schweigert
Photograph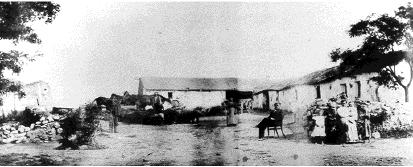 #1
Photograph above:
Johan Schweikert, seated, with his family next to the stone wall, and his sister to the back toward the wagon
Photograph below:
The second half of the above picture showing the hired help and some of John's stock.
Notice in the background a large building to your left.
The photograph was taken before 1911 in the Criema, Russia after migration from Borodino / Bessarabia.