Last Updated 11 July 2010

(click on logo and it will take you back to the first newsletter)
CLASS OF 1960's BANQUET in JULY 2005
of
2005

(click and return to Senior Year index which can be viewed by public)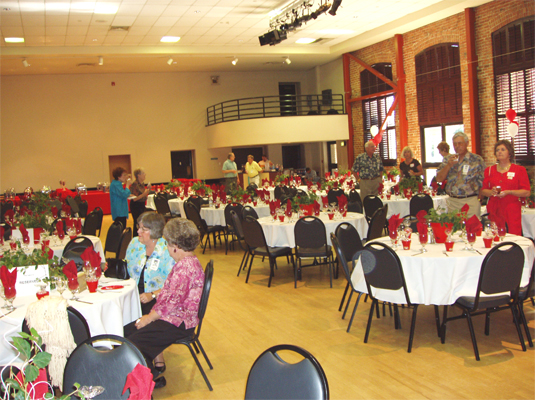 #1
As I was going through boxes, I found a disk which held all my photos taken in July of 2005 of my classmates. Next, I discovered that I hadn't added the photographs which I had taken the night of our banquet, so, the following pages are those photos. Better late than never..
-July 2005
I remember it was a very hot day. I had taken my things to my folks who lived on their farm near Acampo where I'd spend the night since I was sure it would be far too late to drive home. I had worn my jeans and comfortable shirt to the picnic and brought a change of clothes to look nice for the dinner. I had a surprise, however, when I had pulled my things out of my carry bag to get ready I found my lipstick had escaped my plastic make-up kit and it had melted on my clothes (blouse and pants). Glanced at the clock. It had been one of those real hot days and even more so in my car. It was too late to run to the store and buy anything.... So, I went with the clothes I had, jeans and comfortable blouse.
Thank goodness no one cared if I was wearing jeans.
Having our Senior photos attached with our names was great because it eliminated the awkward moments of trying my classmates having to ask me, "Who are you?" We all want to be recognized by people we'd known all those years in school. Some of us have known each other since we were in diapers. But, some, like myself, no longer live in or near Lodi and have had no contact with anyone, while others, who still live in the area have kept some kind of contact, even if it's just running into each other at the grocery store. Because of Marsha Sangers, who arranged Ladies Luncheons, some of us, now, since 2006, have lunch at Dee's in Lodi about every three months.
Speaking of Marsha, evidently she was chosen to be our Mistress of Ceremony for our banquet. We all agree she can be MC for all our banquets after that night.
Clyde Erhardt took photographs of everyone who stood in front of his camera. I'm not sure if he still has any copies of his CDs. "Do you, Clyde?." His photographs are so much better than mine, he is the professional, after all. Maybe, that is why I didn't place mine in our newsletter.
It was a grand night for me and I hope it was for everyone else. I tried to talk to everyone but failed. Wasn't enough time.... The turn out had been successful.
Once, again, I would like to thank everyone who was involved in giving us such a wonderful evening to be among old friends.
Judy A. Remmick-Hubert
19 Nov 2009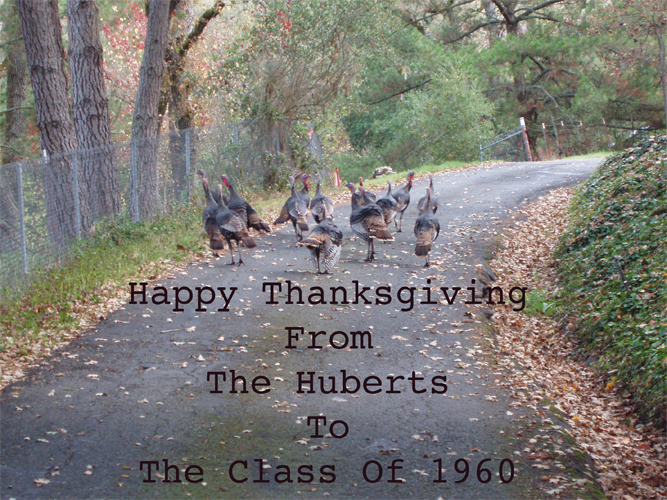 Turkeys walking up our road on a cool autumn day.