Last Updated: 18 June 2003
Heinrich Heine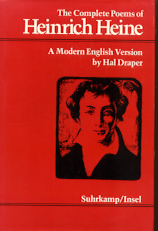 In Heinrich Heine's's poem known as Germany he writes as he returns to Germany after being away for a long period of time:
Caput 1
3rd stanza:
"And hearing the German language I
Felt strange beyond all measure;
It was as if my heart began
To bleed away with pleasure."
p. 483 translated by Hal Draper. The cover of Draper's book is seen above with the portrait of Heinrich Heine. Draper wrote in his forward:
1
Heinrich Heine's place in world literature has a history of its own, marked by wide up-and-down swings; the effort by Hitlerism to erase his name altogether was only one episode in this story. somehow Heine has survived incomprehension and indifference as well as prejudice--not only in Germany--and now it is good to report that his reputation is beginning a new upsurge, perhaps its greatest."
One more stanza and a half of Heinrich Heine's German written as he recalled Hamburg:
Caput 21
"The burned-down half of the city is
Being slowly re-erected;
Like a half-shorn poodle, woebegone,
Hamburg looks sad and dejected.
There's many a street that is no more
And that one ruefully misses."
One of the homes destroyed by the fire was his mother's. It was his mother who was said to have married below her social station. She was Baroness Betty von Geldern and Heinrich Heine's father was Samson Heine, a merchant, who was without title and very little money, from Bueckeburg.
Heinrich Hein became a Protestant. His christian ["teutonic"] name was Christian Johann Heinrich Heine. I do not know if he had any children by his wife.
He did have many lovers. I do not know if he had any children by these affairs and if he did have any children if his des. were Protestant or returned to the Jewish faith.
---

Genealogy of Borodino.Bessarabia , S. Russia
[Moldavia, Ukraine]
1814-1940,
With An Index of Families
-

-
Hein Genealogy

Borodino/Bess.Site

Hubert

Schweikert

Genealogy