Last Updated: 17 June 2002
Research for the Hein Family's
COAT-OF-ARMS / WAPPEN
continued........

Heine-Geldern Coat-of-Arms / Wappen
One of the bearers of a Hein / Heine coat-of-arms /Wappen is Gustav Heine von Geldern who was Jewish.

Heine-Geldern (Chevaliers, 30 Mars 1867)
Gustav Heine received the coat-of-arms "cognomen" on 30 March 1867 in Vienna / Austria-Hungary.
Read the following article on Gustav Heine's family who were Jewish.
Research of Heine-Geldern Family Who Were of the Jewish Faith
What if a person discovered our Hein family was originally of the Jewish faith and had changed to the faith of Catholic than Lutheran? Where would we look? Let's research Gustav Hein von Geldern's family. Not only was he Jewish, he was the nephew of #13 Solomon Hein Heine mentioned on my list of important Hein / Heine in history.
Solomon Heine (1732-1771) was one of the richess men in Europe. After the burning of Hamburg 1842, Salomon Heine used his own millions to stop the stock market from crashing and to rebuilt the city. Interestingly, he would be remembered not as himself but as a side note because he was the uncle of the famous poet Heinrich Hein and Gustav Hein von Geldern.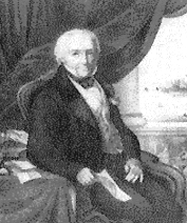 Salomon Heine
Since Solomon Heine was the uncle of Heinrich Heine who is one of my favorite German poets, this research is an easy one for me I went straight to the books I have with his poems Each holds some family data then I went to the internet's search engine "google", typed in Heinrich Heine of and waited. One of the google suggestions was the Jewish Encyclopedia. I click on it and came up with a family chart. The following is taken from the chart found in the encyclopedia with additions found in other places.
Heine is also found spelled the following in records for Solomon Heine and Heirnich Heine ancestors from Bueckeburg: Hehne/ Heyne, Hain, Hajjin, Chajjin / Chajjim and ?ajjim
Issac Heine of Bueckeburg m. ___ Issue:
Aaron David Simon Heine of Bueckeburg m. ____ Issue:

1) Heymann (Hyyimn) Heine [Hertz Bueckeburg] b. ____ d. 18 Sept 1780 m. (1) Edel Gans; m. (2) Mathe Eva Popert [from Altona, Hamburg; as a widow rem. Bendix Schiff] Issue:

Issue m. (2)
(1) Issac Heine d. 16 Oct 1828 m. ___ Issue:

Armand Heine [NOTE: With his brother founded the banking House of Armand & Michael Heine in Paris]
Michael Hein em. _____ [NOTE: With his brother founded the banking House of Armand & Michael Heine in Paris] Issue:

Alice Heine m. (1) duc de Richelieu; m. (2) Prince de Monaco

(2) Samson Hein d. 2 Dec 1828 m. Baroness Betty von Geldern Issue:

Harry [Heinrich] Heine [poet] b. 13 Dec 1797 d. 17 Feb 1856 m. 1841 Mathlide [Crescentia Eugenie] Mirat b. 1815 [note: listed as being illegitimate and Catholic]

Note: There is a Simon Michael who claims des. of Heinrich Hein. See Tyrnau....
Note: His mother's brother was Simon von Geldern b. 1720 d, 1774; known as the "adventurer" and " dreamer"; appellation "Oriental" was given him because of his extensive treks in the Oriental countries; was a short-time chief of a Bedouin group in North-African desert; welcomed in European royal courts; claimed secret knowledge of the Cabala....

Maximilian Heine b. ca 1805 or 1807 Duesseldorf [Germany] d. 6 Nov 1879 Berlin [Germany]. [After receiving his medical degree, he joined the Russian army as a surgeon....later settled in St. Petersburg and was appointed surgeon to the military school in this city; one of is papers of 1846 talks about the "pests" found in Odessa...] m. _____ Issue:
Gustav von Heine-Geldern b. 18 June 1812 Duesseldorf, [Germany] d. 15 Nov 1886 Vienna, Austria-Hungary

NOTE: knighted ca 1867; 1870 gained rank of "Freiherr" with the cognomen "Geldern", his mother's maiden name

Charlotte Hein m. Mortiz Embden Issue:

Baron Ludwig von Embden
Marie von Embden m. Principe delia Rocca Issue:

Principle delia Rocca
Principle de Bitetto b. 1767 Hanover [Germany]

(3) Salomon Heine b. 1767 Hanover [Germany] d. 26 Dec 1844 Hamburg [Germany] m. ___ At Salomon's death it is stated that he was worth more than 30 million francs] Issue:

Hermann Heine d. 1830
Charles [Carl] Heine d. 1865 m. Ceclie Fould-Furtado [ Ceclie father was part of the banking House of Fould-Furtado in Paris] When Charles died is is stated that he was worth 65 million francs.
Frederike m. C. M. Oppenheimer
Therese Heine m. A. Halle
Amalie Heine m. Friedmann

(4) Meyer Hein
(5) Samuel Heine
(6) Hertz (Harry) Heine

2) Bella Heine m. Itzig Neuwied b. 1774 d. 1855 m. Henrietta Embden b. 1787 d. 1868 Issue:

Note: A family of Gesch claim des. of Hertz and Henrietta Heine]

3) Judah Loeb Heine m. ___

Levy Heine
Lazarus Heine d. 1853
Simon Heine
Bueckenburg was in the Electorate of Hamburg [Germany] at that time. It is ten miles from Minden. Found, now, in the North Rhine-Westpahalia area. Was the seat of the Counts of Schaumburg-Lippe. In Dec 1809 Napoleon absorbed Hamburg into the French Empire until Napoleon's defeat in 1814. Hamburg became a Free City... The terrible fire occured in 1842... with the help of Solomon Heine's millions, restoration of Hamburg took place. It was, again, destroyed in WW II.
Altona is on the high bank of the Elbe which is west-north of Hamburg, a port city conected to the North Sea.
In the book FINDING OUR FATHERS, A Guidebook to Jewish Genealogy, by Dan Rottenberg I looked up Heine: p. 241:
"HEINE- The family of German poet Heinrich Heine can be trace to Isaac Heine of Hannover (17th century). JE has a family tree and other biographies. LBI has Heine family trees beginning 1614, 1682, 1722, 1745. Related to: Gans, Opert, Neuwied, von Geldern, Halle, Friedman, Oppenheimer, Furtado, Emrbden, Mirat, Rocca, Mendelsohn, Ephraim, Kaulla, Michael, Behrend, Berolzheimer."
JE is the Jewish Encyclopedia.
LBI pertains to the Archives of the Leo Baeck Institute in New York, New York, USA.
The section on Adoption of Family Names is interesting. Evidently the majority of Jews in Germany followed the tradition of taking the father's name and their personal name which meant Solomon Heine was actually Solomon ben Heymann and Solomon's father would have been Heymann ben Issac. Therefore, there was no one surname used like Heine for Issac or Heymann or Solomon. Of course, there are exceptions. Some East European families did maintain family names and if you can find this name on the tax collectors lists you can take your family all the way back to the time when Christopher Columbus sailed the ocean blue.
In time of Solomon Heine, Napoleon, who was by this time ruling most of western Europe, required Jews to take a surname in 1805. The families were not to take the name of the village/town or city in which they were living. Nor where they to take up biblical names. This law took effect in Prussia in 1812 and in Posen in 1833. Poland required family names in 1821. Russia, however, did not require them to adopt certain names until 1844.
---

LETTERS:
Letter #1
In a message dated 9/3/03 2:49:32 PM, adahlquist@telis.org writes:
<< I found your Heine family research on the internet and have added some material from it to my rootsweb page. I hope you don't mind that I quote you as my source. In advance, thanks!
I am descended from Salomon's brother Isaac. If you are interested in the wider family, you can find some information on my rootsweb page. Also, I have a Heine tree from the Heine Inst. in Dusseldorf which gives some additional information. Are you interested in a copy?
Which branch of the Heine family might you be connected with? i would be happy to correspond and share information that might be of mutual interest.
Sincerely,
Anna Marie Dahlquist >>
---
Letter #2
In a message dated 9/3/03, adahlquist@telis.org writes
You can find my Heine tree at:
http://worldconnect.rootsweb.com/cgi-bin/igm.cgi?db=annada
You are welcome to any information that you find there. If I cite the Heine Inst. in Dusseldorf, you can probably consider the info. as accurate, although I have been known to transpose numbers when transcribing dates!
Let me know if you see something that looks suspicious!
If I cite the family tree from my cousin Gerard Hertz in Meaux, France, beware! I am finding that much of the information he sent me is in error and I am trying to sort it all out.
I am wondering especially about my great-great-great grandmother's sister Reine Heine who married Joseph Kohn or Cohen. The dates just don't look right to me.
If I find out anything about the Max who went to Russia, I will let you know.
I don't know of any living relatives in my branch who are still Jewish. In the family of my ancestors Anna Heine and her husband Gustav Hertz, there were seven brothers, and each took the religion of his wife. Thus the German branch is Lutheran, the French branch is Catholic, and of the two brothers who came to America, one married a Congregationalist and the other (my ancestor) married the daughter of a Pres. minister, so our branch has been mostly Presb. from then on. (I married a Baptist and joined his church.)
sincerely, Anna Marie Dahlquist
---
Heine family continued.....


Borodino.Bess.Genealogy
Hein Genealogy

Borodino/Bess.Site

Hubert

Schweikert

Genealogy