UPDATED: 21 April 2007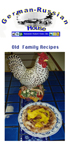 APPLES continued....
RECIPES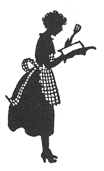 ---

Recipe#1
Russian Apple Charlotte
LINK- BEST APPLE: http://www.bestapples.com/Recipes/recipe.NEW.asp?ID=157
Antonin Careme, the legendary Frenchman who served as chef to Czar Alexander I, introduced Russia to the original French apple charlotte - an elaborate creation that involves precooking the fruit and carefully arranging bread slices. The Russian adaptation of this dessert is much easier to prepare. Baking it in a traditional charlotte mold gives it a bit of elegance, but if the mold is not available, a 9-inch square baking pan will also work.
3 Fuji apples, peeled, cored, and thinly sliced
8 cups cubed stale country-style bread, preferably semolina type
3/4 cup dried cranberries or raisins
2 large eggs
2 large egg yolks
1/2 cup sugar
2 cups half-and-half
Ground cinnamon
1 cup apricot preserves
2 tablespoons chopped toasted walnuts
1.) In large bowl, combine apples, bread, and dried cranberries. In medium bowl with electric mixer, beat eggs, egg yolks, and the sugar at high speed for 2 minutes. Reduce speed to low and gradually add half-and-half. Pour egg mixture over appl mixture and let sit, stirring occasionally, 10 minutes or until bread has absorbed most of the liquid.
4.) Heat oven to 350° F. Generously butter the bottom and insides of a 1 1/2-quart charlotte mold or 9-inch square baking pan. Line the bottom of mold or pan with waxed paper; butter paper. Spoon one third of bread mixture into mold, pressing down gently to fill any spaces. Sprinkle generously with cinnamon. Top with half the remaining bread mixture, sprinkle again with cinnamon, and then top remaining bread mixture; [ress down gently to pack bread and apples tightly. Bake 50 to 60 minutes (30 to 40 minutes if using baking pan) or until the charlotte comes away from the sides of the pan and a skewer inserted in center comes out clean. Cool in mold on wire rack at least 20 minutes.
7.) Place a flat serving plate upside down on top of charlotte, then holding the plate and charlotte mold firmly together, turn them over. Gently lift the mold off the charlotte. To serve, in small saucepan, heat apricot preserves. Brush some preserves over sides and top of charlotte. Top charlotte with walnuts and serve with remaining warm apricot preserves
*******
This site has a great list of apple desserts: http://www.bestapples.com/recipes/search.asp?CAT='Desserts'
---
.