Day of penitents when those who had left the church were accepted back into the church for Communion after having been ban for forty days. Green clothes were worn by those who wished to be taken back into the church.
Another tradition to take place on this day was that of the final cleaning the house and taking a bath in memory of Christ washing the feet of his disciples at the Last Supper. [This is linked to the Jewish preparation for the Passover Feast on Jewish homes.] Green foods were part of this day and were to be eaten. This included spinach, kale, water crest, leeks, chives and other herbs. [This was a carry over from pre-Christian days when greens were eaten in celebration of all things green growing in spring for luck of the coming year.] The German "seven herbs soup" has spinach, parsley, leek, chive, dandelion and sorrel took care of this old pre-Christian tradition at lunch time.
| | |
| --- | --- |
| For the evening "Sedar Meal", the Christians and the Jews shared similar rituals with their foods on this night. The Christians ate what they believed Christ, who was a Jew, ate at The Last Supper. This included the unleaven bread. | |
Links to sites that explain more are: Christian Passover Seder Meal on Maudy Thursday and the breaking of the unleaven bread (matzah).:
http://www.newlifexn.org/pages.asp?pageid=12505
Women for Faith and Family
http://www.wf-f.org/Seder.html
wrote the traditional food is:
>>ELEMENTS OF THE MEAL
Lamb The word 'pesach' (pasch, passover) applies to the Lamb of sacrifice as well as to the deliverance from Egypt and to the feast itself.
Unleavened bread (Matzoh) called "bread of affliction" because it recalls the unleavened bread prepared for the hasty flight by night from Egypt. Three large matzohs are broken and consumed during the ceremony.
Bitter herbs (Moror) is a reminder of the bitterness of slavery and suffering in Egypt.
Green herbs to be dipped in salt water. Salt water represents tears of sorrow shed during the captivity of the Lord's people.
Haroseth (or 'haroses') represents the mortar used by Jews in building palaces and pyramids of Egypt during their slavery. (It is a mixture of chopped apples, nuts, cinnamon and wine.)
Wine is dipped from a common bowl. The 'Four Cups,' Thanksgiving, Hagadah ('telling'), Blessing, and Melchisedek ('righteousness'), are "four different words for redemption, spoken by God to Moses."<<
Unleaven bread

This particular bread held different names in different regions of Germany.

Alemannic = Schild

East Friesland = Plaskes

Saxony = Quarkkelchen

Swabia = Ostergeigen

Upper Bavaria = Osterlaibl

Pomerania = Osterwolf

Hebrew = Matzah

The shape of the bread varied as much as the name.

*Photo found at:

http://www.photozion.com/Stock/pictureitem.asp?picture_cd=DD0005

Recipe

*
Some German-Russians did not use unleaven bread but replaced it with bread rolls and butter sprinkled with green herbs. If your family migr. from Hamburg area in Germany to Russia, they ate rolls filled with honey.
In Westphalia, Judas is remembered by making his image out of straw (Krampus) and was taken to the village church where it would remain until just before Easter Day midnight.
If your ancestors were from Silesia, the bell-ringer came forth dressed in a red waistcoat who was dubbed as being the towns Judas and was sermonously driven out of town by a bunch of noisy children carrying "Easter Rattles"
It was said that Easter Eggs were laid on this day by birds who's feathers changed colors during this process each year. Somewhere around the 1500s, the German children learned that bunnies laid special colored easter eggs which they would find on Easter mornings.
In earlier times, this was a day of mourning.
The hammer of the blacksmith was not to be heard as it was on this day so long ago when Christ was nailed to the cross.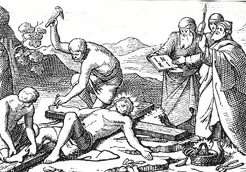 No butchering was allowed on this day.
Anything that sparkled was to be covered because it was not considered fitting that anything shinning be seen on Good Friday.