EASTER TIME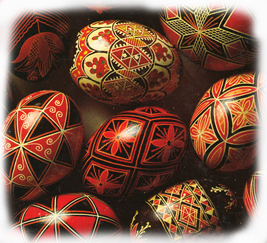 *
>>For nearly 1,000 years Easter has been the principal feast day of the Russian calendar, and the Orthodox Easter continues to celebrate wherever there are Russians to celebrate it..."1
This includes German-Russian Catholics and Protestant who lived in Russia, who before they left Germany in the late 1700s or 1800s and migrated to Russia, or after many migrated from Russia to the USA, Canada, S. America, China and throughout the world.
Where did the idea of appetizers to roasts to rich cakes become a part of our Easter celebration? The rites predate Christianity itself. It was the celebration of the winter being over and the spring coming forth with new leaves and new life.
>>When Prince Vladimir of Kiev brought Christianity to Russia in the 10th century, he overlaid Easter upon an older festival that marked the end of bleak winter. "The goodness hidden in the hearts of the holy shall be revealed in their risen bodies just as bare trees put out their leaves in spring."<<2
Since men and women of Germany and Russia celebrated the coming of spring and Easter, there has been the butchering, the cooking and the baking which created all the delicious foods created for this celebration which was the survival of those still living who were and are able to witness a new spring and in the memory of the crucified Christ who rose on the seventh day from the dead and joined his heavenly father, God.
The German-Russians brought their traditions to which they added Russian foods and so there are and were feasts. So what did they prepare and make for this joyous occasion?
1. & 2. quotes from p. 41 RUSSIAN COOKING by Helen and George Papashvily, TIME LIFE- BOOKS, NY, and the *photographs are by Eliot Elisofon and Richard Jeffery
Appetizers:
Main course:
Meats:
Sausages
Roasted Suckling Pig
Cold Ham
Baked Ducks
Chicken
Vegetables:
Breads:
Desserts:
Drinks:

GR Stories & Traditions such as coloring of Easter Eggs, Games, Songs, Family Stories etc. etc. etc.:
Easter in Borodino, Bessarabia
Easter Bunny Stories