Pat and Phil's first child, Garry, was born in San Francisco on ________ where Pat was waiting for the Colorado to return to the States. Phil first saw Garry when his son was 16 months old.

After the war, the Huberts were transferred to the East Coast for the long awaited shore duty. Phil's first daughter, Suzanne, was born at home in Earle, New Jersey, in _____, due to a heavy snow storm. His second daughter, Denise was born 15 months later more conventionally in a hospital.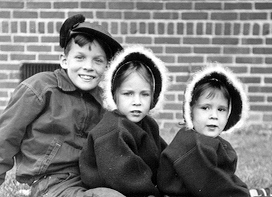 Garry, Suzanne and Denise Hubert
1951
In 1951, while serving on the aircraft carrier U.S.S. Leyte, Phil went to Korea for his second combat tour.

U.S.S. Leyte
During his naval career, Phil served on six different ships and six different shore stations on the east and west coast. He sailed very ocean and most of all the seas of the World. He invented a high speed refueling system for the replenishment of fuel oil at sea for which he received a special commendation. To Phil, is naval career was a source of pride.
After 27 years of serving the flag , he retired on February 29, 1962 with the rank of Chief Warrant Officer. To his friends he was known as the "Boatswain".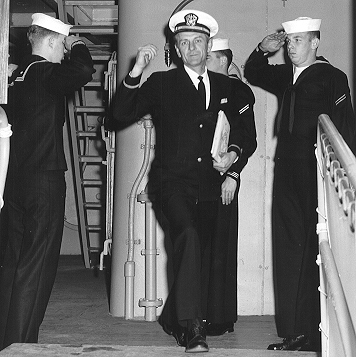 M. P. Hubert retired on February 29, 1962 with the rank of Chief Warrant Officer.
After his retirement Phil and Pat moved to Seattle with his two daughters. The reason for this move was that Phil and promised his wife he would bring her back to Seattle after he left the Navy. This was their 12 th move to a new home and their last.
Back in Seattle, Phil enjoyed hunting and fishing with Pat's father John Johansen.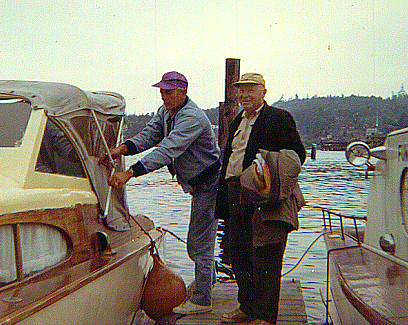 M. P. Hubert with his father-in-law John Johansen getting ready to motor out to catch some salmon.
He was a avid golfer....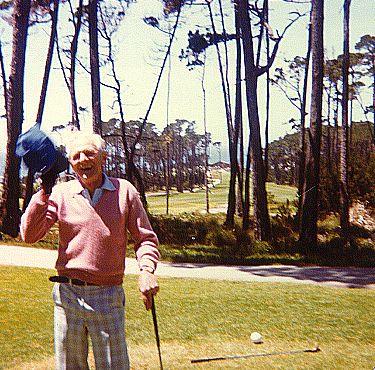 M.P. Hubert
Pebble Beach Golf Course, n. Carmel-by-the-Sea, CA
... and fixed watches as a a hobby and avocation. Phil enjoyed his neighborhood and the special friendships he made during his naval career. He treasured also the friends he met during the last 23 years in Seattle.
Looking back, one has to say Phil was a NAVY MAN with a NAVY FAMILY and that is how he wants to be remembered. He is survived by his wife Pat, his three children, Garry, Susanne, and Denise, and five grandchildren.