Matthias [Mathias] Hubert and Josephine Hummel Family
Last Updated:5 Aug. 2002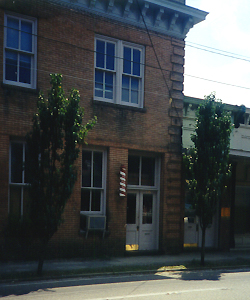 Mathias Hubert's Barber Shop
In letters to Judy A. Remmick-Hubert, Catherine, nee Hubert, Hicks wrote about the Hubert family.
17 Jan 1973
Page2
"[Father]...excelled in sports or anything he turned his mind to..."
"...his apprenticement to a barber began at age thirteen. He was a master of his trade which included wig-making, hairstyling..... He was asked in 1918 to become Mgr. of the Beaty Salon in New Orleans for Maison Blanche but turned it down. He made top wages or better...Most of the time ran his own shops..."
"[1923] ...they came South to get away from the city life which my father loved but my mother deplored, she thought to bring him down here and perhaps he would become a home-body...., no such luck, he found music, he attempted to play the violin and flute, but could never be still long enough to perfect his playing but we had to listen for hours on end when he played recordings... One was Caruso's Aida, which I learned to love. He was a marvelous dancer (winning many first prizes in Chicago but never with mama as his partner...."
My father became acquainted with Fritz Kriesler (world renowned violinist and composer) during his army days in Europe. Kreisler was an Offer. My dad had been chosen for Officer's training.... when Fritz lived in Chicago my father payed him regular visits. I can remember him telling mamma, "Bye Sophie, I'm going to see Ritz." One nite he took me and I remember this beautiful violin music. I've been a slave to it all my life."
---

Perjamosch / n. Arad Banat, Austria-Hungary [Rumania]

Hubert & Hummel

Index Page

Borodino Bess. History

Home Site

Remmick.Family.Tree

List of All the Photographs on Remmick-Hubert Web Sites