Matthias [Mathias] Hubert and Josephine Hummel Family
Last Updated: 5 Aug 2002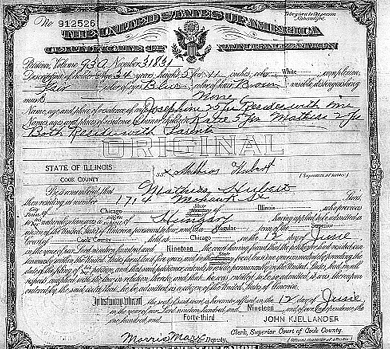 THE UNITED STATES OF AMERICA
CERTIFICATE OF NATURALIZATION
#91256
Petition Vol. 930
#31831Description of holder. Age 34 years; height 5 feet, 11 inches; color, White; complexion Fair; color of eyes, Blue; color of hair, Brown; visible distinguishing marks, ____ None
Names, age, and place of residence of wife Josephine 25 yrs Resides with me
Names, ages and place of residence of minor children Katie 5 yrs, Mathias 2 yers. Both Residence with Parents.
STATE OF ILLIONIS
COOK COUNTY
MATHIAS HUBERT
(SIGNATURE OF HOLDER)
Be it remembers that Mathias Hubert
then residing at number 1714 Mohawk St. Streeet
City / Town of Chicago State of Illionis, who previous
his naturalization was citzen'subject of Hungary, having applied to be admitted a citizen of the United States of American pursuan to law, and, a "Regular term of the Superior Court of Cook County, held at Chicago, on the 12 day of June in the year of our Lord Nineteen hudred, and Ninetten , the court having found that the petitioner had resided, continuoulsy within the United States for at least five years and, in this state for atleast one year immediately proceeding the date of the filing of his petition, and that said petitioner intends to reside permanently in the United States, had in all respects complied with the law in relation thereto, and that he was entitled to be so admitted, it was thereupon ordered by the said court that he be admitted as a citizen of the United State of American.
In testimony whereof the seal of said court is hereunto affixed on the 12 day of June in the year of our Lord Nineteen , and of our Independence, the one hundred, and Forty-third.
John Kjellander
Clerk, Superior Court of Cook County
Morris Marx Deputy
---

Perjamosch / n. Arad Banat, Austria-Hungary [Rumania]

Hubert & Hummel

Index Page

Borodino Bess. History

Home Site

Remmick.Family.Tree

List of All the Photographs on Remmick-Hubert Web Sites