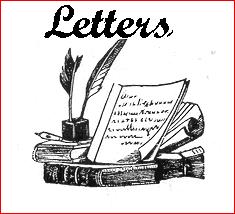 Letters after June to 15 Oct. 2006 -

Subj: Lodi Class of 59
Date: Friday, June 2, 2006 2:55:02 PM
From: themedievalmarket@gmail.com
I was wondering if you might know how to find a yearbook from the class of 59 from Lodi High. My mom graduated then and lost all of her yearbooks in the flood in Fairbanks, AK. Her name was Hazel Louise Martin. She went by Louise. Thank you for your time and any help that you can give me. I have been searching everywhere for any yearbook that she might be in.
Sandra
www.themedievalmarket.com
themedievalmarket@gmail.com

Re: Lodi
Date: Monday, June 12, 2006 1:32:58 PM
From: eptaylor3@hotmail.com
Judy - you can put the response and my e-mail address into the newsletter website.
Sure would like to hear from any of class 1959. I wonder about a reunion in
2009. Thanks - Pat
#2
>From: RemMick@aol.com
>To: eptaylor3@hotmail.com
>Subject: Re: Lodi
>Date: Sun, 11 Jun 2006 11:45:50 EDT
>
>Thanks for your memories.
#3
In a message dated 6/11/06 7:19:46 AM, eptaylor3@hotmail.com writes:
>>Hi, my name is Pat Taylor. I graduated a year ahead of you---1959. I have great memories of Lodi High. You mentiioned you had no recollection of your Latin teacher..I suspect you had the same one I had - Mrs. Lange. I really liked her! I think I had Mr. Chaffey for Geometry. Mr. Johnson for Chemistry. Pop Smith for Physics. Anyway I ran across your site...brought back memories of those great years...
Thanks....Pat<<

In a message dated 9/15/06 6:44:44 PM, jbnme@sbcglobal.net writes:
Hi Judy: I have an update on the missing anddeceased.
Would you like to publish these?
Good to hear from you Mavis
NOTE FROM Judy:

Hi Judy,
My email address has changed to fdvaldez@cox.net Would you please update it?
I always look forward to reading the letters sent in by our classmates. Thank you for all your time and hard work.
Donna Valdez (Schumacher)