Last Updated: 20 Nov 2009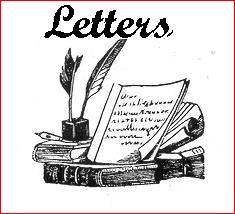 Letters Nov 2009
#1
Marsha Sanger <jfgrins@hotmail.com>
To:
rarjak@clearwire.net; lfugazi@msn.com; shirl256@sbcglobal.net; slmartin42@sbcglobal.net; geodiagravlee@att.net; catchinon@sbcglobal.net; momura@comcast.net; flaustin@comcast.net; devgrp@earthlink.net; ladyzin@clearwire.net; kepford2@hotmail.com; jeanette.lambert@att.net; tomballodi@gmail.com; dialysisjockey@yahoo.com; diane_beaver@sbcglobal.net; saintpollygirl@peoplepc.com; dolores_cooper@sbcglobal.net; gandkbaker@sbcglobal.net; maralyn@clearwire.net; tcheinrich@sbcglobal.net; dfunks@softcom.net; lakemp@digitalpath.net; mingal1@cwnet.com; beverlylodi@aol.com; roniculler@hotmail.com; labohemme@aol.com; dona.rizzo@thevillages.com; hart.star@gmail.com; sakemp43@comcast.net; gtaylor207@aol.com; scubbylou@aol.com; realty@softcom.net; bdbechthold@softcom.net; sarawarr2@att.net; mstreyle@yahoo.com; winfieldw@comcast.net; judebon@aol.com; jburnett@debock-muth.com; jdryden@kautzfarms.com; gmacias@comcast.net; morton@jutland.com; pppants@lodinet.com; dhopkins@geiconsultants.com; kerrysfaye@hotmail.com; cmetzger117@suddenlink.net; jeriinglis@sbcglobal.net; annbauer508@comcast.net; rogerrau@sbcglobal.net; sierralady@hotmail.com; sharontutt@earthlink.net; mmtor@aol.com; aphrase@frontiernet.net; felis2@verizon.net; lwmclean@hotmail.com; jmotoyama@aol.com; scrugnee@caltel.com; armypaull@aol.com; dwilliams1@softcom.net; czimmer323@aol.com; waymax706@sbcglobal.net; maclaus2@sbcglobal.net; ewilli-home@sbcglobal.net; erik790@comcast.net; k1renatkinson@gmail.com; jjdance@sbcglobal.net; jfgrins@hotmail.com; mnmet@softcom.net; fmandsst@clearwire.net; j4sfranco@comcast.net; microkids@sbcglobal.net; tinker2445@netscape.com; pberg1942@yahoo.com; j.swilcox@comcast.net; remmick@aol.com; alineobrien@sbcglobal.net; kblanke@sbcglobal.net; jbnme@sbcglobal.net; marlene@lodirealestate.net; scraine@sbcglobal.net; jloeg1@juno.com; loscoombs2@aol.com; jcgrau@comcast.net; theresa@lodirealestate.net; back2thewall@hotmail.com; motz1936@softcom.net; gacquilter@earthlink.net; motorhometns@yahoo.com; lfchipper@att.net; rnjborth@sbcglobal.net; lazylc@sbcglobal.net; fdvaldez@cox.net
Date: Tue, Nov 3, 2009 10:52 pm
Update for: "Alive and 65" or ....whatever
Class of 1960
Ladies Luncheon
October 30, 2009
Twenty-one classmates attended our 11th "Class of 60 Ladies Luncheon" at Dee Dee's in Lodi. You're all so wonderful for attending, or else I'd be there all by myself! You are appreciated!
Two first timers (*) joined us: Sharon Tutt and Norenna Wagenman. Please come again!
Those in attendance were: Patty Bender, Barbara Boepple, Sharon Christopherson , Gayle Deutscher, Geri Giannoni, Janie Keir, Judie Keir, Carla Norris, Norma Peterson, Margaret Phipps, Annette Reiswig, Judy Remmick, Cheryl Reutter, Marsha Sanger, Mavis Seibel, Sharon Tutt *, Felis Urrutia, Norenna Wagenman *, Lynette Walther, Janice and Janet Woehl.
Emails of regret, but tell everyone hello, came from: Kathleen Banegas, Jeraldine Best, Judy Bouska, Carolyn DeVinny, Shirley Feiock, Claire Fujita, Marjorie Garrison, Claudia Handy, Dona Holmes, Jeanette Holmquist, Linda Kundert, Joyce Leventini, Sandy Lind, Carolyn Marshall, Sydney Matts, Georgia Maul, Judith Nave, Etna Nicewonger, Marilyn Ostermann, Maxine Schaffer, Donna Schumacher, Madeline Terrell, June Truelock, Lynette Weidner, and Sue Welby.
We had our "Two-minute-show-and-tell" with each classmate participating. Thanks, everyone, for being such good sports, and sharing your latest adventures, recipes, remedies, reminders, etc.
Thanks to Patty Bender for bringing a basket of decorated "treats" for us to munch on. Many dressed in Halloween/Fall colors. Thanks all for being such good sports.
The place radiated with smiles and so many happy, good-looking members of our Class of 60. It was just such "good medicine" to see so many classmates.
Thanks to Judy Remmick for taking photos of those who gathered. I too took photos, but that's the easy part. From there I seem to lose interest. I will try to upload them and send them to you. I'm sure that Judy will get the job done in a more professional and timely manner.
It was reported that Corky Veit is now home and doing well. He didn't have the scheduled kidney operation, as last reported, but it was discovered that he had internal bleeding due to a fall.
There is no "next assignment", other than just to stay healthy, be happy, and scatter joy each day.
Please forgive me if I forgot to mention someone; it's not intentional, but rather I just don't always write things down, and if I do, I then must retrieve the paper ...... and well, I hope you know how THAT goes. Please also let me know if I'm spelling names incorrectly.
Our next gathering will be Friday, January 29, 2010.
Do let me know ahead of time if you'll be able to attend, as I need to call in a number to the restaurant. I'll send out a reminder a month or so in advance.
Enjoy each precious day, and I hope to see/hear from you soon.
As you can see, I found a new option on my computer to change the color. I could always find it on my hotmail account, but I'm just now finding it on my "new" Mac.
Stay HEALTHY, SAFE, and HAPPY and hope to see at our next gathering.
TTFN
Marsha Sanger
jfgrins@hotmail.com
cell: (209) 629 - 5859
#2
Tue, Nov 3, 2009 10:34 pm
Here are the WONDERFUL photos that Judy Remmick took at our Class of 60 Ladies Luncheon last Friday.
However, I don't see her picture among them.
I will try and send the ones that I took to you as well, but it will take me a little while longer. They're still in my camera! Taking them is the easy part, and then I lose interest.
Just double click on this link and then click on NEXT for the photos, as well as the NAMES, to appear on your screen.
Judy, you did a super job and you ARE appreciated!!!
TTFN
ANSWER:
http://www.remmick.org/LodiHigh/Page197.html
Latest photos of the ladies of class of 60
#3
Hi Judy,
Didn't I take a photo of you with your camera?
What happened?
You're not included in your wonderful presentation.
I thought that I took you with Norma Peterson.???
THANKS again.
TTFN
Marsha
ANSWER: Flash didn't work.
Judy
#4
SOOO SORRY, as I took the photo, and obviously I didn't do whatever you're suppose to do to make the flash flash.
I'll get the ones that I took out there too, one of these days, and I'm sure you're in those.
TTFN
ANSWER: Wasn't Marsha, it was my new camera that doesn't have a strong enough flash for people or objects that are in the distance and I and Norma were too far away from where Marsha was standing.
Judy
Aline O'Brien
alineobrien@sbcglobal.net
This is a great collection of photos. Thanks! I even recognize some of you. ;-)
Any of you on FaceBook?
Aline O'Brien
San Rafael
Www.machanightmare.com
Www.besom.blogspot.com
Lesley [Fister] Kemp
lakemp@digitalpath.net
Date:
Wed, Nov 4, 2009 9:35 am
I have been married to John Kemp (class of 1958) for 46 years and consider myself lucky to be married to such a great guy. We live in a wonderful house, built in 1878, in Folsom, CA. I'm active in an antique club, swimming, gardening, quilting (just a little) and help at our library and museum. John and I love our retirement years together. But when he first retired I announced that I did marry him for better or worse but not necessarily breakfast, lunch, and dinner. He must feel the same cause he loves golfing and pretty soon I was asking---Are you going to be home for breakfast, etc.?
We had three darling daughters who grew up to be teenagers and finally very likeable adults. They have delighted us with 5 grandchildren. Our grandson Joey has just left for basic training in the Army at Fort Knox, KY. We are so proud of him. He is the son of our oldest daughter Kerry who died in 1993. As a graduation present we took our 2 grandsons to Germany, France, and England. We returned home on the Queen Mary 2. Such fun but the grandsons racked up a bigger bar bill than we did. So who had the most fun? A year ago our teenage granddaughters went to Tanzania with us on a safari. That was some trip.
Overall we are blessed. John and I look forward to seeing all the "kids" that we went to high school with. See you in 2010.
Judy, this may be too wordy. You are more than welcome to edit any and all. I loved reading all that you have put on your web page about yourself and our classmates. I look forward to seeing you at the reunion. Thank you for rekindling so many nice memories.
Lesley Fitzer Kemp
Peter M. Sheehan
sheehan@uwm.edu
Date:
Tue, Nov 3, 2009 1:04 pm
Judy--Thanks so much for keeping this site going. It probably means even more to someone like me who moved away. but through this site ois able keep up (sort of) with old friends. BTW growing up in Germanic Lodi had to be a challenge for a kid with an Irish name See item 74 in attached photo. (Please do not change it, after all 3 of my four grandparents spoke German growing up.)
PS--no spelling errors in this message-yea spell check.
Peter
MAVIS BARKER
jbnme@sbcglobal.net
Date:
Tue, Nov 3, 2009 12:15 pm
Hi Judy: You gave me the giggle of the day. When I was going thru the email address of the classmates, I saw on yours that your husband is a lawyer for 445 years. It probably seems like it, but it gave me a giggle anyway.
On the page where you are announcing the date of the next reunion there are some corrections I have. My last name is Barker. Also my email address is
jbnme@sbcglobal.net
Kathy's last name is Blanke and her email address is kblanke@sbcglobal.net.
You have a great website. i go in every once in a while just to look at it. It is enormous. When I am looking for someone i check yours out to see what you have and maybe I can get a clue from it.
Thank you for all the effort you put in it. It shows.
Take Care and God Bless.
Mavis Seibel Barker
Century 21 M&M and Associates
Lodi, CA
Lic # 01858576
Bill Belforte
#1
Judy,
Is the reunion still scheduled for June 25? I know Elliott had some concerns about the date.
Regards,
Bill
Wm. Belforte
Executive Vice President
Illinois Chapter, NECA
p - (217)585-9500
f - (217)585-9600
bill@ilneca.org
Answer: 25 and 26 June 2010 See Anouncement page
#2
Got it, thank you. Nice job again on the ladies' luncheon. I think its great that you guys arrange to do that.
bb
Judy Bouska
Judebon@aol.com
Date:
Tue, Nov 3, 2009 11:53 am
Thank yew!
Judy Bouska
From:
Marsha Sanger <jfgrins@hotmail.com>
To:
Judy Remmick <remmick@aol.com>
Date:
Wed, Nov 4, 2009 10:07 pm
Hi Judy,
Another compliment for you.
TTFN
From: Sue Welby
ArmyPaull@aol.com
Date: Wed, 4 Nov 2009 14:15:07 -0500
Subject: Re: FW: Ladies Luncheon/Class 60
To: jfgrins@hotmail.com
Hi Marsha =
Thanks for organizing. Great pictures of old friends. We are still in Bermuda - home
.......
Hope to be in Lodi for the next luncheon.
Thanks again Marsha.
Love, Sue Welby
Clyde Ehrhardt
eaa@fidnet.com
#1
To:
RemMick@aol.com
Date:
Wed, Nov 4, 2009 8:16 am
The Class of 1960 is looking very good. Glad to see so many of you still getting together.. I know there are more Gals out there. Run an press release in the New Sentinel With all of your pictures and those great smiles. Those of us from out of town would like to meet all of the class at the next reunion.. So your 68 years old. So is everyone else in your class. I am thinking we should put out a Calendar with our class Photos on it. What A Hoot. There are people who would pay money for that Calendar and those who would pay money not to be in the calendar.. We win each way. Our class has always been a tight group. Well just a thought. Good to seen all again..
Clyde Ehrhardt
ANSWER from Judy
Thanks Clyde. I can always count on you.
My mother just drifted in and I said I was reading your e-mail and told her your last name. She immediately went into a story about "old Mrs. Erhardt" that lived on Lodi Ave. who were neighbors of my Hein grandparent when they lived in Lodi.
Evidently, I was in a buggy outside and my busy little fingers got caught in some part of the buggy and I was sceaming and this elderly Erhardt ran out of her house to help me. Of course, she gave my mother a lecture about caring for a child my size. My mother grinned and added, "She just didn't know you and how you were always were so busy (even then) in trying to figure out how things worked."
A relative of yours?
Judy
------
#2
Mon, Nov 16, 2009 7:14 am
It sounds Like My Grand Mother.. They lived right next door to the A & W Drive in.. Grandma would wash the Gallon Jugs that were returned and for that She could get all the A & W Root beer She wanted. Needless to say, She Always had a jug in the frig. I believe the address was 123 East Lodi Ave. If Your grandparent were German, and it sounds like it, My Grandmother knew them. That was an old German section of town. When I was first Born, My folks lived on Hill Born St. Which is about two block south of Lodi Ave. When I was about 6 months old my folks moved to 211, South Ham Lane. Where I lived until I move out on my own, Got Married and all that. GEE.. so we were almost neighbors so to speak.
When My wife and I went back in Lodi last Sept for my Mother funeral, We stopped at A & W to have a Hamburger and Root Beer Float. The taste was just as I remembered it. Thick and Creamy. FAT does not count when you reminisce. Because your mind set is at 16 years old then and nobody was fat at 16.
When you say, " she gave a lecture..." That was my Grandmother. She raised 7 kid and was not afraid to tell others how to raise theirs. My Mother and all of the Ehrhardt Daughters In Law got the same lecture. She was Strict but loving. The Best Cookies ever... And off course... the Butter Ball Soup. Which I wrote about earlier. What a Great life you and I had. What memories of Lodi and Growing up in a small town where you did not have to worry about being kidnapped, Drugs, Shooting, and AIDS just to mention a few. We were blessed. You dressed up for Sunday Church, in your best cloths, The Stores were Closed on Sunday, and if the weather was bad, you laid on your bed at home and listened to the Radio to such great programs as Amos and Andy, Edgar Bergin and Charley McCarthy, The Shadow Knows, Rack Squad, and Even the Lone Ranger and Sky King, and some times the Don McNeal Breakfast hour. That was my mother favorite.
Well Here we are in our 60's, Wondering What the Hell Happened? But I will see you next year at the reunion.. It keeps getting better and better.
Take Care Clyde Ehrhardt
ANSWER from Judy:
Yep, they were next door neighbors. Evidently there is a Benny in your family and he was good friends with my mother's younger brother Eddie Hein.
Evidently, when my grandparents sold the house, my great grandfather , Frederick Hoffer, and his second wife bought the house. So, I was there often through the years. We must have seen each other from time to time when we were small and never connected the dots when we met, again, in High School.
Is it all right if I add all of this to our Lodi site?
----
#3
Mon, Nov 16, 2009 11:20 am
Of course it is all right.. I remember the Hoffers. Yes I have an uncle Benny Ehrhardt. He lives in Woodbridge now. When you mention Eddie Hein, That sound like I heard it before. My uncle lost his wife a couple of years ago. I will let him know about you.. He is in his 80's now.
Remember how small the back yards were.. and the Alley way in back.. I do not remember seeing you in the Backyard but I had 14 cousins who went in and out of Grandma's house. What a Crowd. My Uncles and Grand parents would kill a cow each year and split the meat between all. Grandma and Grandpa loved Head Cheese. And Tung.. The rest of us did not. I remember helping grind Hamburger in the Basement of that house. Wrapping the meat and taking it to the Ice house. That place was really Cold. We all had meat lockers in the Ice house where my mother would go to get a roast or hamburger or what every we were going to eat in the next couple of days. Nobody had home freezers. I am sure our grandparents were friends in those days. Grandma Would take of the Hoffer from time to time.
Boy: What a Small World. I had to move to Cuba MO to find out we were neighbors. I used to Cut the Grass at Grandma' also from time to time. Where were you when I needed you.. That Bermuda Grass was hard to cut.
Is Eddi Hein Still With us?? If so let me know and I will Pass it on to my Uncle. This has Been a WOW day. Clyde Ehrhardt
ANSWER from Judy:
Eddie lives in Walnut Creek in a home and does his visiting by phone. I believe Mom said he and Bennie were about the same age.
Head Cheese, didn't like, but, cow's tongue isn't bad.
I think those two houses are still standing, or, were the last time I looked.
I bet if I shake the family trees, we might even end up being distant cousins.
Bermuda grass survived no matter how a person tried to get rid of it. I wonder how many hours I spent pulling that stuff out of my Mom's gardens.
Judy
#4
Clyde Ehrhardt <eaa@fidnet.com>
Tue, Nov 17, 2009 7:08 am
I new Lodi was a small town but this is spooky. I will drop a note to my uncle and see if he remembers Eddie. My Uncle is 80 or 81. Still Plays his Sax and Clarinet in an seniors band that in the summer time plays at noon at City Hall. Keep looking in that family tree.. I must be somewhere in there. After All We did live in Lodi.
Clyde
Shirley Feiock
shirl256@sbcglobal.net
Date: Wed, 4 Nov 2009 20:14:34 -0800
Subject: Re: Class of 60 Ladies Luncheon Update - 30 Oct 2009
To: jfgrins@hotmail.com
Hi Marsha,
Apparently the word about the fun luncheons is spreading -- two new attendees. :) Thanks for sending the list of those attending and the regrets. Tell Judy her photos of the classmates were awesome.
Thanks Marsha for everything you do.
Shirley Feiock
Hi Judy,
Did you know that our classmate Khosoro Djhanbani was married in Feb of 1971 to Princess Shahnaz Pahlavi, the eldest daughter of the last Shah of Iran, Mohammad Reza Pahlavi , and his first wife Fawzia of Egypt. They have two children, Keykhosrow and Fawzieh.
Her first husband was Ardeshir Zahedi.
If you want to know more google "Princess Shahnaz Pahlavi".
Note from Judy:
Just by chance there is a discussion with photos on the web site called "The Royal Forums" under the Non Reigning Houes/ Imperial Family of Iran/HIH Princess Pahlavi (1940).
Here is a space saved just for you..
.