Remmick-Hubert Special Page - Lodi Union High School, Class of 1960-Newsletter
Vol.9: 13 Nov. 2002 : Page Two




#1: Have you ever seen a UFO...?. If not, how, about something you have seen and you'd like to share it with us.
#Do you think we should go to war with Iraq?
#2: Do you have a great story or stories about one of our classmates or your children / grandchildren which you'd like to share?
# 3: Do you have a Thanksgiving story that you'd care to share?
#4: I need more photographs of classmates which you'd like to share. Doesn't matter if it was in school ..... Could be someone you've visited last week.

In a message dated 11/6/02 3:04:11 PM, Judebon writes:
<< I am all over the place on this one. I think this nation is definitely beginning to live in fear and that is, of course, unsettling. I also think American Society is paralleling the Fall of the Roman Empire with its new decadence and life styles, and that scares me. I think in taking on Iraq we are starting World Ward III (which everyone said would surely come out of the mideast!). I think there is a great deal about who-is-allied-with-whom that the American people are not really being told, making war a scarier proposition yet. This would not be a war as our parents once knew it around the time we were all born, but the stakes are much higher. I have not said anything new, but my opinion is, I'm on the fence!
Aside, a good question might be: How is your life as you coast into your sixties? Aren't we lucky we made it this far?
Judy Bouska Bonfilio >>

Judy's note: Dale and I often send messages back and forth about our sightings of different birds. I mentioned in my last letter about the lack of birds floating on the flooded islands next to highway 12 which is the way I travel from Lafayette to Lodi to see my folks:
In a message dated 11/6/02 10:49:03 AM, DKretzer@sacbee.com writes:
<< Hi, Judy;
As for the birds, while some delta lands are sort of off limits to the birds, there is other land being saved for them that makes me very happy. Further into the Sacramento Valley, the preservationists have managed to buy up lots of undeveloped land along the Cosumnes River south of Elk Grove and are replanting in native grasses, restoring ponds areas, etc. etc.
The birdlife there is multiplying like crazy ..... I love it. Other such efforts are meeting with success around Sacramento, which hopefully will help offset the rapid increase in developed land.
As for the newsletter, I can think of one memory triggered by your question regarding UFO sightings. Feel free to use some, all, or none of the following if it works for you. Cheers, Judy. -Dale
"We never saw UFOs that I know of, but classmate and then neighbor Pete Sheehan and I spent many late nights in his backyard during the 1950s studying the night sky through binoculars and a telescope. We got ourselves thoroughly immersed in learning about the stars, planets and other fascinating objects in the heavens and had many wonderful hours of discussion as our understanding of our world, and the universe, expanded. Charting meteor showers was a particularly fascinating facet of the hobby, and I personally always enjoyed viewing and drawing the surface of the moon as seen in detail through Pete's telescope. Remember, that was before man managed to plant a foot on lunar soil.
"Our late night conversations were not always about the stars, of course, with school activities, sports and girls being other topics of great interest.
"You might think with astronomy being such an interest that one of us would have continued on in that area. Instead, Pete has gone on to be a widely-known expert in the field of paleontology (digging up old bones and falling into the excavations), and I've spent most of my life in the newspaper business.
"Regardless, I treasure the memories of those wonderful nights learning so much about the world above and around us, and the companionship of a friend who has remained so through many years and over great distance.
"Those were great times, weren't they, Pete?">>
Dale Kretzer

In a message dated 10/31/02 11:57:16 AM, mikejohns@antelecom.net writes:
<< Unidentified Floating Object
See attachment.>>
Michael Johns

In a message dated 10/31/02 1:06:10 PM, bill@ilneca.org writes:
<< Hey, its got air conditioning and a great second story view. This is top-o-the-line on Loosiana bayous. >>
Bill Belforte

In a message dated 10/31/02 2:03:27 PM, ljseibel@yahoo.com writes:
<< Yeah, but can it burn rubber? (As good as that ol' 58 Chevy that is...)
Leon Seibel

Mike sent back this photo attatched of a toilet with wheels to show another UFO that could burn rubber....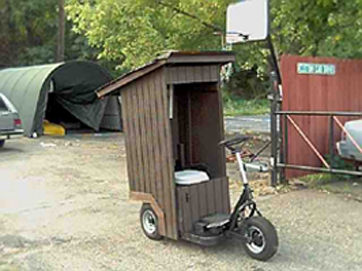 Hi Guys,
Great to hear from some old (very old) friends.
Yep, I got it made...
Retired with all the toys. See my new SUV..
I got other stuff too but don't like to brag much...
Mike

In a message dated 11/1/02 8:30:51 AM, HHegwer@greenfield.k12.ca.us writes:
<< Judy et al,
See what you started! I strongly recommend Mike Johns make an appointment with his urologist.
Hal Hegwer >>
---

This Will Take You Back to Newsletter - Vol. 1

This Will Take You Back to Index Page Senior Year