Oh my gracious....how young Garry and I were in the summer of 1963!

This photo was taken less than a month before my 21st birthday in July. We were going to the wedding of the Schrimps [Roger, who I believe went to Lincoln High, and Delsie, who was from Linden so I'm not sure where she went to High School], who, now, live in Oakdale.

I had a family birthday party in my folk's back yard in Lodi. Mom probably made one of her great summer meals: ham, potatoes salad, fruit salad with whip cream, watermelon, homemade bread, ice cream and cake....

I went past that old house a few months ago. It has been been made larger and the Ash trees my father planted in front are huge as are the redwoods in the backyard. The neighborhood has certainly changed. And the cement wall of General Mills is, now, right across the street. I remember when that area used to be a large cherry tree orchard. The large almond orchard that was the south of us is gone. And the dirt road is Mills Ave that goes all the way through to Lodi Avenue and past a very nice Little League Field.

Lodi Lake which is at the end [north] of my old block has a fence and a person has to pay to get into the area.

How many summer days did many of cool off in that old lake? How many times did we watch the 4th of July fireworks reflecting their colors of sparkling light in that old lake?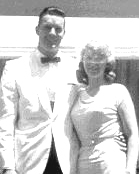 Garry and Judy (Remmick) Hubert
June 1963 - Lodi, CA