Remmick-Hubert Memoirs:: Old Library in Lodi, CA
Last Update: 24 March 2002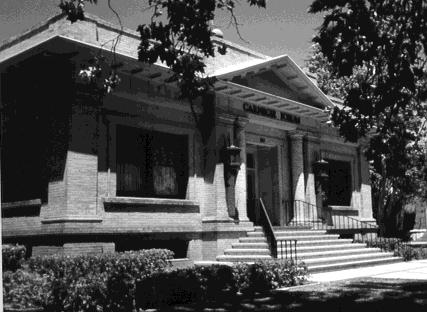 Lodi 's Cargenie Public Library, Lodi, California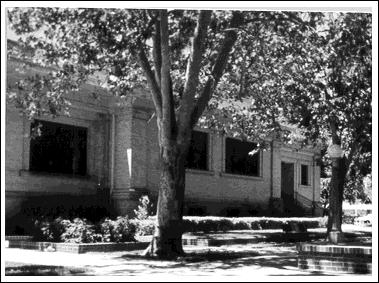 A LITTLE HISTORY
The first public library in Lodi was no more than a reading room created in 1885 and was destroyed by the "Great Fire" in 1887. In 1901 a building was rented on Sacramento Street and was the beginning of a new site.
The Carnegie Library shown in photographs above are of the building I first entered with my mother back in the early 1940s.
At first, my mother and I would pick out three books in the children section for me and we'd take them home where she would read them to me. Sometimes, she'd leave me in the children's section to find books while she ventured into the adult section to find a book for herself. As the years pasted, I gained my own card in the children's section [see photogpraph of side of library which took me straight into the children's section] and I quickly learned I could take out as many books as I could carry. Thus, began my Adventures of a book worm.

Adventures of a Book Worm in Lodi
TO BE CONTINUED
A CONTEST IN CHILDREN"S LIBRARY - About 1950

Earlier one summer, I had asked the Liberian, Mrs. Londahl, about the names and the gold stars displayed on the walls above the racks, she explained there was a contest to see who could read the most books that summer. It took me but a moment before I ask if I could be a part of the contest. She said I could. In the weeks that followed I proudly watched my gold stars growing in number next to my name. Then I would count Marla's gold stars to see how many more stars I would need to be the same as Marla Seibrass' number stars. [Find her photograph in article about Cowboys and Old Movies.] She was a prolific reader and was ahead of everyone for over half of the summer. I don't think I ever told her my last name as we sat in the movies watching from the front row of the old Lodi Theater because I didn't want her to stop sitting next to me because I felt if if she knew I was the girl who was catching up to her gold stars she might get mad at me and I'd never see her again. And, I liked talking to her about what we were seeing and the comfort of knowing whoever got to our seats first would save the empty middle seat for the other. By the end of summer, I had one gold star more than her.... Even after I had won the contest, I never told her my last name. I don't recall another contest at the library but I know I never stopped reading. Nor, have I stopped loving the movies. AMC on television often times shows the movies I saw in the 1940s to 1961 [year I was married] that take me right back to that front row and what was happening to myself, family relatives, friends, neighbors and the world outside of Lodi, California.
| | | | | | | |
| --- | --- | --- | --- | --- | --- | --- |
| ........... | | | Remmick Home Site | Lodi HS, Class of 1960 | | |