Then there were the buffalo berries or bull berries as we called them. They grew on large grayish green bushes with mighty thorns and were a bright tangerine orange in color. The green in in copses in the meadows. We'd spread tarps under the bushes and beat them with sticks. They were extremely tart and our mouths would pucker when we ate them.

See: "GERMAN BLACKBERRIES" by Irma Waggoner

In the evening mosquitoes came out in droves as the sun lowered in the sky and dung fires would be started in old buckets and placed in strategic places so the smoke would drive the mosquitoes away. Even the cattle and horses needed this type of protection at these times.
See CCCs (USA Civilian Conservation Corps Web Site) who helped the farmers in the Sidney MT area to construction special drainage. Note the train in the background. Photogrpah taken abt 1939 from Edwin Remmick's Collection.
As the years went by and the government helped the farmers by construction a special drainage system this problem of mosquitoes eased off to some extent
Right to left are: Daniel Hein, Alice Hein standing in from of Jerome Mietchan, (Edwin Remmick's friend in the CCCs), Christine Hein, Edwin Remmick who was part of the CCC Camp near Sidney and the future husband of Lillian Hein next to him on his right, our left, next to another sister, Regina, nee Hein, Tietz who is with her two children who are standing in front of her, Wilma Tietz and Leroy Tietz. Photograph taken about 1940 on a "Dog Day in Summer" the Hein farm (an appel orchard) near Lewiston, ID, USA
Sometimes while sitting on the porch in the evening enjoying what little relief there was from the extreme heat of the day one could hear the sounds from the river island wilderness ... The cries of the baby bob cats would make you feel that many human babies were lost and needed rescuing. Their cries sounded identical to human babies crying and a stranger to the area wold probably find this most disquieting.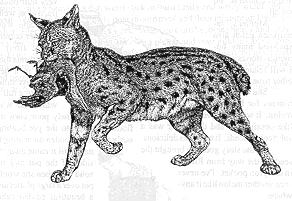 "The cries of the baby bob cats would make you feel that many human babies were lost ...."
Sometimes when the days were hotter then usual we'd watch the horizon for signs of tornados. If a dark cloud appeared dragging what I'd term as a long back funnel with a tail we'd drop whatever we were doing and head home and the cellar. We wouldn't walk, we'd run. The men would unhitch the teams of horses and run with them to the barnyard and often they ran them right into the barn still hitched together and the person slammed the big doors shut. These frightening phenomenons would usually appear in the early evenings when the weather temperatures changed from very hot to cool.
It was also the time for fried chickens, new potatoes, fresh garden vegetables and yummy sweet watermelon!
| | |
| --- | --- |
| | It was...time for fried chickens, new potatoes, fresh garden vegetables and yummy sweet watermelon!" |
Mother always had a large watermelon patch and each year and would select seed from the best and sweetest watermelon for next years patch. My how Mother loved her watermelon patch and of course so did we all.
Mother's watermelon patch also spawned many humorous stories which I will relate at another time.
She was also famous for her cob melon1. It was very sweet with a banana like consistency and the center was a solid cob of seeds. It truly was delicious.
As the story goes, she brought the seed all the way from Russia in an apron pocket. I've never seen another melon like it anywhere.
Fried chicken is so American and most of us know how to fry chicken and make chicken gravy so I'll simplely write just about "mummaleeka.".
Now, let me explain, I'm not sure how to spell mummaleeka so I've simply written it as it sounds.
Mummaleeka is actually a Romanian dish made of corneal which the Romanian nomads or sheepherders out on the steppes would carry or cook over their campfires as part of their regular corn and mutton diet.
During the first World War, what flour became scarce* and people had to take cornmeal or corn four in place of some wheat flour. Mother then remembered the mummaleeka and in her usual resourceful way came up with a corn cake she called mummaleeka which is both very nutritious and attractive as well.
| | |
| --- | --- |
| | She would sift together cornmeal and wheat four several times to mix thoroughly while in a a heavy pot she'd have salted water coming to a full boil and while the water was boiling, she'd slowly pour corn meal and flour mixture into the pot beating vigorously with her wooden spoon. She would keep heating the mixture until it came away from the dies of the pot and formed a solid cake then she would tip the pot over a large platter and presto a beautiful golden cake which tasted terrific. She's cut it into ...cake type wedges and then smother it in golden children gravy. |
After much trial and error, I came up with the following recipe of Mummaleeka Cake.