WATERLOO / ODESSA, S. RUSSIA - RENNICH FAMILY LETTER
from Merv Rennich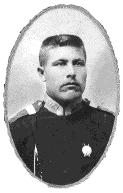 Karl Rennich - ca. 1902, Tsar's Army
Hi Judy,
Here is the military information on my grandfather, Karl Rennich. It is a biographical summary based on a translation of Karl Rennich's Military Service Record (Service List) and Military Discharge Papers (Discharge Ticket).
["Karl Antonov Rennich* was born on February 2, 1876. He was inducted into the Tzar's Army on October 18, 1898 from the Odessa uezd (administrative region) with an official service date of January 1, 1899. He served in the 54th Minsk Infantry, and attained the rank of Junior NCO (non commissioned officer). On September 4, 1902, he was released from active duty and assigned to the reserves."
On February 4, 1904, Russia and Japan went to war over control of Korea** and Manchuria. Mr. Rennich describes his participation:
"I was called up from the reserves and assigned to the 56th Zhitomir Infantry on September 1, 1904. I took to the field against Japan on September 27, 1904. I took part in the battle of Sandel and the taking of Khuandli, Gutsyatski, and Kiniuantup. I was not wounded. I was once again released to the reserve army on April 16, 1906."
Karl A. Rennich attained the rank of Senior NCO during his second tour of active duty. He was decorated for outstanding marksmanship, and was awarded a bronze medal for participation in the Russo-Japanese War 1904 - 1905. He was not fined. At the time of his release from active duty, he stated that he was single.*** He was of the Lutheran faith, and listed his trade as blacksmith****. His hometown was Vaterloo (Waterloo), in the Odessa administrative region, Kherson guberniya (province), of the lapdauskoj volost (smallest administrative region) of Tzarist Russia.]
* - Other spellings for Rennich are Rennikh, Rennig, and Rennick. Of interest is the spelling on the passanger manifest page 21 of the S.S. Southwark as it sailed from Liverpool, England on December 9, 1909 and the entrance papers to Halifax, Nova Scotia of December 19, 1909 where the name is spelled Reinisch presumably to disguise his identity from Russian authorities.
** - Karl Rennich's grandson, Pfc. Meinhardt R. Rennich was killed in action in Korea on Oct. 3, 1951 while serving as a machine gunner with Company G, 7th Cavalry Regiment, U.S. Army.
*** - Karl Rennich married Christina Engel on February 18, 1903. Their son Carl (my father) was born November 10, 1904.
****- Karl Rennich and his family emigrated to Turtle Lake, North Dakota. After 11 months they moved to Mercer, North Dakota where he was the blacksmith there for 21 years. He died October 2, 1933, in Bismarck, North Dakota.
----------
Attached is a picture (jpeg) of Karl Rennich (1876 - 1933) in his Russian military uniform of the Tzar's Army. It is thought that the picture was taken ca. 1902
----------
Judy, the closest I can come to where in Germany the Rennich family migrated from is a reference to Waldengebach. I have not found a Waldengebach so far but have found a Waldenbuch which is just south of Stuttgart. I still have a lot of work to do in this area.
If you need anything else on any of this, let me know. Thanks.
Merv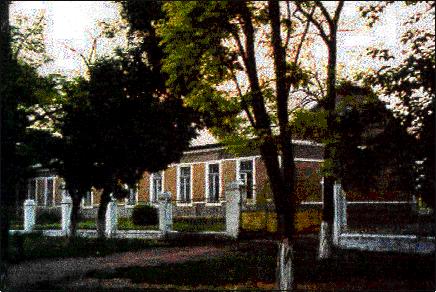 Photograph was taken by Merv Rennich on 1 June 1998 during his visit to Waterloo II / Odessa, S. Russia [Ukraine].
This is what he wrote: "This is a photo of the old German church that was turned into a school. We couldn't get inside but the building looked in good shape. Off to the right was the old German school which was in very bade disrepair. Behind this old church building there was another building used as a secondary school."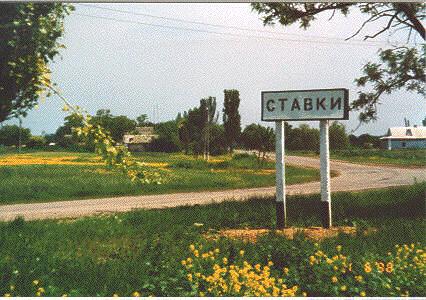 "This photo shows the city sign on the west edge of the village. Waterloo now called
Stavky. I
was told that the word Stavky means ponds or city of ponds. On the outskirts of the village there are a number of small ponds created by dams across little creeks. In the village we saw a half dozen or so community wells, " wrote Marv Rennich.
When I check into the history of Waterloo / Kherson, Odessa, S. Russia, there were two villages. The first was founded in 1809. The second village was founded across the road from Waterloo I and was named officially named Borodino, however, the Russian officially renamed it Waterloo II in 1832. The first photograph on this page is of Waterloo II.
---
RemMick's Notes:
#1: I found the story about Karl Rennich interesting and thought I'd place it on my site. If you have an interesting story about your ancestor in the military, let me know. Maybe, we could share it with Karl's.
#2: Jacob Roemmich+

b. 1877 in Worms / Od. was part of the Russo-Japanese War and was stationed in Vladivostok, the eastern sea coast city, where he served as an officer and for a time as Quarter-master. Before returning home, he wrote his family that he wanted to migrate to the USA, and they were to sell everything.... He returned home in 1906 . Less than a month later, he, his wife, children, parents and other members of the family, including Edward Remick, were on board ship waiting for release in Baltimore, Maryland on the 4th of July 1906.
SEE MILITARY LIST OF OFFIERS BURIED IN ODESSA GRAVE YARD
---
| | | | | | | | |
| --- | --- | --- | --- | --- | --- | --- | --- |
| | Borodino Home Site | | Hubert Home Site | | Remmick Home Site | | Edenkoben. Home.Site |