Last Updated 29 April 2006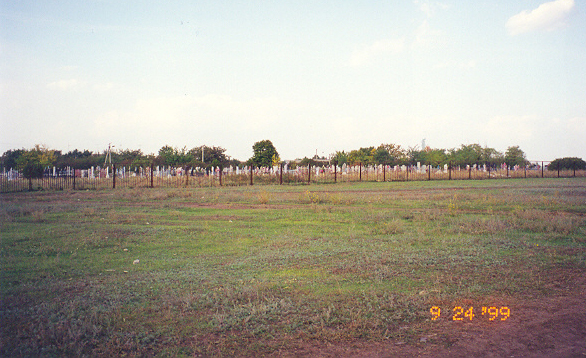 Cemetery
Worms/Od.
24 Sept 1999
From the collection of Vernetta R. Bader
Vernetta R. Bader wrote on 24 April 2006:
>>It is with interest that I started looking at your website. I found it very interesting. I have done some research about my family name -Steiger and Junker.
A little over six years ago my husband and I took a trip to the Ukraine to visit the part of the villages where our ancestors used to live. They came from Peterstal, Alexanderhiff and Grossliebental area. While on this tour we also visited Worms. I did take a few pictures while we were there and through you may enjoy receiving them. The first pictures is of the church at Worms and it is being restored by the Russian Orthodox Church. The second picture is one of the interior of the church. I I remember the church there were round pillars on both sides of the building and a balcony along the sides. This was quite a large building. The last picture was an overview of the cemetery. There was a fence around most of the cemetery. The grassy area appeared to have been part of the cemetery, there were indentions in the earthy about the size of a grave.
Vernetta R. Bader
trvbader@santel.net<<
Letter #2
24 April 2006
>>Here are two more pictures taken in the village of Worms. In the first picture you can see two young mothers taking a stroll with their baby buggies. As you can see they are dressed in modern western type of clothing. They both are wearing shorts and a sweater and it was in September the day was a little chilly. The other picture is of a water pump on the side of the street. I do not know if it would bring up some water if one would have pumped the handle.
Vernetta Bader<<
Letter #3
26 April 2006
>>Yes, the Baders in Lodi are distant relatives. My husbands father would visit Lodi and some of the Baders there...
Vernetta Bader<<