St. Paul's Lutheran Church,
Odessa, S. Russia
[Ukraine]
1927
100th Year Anivesary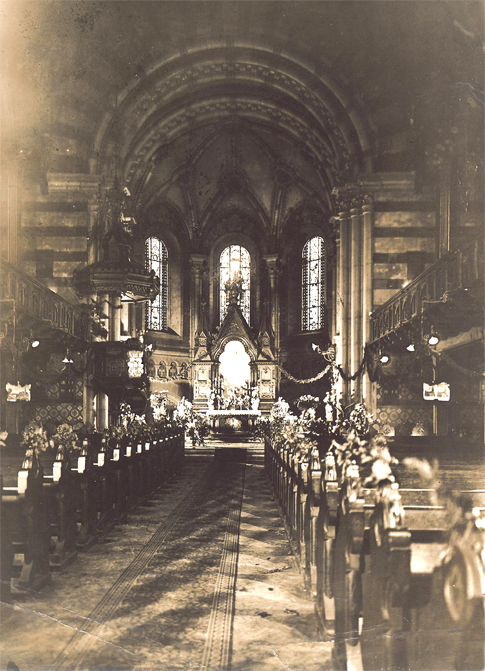 In a message dated 3/12/06 8:57:01 AM, librarianem@yahoo.com writes:
Hello Judy,
The electronic copy of the photo of the interior St. Paul's that I sent you was made from a photo found in the papers of my beloved late grandmother, Ella nee Bergau.
St. Paul's was her family's church. Her sister, Anna Kraft, taught at the church school during the 1920s and early '30s. She sent my grandmother that photo and others of historical interest associated with St. Paul's school, including several class photos with the names of some of the children and staff.
When the photo is magnified many times its original size (6 7/8" * 4 13/16") on a photocopier, or scanned at a high resolution, many interesting details not discernible on the original are revealed.
Ella Melik
----------------------

In a message dated 3/10/06 6:20:31 AM, Michael.Miller@ndsu.edu writes:
10 March 2006
The following message was received on 9 March from Pastor Horst Gutsche,
St. Matthew's Lutheran Church, downtown San Francisco, California:
I hope all is well with you. I wanted to let you and the various listserves
know that St. Paul Lutheran Church in Odessa will be rebuilt in its old form.
St. Peter Church in St. Petersburg, St. Peter and Paul Church in Moscow, St.
Trinity Church in Marx (Katharinenstadt) on the Volga and St. Paul in Odessa
have been designated as churches which will be completely restored.
Blessings for Lent,
Horst