Map of Freudenheim and other villages near Mannheim / Baden-Wuerttemberg, Germany plus list of Hess Families who migr. to S. Russia abt 1814
Last Updated: 16 Oct 2003

Map of a section of present day Baden-Wuerttemberg State, Germany.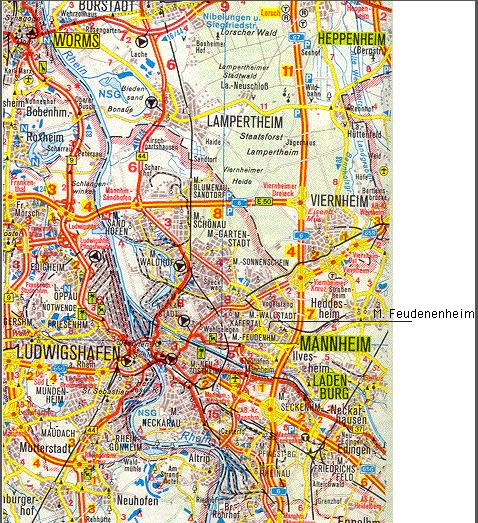 Elizabeth Hess b. 22 Aug 1789 Feudenheim / Mannheim - Baden d. poss Borodino / Bess. S. Russia , dau. of Johann Heinrich Hess and Anna Eliz. Lenz, m. widower Johannes Stoehr b. 6 Dec 1780 Lutzelsachen / Mannheim - Baden. They migr. to Friedrichsfeld / Molotschna, [Taurien], Russia in 1809 See Issue.
See Map of the Mannheim area with Lutzelsachsen shown.
See Borodino / Bess. Genealogy List of Hess
See Adam Hess who migr. from Eich [not shown on this map] which is north of Worms / Pfalz [Palatinate] ....
There was a Adam Hess listed as having migrated from Aich / Nuertingen, [Ba] Wu
Mannheim, The City of
Mannheim is on the right bank of the Rhine River at its junction with the Necker River. It was once the capital of the Electors of the Palatinate.
The old Electoral Palace is, now, where the University stands.
It is presently found in the German state of Baden-Wuertemberg.