Remmick Home Site Page 15
Worms Reform Church Was Under Construction in 1996
.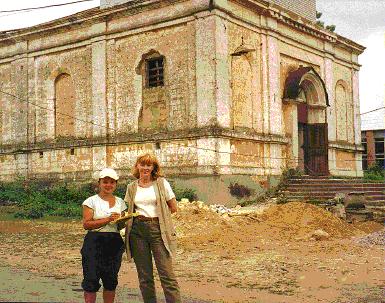 Photograph by Penny Raile
Penny Raile [right] with a worker.
Penny Raile wrote: "The church in Worms was being remodeled to become a Russian Orthodox Church. The workers invited us to climb to the top for a view of the country side. After we climbed a series of homemade ladders and said a few prayers on our way up, we had a great view of the country side ...very similiar to the midwest in the United States."

See Penny's web stie for more of her family and photographs: http://www.raile.com/index.htm
A note from Elaine Morrison: "The picture of the church in Worms is of the Reformed church. That information comes from a relative who lived in Worms until her family was sent to Siberia during WW II. When we were in Worms we thought that the big old church was Lutheran and I am aware that several people have misidentified their pictures.... The Lutheran church ....apparently was on the same street, not far from the Reformed..." The picture below was taken by Elaine who consented to use it for this web site. She tells me this town gate is not the original gate but replaces one that once did stand here. Does anyone out there have a picture of the orginal gate?