Last Updated 22 April 2003
Schweikert Family continued....
North and South Caucasus, Russia and the Transcaucasus Steppes
[Ca = Kaucasus = Ka]
The Black Sea was to the west and the Caspian Sea was to the east. Iran to the South and Turkey, which was then part of Persia, to the Southwest. & Russia proper to the north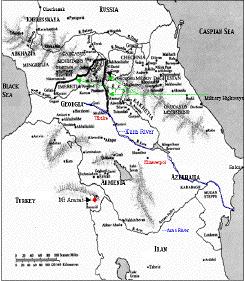 North and South Caucasus which included Georgia
Tbilisi = Tifilis: Captial of Georgia, Russia afater 1801
See map showing German-Russian Colonies near Tifilis and Elizavetpol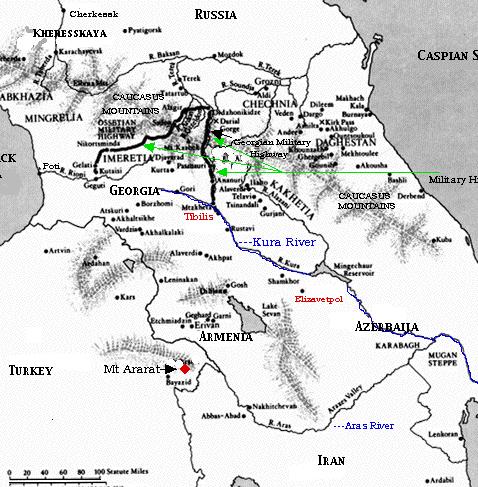 Mt. Ararat is where many of the Separatists from Wuerttemberg [Germany] thought Jesus would step down upon at his Second Coming in 1833 or 1836.
Tibilis [Tifilis] was the capital of Georgia, which held a German Quarters and clustered nearby the capital were German-Russian Colonies. Georgia was ceded to Russia after 1801. A struggle for ownership between the Turks [Persia's Sultan' and Russia continued into the 1850s when Imam Shaml surrendered.. [1859]. Then, again, in the Russo-Turkish War from 1877-8 when, again, Russia was successful in their campaigns.
Near Elizavetpol [Elizabetpol] was a cluster of German-Russian Colonies.
The green arrows mark the old military highways which cut through the Caucasus Mts..
| | | | | | |
| --- | --- | --- | --- | --- | --- |
| | | | Remmick Home Site | Borodino Home Site | Schweikert Genealogy |