UPDATED: 8 May 2007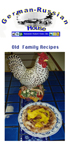 FRIED BREAD DOUGH
Sweet yeast risen bread dough that is deep fried:
Kuckla
Kuechela
Kuechkle
Kueckla
Kueckle
Kueckla
Sweet baking powder bread dough which is twisted or curled then deep fried (Cruller/ Kruller):
Grebble
Grebbles
Grebel
Grebele
Thin dough is rolled and pulled until it is paper thin used for dessserts or can be rolled into a rope and fried:
Struddle
Strudel
Strudels
Strudle
Strudla
Strudelnd
Strudles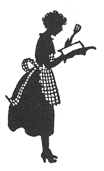 RECIPES

RECIPE #1
Deep Fried Sweet Yeast Bread Dough (Kuechela)
Ingredients:
3 eggs
3 cups sifted flour
3 tsp cream
pinch of salt
powder sugar for dusting fried bread
deep fryer filled with correct amount of oil required by instructions of the product
Preparation:
1. In a bowl mix eggs, cream, salt and flour.
2. Mix thourghly
3. Knead until the mixture is smooth and elastic
4. Place in bowl, cover and place in refrigerator and let set for 1 hour.
5. When ready, shape the dough into balls the size of walnuts and then roll thin.
6. Deep fry in oil which is at 360 degree F. until brown on both sides
7. Sprinkle with powdered sugar.
---

RECIPE #2
Deep Fried Sweet Baking Powder Bread Dough (Grebble)
Ingredients:
3 eggs
1 tsp salt
2 tsp baking powder
1/2 tsp. soda
4-5 coups flour
1/2 cup sugar
1/4 tsp cloves
1 pint sour whipping cream
Preparation:
1. Beat eggs, add cream and salt before adding the flour
2. Mix the ingredients.
3. Knead by hand on lightly floured bread board until the dough is smooth and soft.
4. Roll out the dough to be about 1/4 inch thick.
5. Cut dough into 2 to 2 1/2 to 4 to 4 1/2 inch rectangle
6. With a knife make two slits down near the middle and pull one corner of the rectangle through one of the slits.
7. Deep fry until golden brown
8. Dust with powder sugar and serve while hot.
---

RECIPE #3
Strudel Dough
Ingredients:
3 cups flour
1 egg
1 large tsp lard or crisco or butter
pinch of salt
3/4 cups warm water or more if needed
Preparation:
1. Mix ingredients until smooth and elastic
2. Cover ad let set for 10 to 15 minutes
3. Divide dough making small balls
4. Roll and then pull dough until it's paper thin
5. Don't take this too seriously or you'll be in tears if this is your first experience of trying to get dough to be paper thin
---
LINKS:
Strudla :

>>It takes a practiced hand to make tissue-thin dough but there's a simple trick to rolling it up for strudla. German Russian cooks lay the fragile dough on a cloth draped over a pillow. Then, when the ends of the cloth are lifted, the dough automatically curls up to create the many-layered ropes of strudla. Fried up with potatoes and onions, strudla is a Sunday dinner favorite.<<
Fried Pastry Dough (Thin Dough for desserts ) - http://www.prairiepublic.org/features/schmeckfest/gallery/strudels.htm
Grebbel:

Grebbel - http://www.prairiepublic.org/features/schmeckfest/gallery/grabele.htm