Interesting Facts:
1. Teflon pans do not brown food as well as the old fashion iron or other kinds of non-stick frying pans. You will need more oil to fry your foods.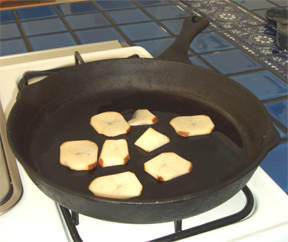 2. If you want to make great french fries, soak the sliced potatoes in ice water and the potato will release the starch. Pour off the water and placed potatoes onto a towel to get rid of any access water.
Use a deep fryer and the amount of oil indicated for your fryer.
Do not place extra oil into the pot.
Lower the potatoes into the hot oil and watch the potatoes brown.
WARNING: Be careful, too many sliced potatoes placed into the deep fryer will cause the oil to bubble up and over the edge of the deep fryer.