Last Update: 2 March 2010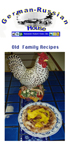 POTATOES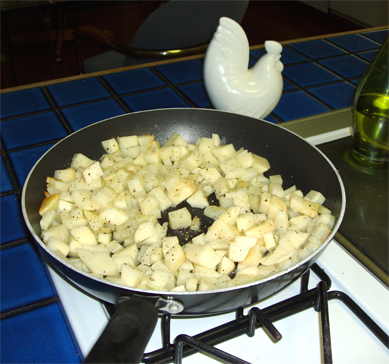 History of Potatoes
---
History of Potatoes
Links:
****
In-Depth Info: http://www.indepthinfo.com/potato/history.shtml
>>Potato! - History
The history of the potato has its roots in the windswept Andes Mountains of South America. It is an austere region plagued by fluctuating temperatures and poor soil conditions. Yet the tough and durable potato evolved in its thin air (elevations up to 15,000 feet), climbing ever higher like the people who first settled the region.
The tough pre-Columbian farmers first discovered and cultivated the potato some 7,000 years ago. They were impressed by its ruggedness, storage quality and its nutritional value. Western man did not come in contact with the potato until as late as 1537 when the Conquistadors tramped through Peru. And it was even later, about 1570, that the first potato made its way across the Atlantic to make a start on the continent of Europe.
Though the tuber was productive and hardy, the Spanish put it to very limited use. In the Spanish Colonies potatoes were considered food for the underclasses; when brought to the Old World they would be used primarily to feed hospital inmates.
It would take three decades for the potato to spread to the rest of Europe. Even so the potato was cultivated primarily as a curiosity by amateur botanists. Resistance was due to ingrained eating habits, the tuber's reputation as a food for the underpriveleged and perhaps most importantly its relationship to poisonous plants. <<
****
What's Cooking America: http://whatscookingamerica.net/History/PotatoHistory.htm
Russian History: >>1774 - Russian peasant refused to have anything to do with the potato until the mid 1700s. Frederick the Great (1712-1786) sent free potatoes to the starving peasants after the famine of 1774, but they refused to touch them until soldiers were sent to persuade them.<<
Russet Potaoto History: >>1872 - It was not until the Russet Burbank potato was developed by American horticulturist Luther Burbank (1849-1926) in 1872 that the Idaho potato industry really took off. Burbank, while trying to improve the Irish potato, developed a hybrid that was more disease resistant. He introduced the Burbank potato to Ireland to help combat the blight epidemic. He sold the rights to the Burbank potato for $150, which he used to travel to Santa Rosa, California. In Santa Rosa, he established a nursery garden, greenhouse, and experimental farms that have become famous throughout the world. By the early 1900s, the Russet Burbank potato began appearing throughout Idaho.<<
****
All Creatures.org: http://www.all-creatures.org/recipes/potato.html
---
Varities of Potatoes
---
USA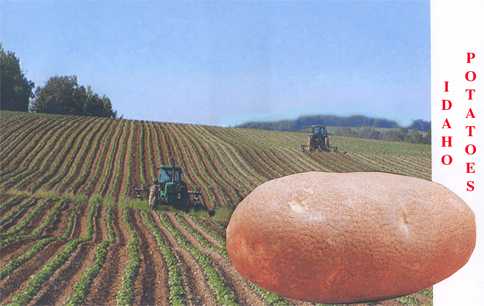 Article written by Bonnie Burton found on the following link: http://www.organicgardening.com/feature/0,7518,s1-5-16-307,00.html
>>....
Here's a list of the best colored potato varieties:
'All Blue' is a striking deep blue medium-size potato that stores well and tastes great. Texture is good for all types of cooking. To keep color, do not overcook. Vigorous plants mature in mid- to late season, producing high yields. Beautiful blue flowers.
'Yellow Finn' produces lots of high-quality spuds with golden flesh and a unique pear shape, over a long season. Its mealier texture makes it excellent for baking, boiling, or mashing, and it keeps well.
'Rose Finn Apple' has beautiful rosy-colored skin and deep yellow flesh with a red blush. One of the tastiest of the fingerlings. Steady watering throughout the season will minimize knobbiness. Good keeper.
'German Butterball' is distinguished by outstanding flavor. Smooth, golden yellow skin and butter yellow flesh make this medium-round to oblong late-season potato a good all-purpose spud.
'Purple Peruvian' is the only fingerling available with purple skin and bright purple flesh. Plants bear medium- to large-size tubers and are highly resistant to scab; they need rich soil and plenty of water to prosper.
'Red Thumb' is a recent cultivar that produces prolific yields of unique fingerling potatoes with red skin and flesh. It has medium to long tubers with very shallow eyes.
'Red Gold' has orange-red skin with delicate yellow semi moist flesh. Medium-size, uniform, round tubers are disease-resistant and drought-tolerant. An early variety, not recommended for long storage.
'Cranberry Red', a.k.a. 'All Red', has red skin and delicate pink flesh with low starch content. Considered the best-producing red-fleshed, red-skinned variety. Matures in mid- to early season with high yields. <<
****LINK - Photo: http://en.wikipedia.org/wiki/Image:Tractors_in_Potato_Field.jpg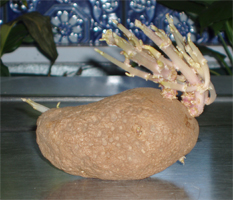 From the "eyes" of the untreated potato, roots will grow. If this occurs, don't eat it, plant it. And, you'll have your own home grown potatoes.
---
Russia

LINK- Produce Hunter: http://www.producehunter.com/WhatsHot.asp

>>see larger Russian Banana Fingerling Potato

....Developed in the Baltic region of Eurasia and praised for its excellence as a salad potato, the RUSSIAN BANANA FINGERLING POTATO is a medium sized tuber with yellow skin and flesh. This particular variety has firm texture and great flavor...perfect for salads or sautes. At this time of year, our RUSSIAN BANANA FINGERLINGS are true "new potatoes"...we receive them less than 24 hours after they were dug. In addition, all of our Russian Bananas have been hand-sorted to a consistant size by our grower.<<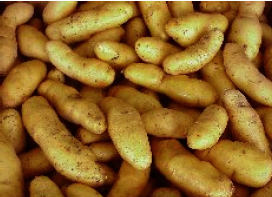 Russian Fingerling Potatoes
.