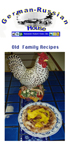 MEAT TURNOVERS
German-Russian words used meaning "meat turnovers" (small pastries filled with meat) are:
Fleischkuckla
Fleischkuechla
Fleischkuechle
Fleischkuekla
Fleischmaultaschen
Fleischplachinta
Fleischtaschen
Fleishckechla
Fleischekeichla
Fleischckuechle
Fleishkeechla
Fleishkeichla
Fleishkuechla
******
Russian Word for "meat turnover":
Pirozhki
---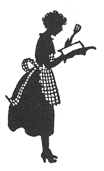 RECIPES
Pastry Dough for Meat Turnovers

RECIPE #1
RUBY'S AUNT'S PIROZHKI'S FILLING RECIPE:
Ingredients needed are:
Pepared Pastry Dough
Filling for Meat Turnovers
4 tbs butter
3 cups finely chopped onions
1 1/2 pounds of lean ground sirloin beef [hamburger]
3 hard-boiled eggs which are finely chopped
6 tbs finely cut fresh dill leaves [Dried dill is stronger so use about 3 tbs.]
2 tsp salt [Less or more for it's to your own taste]
1/4 teaspoon freshly ground black pepper [Less or more for it's to your own taste].
Prepartion:
1. In a heavy pan frying pan melt the butter, add the onions an stir occasinoly over moderate heat for about 10 minutes. They will take on a transpaprent look and have soften.
2. As you add the ground beef break it up and place it in the pan. Using a fork continue to break apart any lumps. Cook until the pink [raw] color is gone.
3. Let the meat and onion mixture cool so you can touch it then place in a grinder and with the finest blade regrind the mixture to a finer texture. If you do not have a grinder, as I, place the meat in small portions on a wood board and chop up the mixture. As you finish each portion, place it in a bowl.
4. Add to the finely choped mixure of beef and onions the eggs, dill, salt and pepper.
5. Preheat the oven to 400 degrees F.
6. On a floured board roll out the prepapreted pastry dough to a tickness of about 1/4 inch and with a circlular cutter (size is larger than a donut so it's about 3 to 3 1/2/ inches in diameter). Gather the scrap pieces and form a new ball that will be rolled out again.
7. Place in each circle of dough the filling which is about 2 tbs.
8. Fold the pastry over the filling. Press the outer circles into a closed seam with your fingers. Place the seam side down on a buttered baking sheet.
9. Bake for about 30 minues or until golden brown.
ENJOY!
This recipe is from my cousin Ruby Remmick's [I've forgotten her married name] aunt. I believe her mother's family are White Russians and the recipe probably has been handed down generation after generation. We were at Ruby's after her husband's funeral and her aunt had brought her pirozhki which was so good. In fact, I thought her aunt's "Pirozhki" were better than I had ever tasted, so, I wondered what the difference was in the recipe I had as compared to Ruby's aunt's recipe. I believe the lard in the pastry and chopping the beef and onion mixture into a finer texture makes the real difference.
---
LINKS:

Fleischkuchla - http://www.prairiepublic.org/features/schmeckfest/gallery/fry.htm
.