Last Updated: April 2007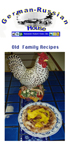 POPCORN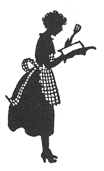 RECIPES
---

Recipe #1
Jana Wirch-Wright <jana_wirchwright@yahoo.com> wrote:
Date: Wed, 18 Apr 2007
Dad's Outrageously Good Popcorn Balls
From the Kitchen of La Rone B. Wirch, formerly of Portland, Oregon and now in Saratoga, CA b. 1923
A Halloween Favorite, back when you could give out home-made treats!
You will need
1 heavy pot
Candy Thermometer
Buttered wooden spoon to stir
Very large bowl
Wax paper
Ingredients
Already popped Popcorn, Sugar, Light Corn Syrup, water, margarine or butter, salt & vanilla
Directions: for popcorn - pop 6 cups of popcorn, your choice of popping style or brand. Set aside in very large bowl.
Directions for Candy Mixture; into heavy pan heat:
2 cups granulated Sugar
2/3 cup Light Corn Syrup
2/3 cup water
1/2 cup margarine or butter
2 tsp salt (optional)
1 1/2 tsp vanilla
Stirring constantly, bring all items to a rolling boil. While using Candy Thermometer, bring candy mixture to "Brittle Stage" (300 degrees Fahrenheit) - once at this temperature, remove from heat.
Drizzle candy mixture over popcorn, using buttered wooden spoon to stir ingredients together, thoroughly covering all the popcorn. Allow to cool enough to handle, but still pretty warm.
While still warm, using buttered hands, shape popcorn into snowball sized balls. Cool on waxed paper. Store in airtight container or cover each ball with 12" x 12" waxed paper, twisted on the top.
~~~~~~~~~~~~~~~~~~~~~~~~~~~~~~~~~~~~~~~~~~~~~~~~~~~~~~~~~~~~~~~~~
*** I have great memories of standing in the kitchen with buttered hands, waiting to help, while my Dad would make this treat! It was a big production! You learned real quick how to shape these popcorn balls fast, especially when they were so HOT!
Jan
---

Recipe #2
---

Recipe #3
Halloween mini popcorn balls
Chicago-Sun Times Newspaper Recipes: http://www.suntimes.com/recipes/desserts/109098,popcorn25.recipe
October 25, 2006
10 cups popped corn
1 cup diced dried fruit (papaya, mango or peaches)
1 cup butterscotch chips
1 (1-pound) bag miniature marshmallows
1/4 cup butter or margarine (1/2 stick)
Orange food coloring
Place popcorn, fruit and butterscotch chips in large bowl; set aside. Heat marshmallows and butter in a large saucepan over low heat until melted and smooth.
Stir in several drops of food coloring. Pour over popcorn and candy, tossing to coat evenly. Cool 5 minutes. Butter hands and form popcorn-candy mixture into 3-inch balls.
The Popcorn Board
---
HISTORY OF POPCORN & Other Facts:
1. http://whatscookingamerica.net/History/PopcornHistory.htm
>> In American Indian folklore, some tribes were said to believe that quiet, contented spirits lived inside of each popcorn kernel. When their houses were heated, the spirits would become angrier and angrier, shaking the kernels, and when the heat became unbearable, they would burst out of their homes and into the air in a disgruntled puff of steam.<<
2.
Fact Monster: http://www.factmonster.com/spot/popcorn1.html
>>Stone Age Snack?
Archaeologists have found 80,000-year-old corn pollen below Mexico City. Because this pollen is almost exactly the same as modern popcorn pollen, researchers believe that "cave people" most likely had popcorn.
Popcorn probably grew first in Mexico, though it was also used in China and India hundreds of years before Columbus reached the Americas.<<
>>An Explosive Discovery
Europeans learned about popcorn from Native Americans. When Cortes invaded Mexico, and when Columbus arrived in the West Indies, each saw natives eating popcorn, as well as using it in necklaces and headdresses.
Native Americans brought a bag of popped corn to the first Thanksgiving. A common way to eat popcorn at that time was to hold an oiled ear on a stick over the fire, then chew the popped kernels off it. Natives throughout the Americas also made a popcorn beer. Some made popcorn soup.<<
3,
Encyclopedia Popcornica: Early Popcorn History: http://www.popcorn.org/encyclopedia/epanhist.cfm
>>The oldest ears of popcorn ever found were discovered in the Bat Cave of west central New Mexico in 1948 and 1950. Ranging from smaller than a penny to about 2 inches, the oldest Bat Cave ears are about 4,000 years old.<<
4,
History of Cracker Jacks: http://whatscookingamerica.net/History/PopcornHistory.htm
>>1871 - According to the article How Cracker Jack Began, by Jeffrey Maxwell gives an fairly accurate story on his website at http://www.angelfire.com/mt/crackerjack/beginning.html:
Cracker Jack all began in 1871 with a German immigrant named Frederick William Rueckheim (1846–1934). He worked on a farm until he had saved 200 dollars and then started selling popcorn that was made by hand method with steam machinery, on 113 Fourth Avenue in Chicago, now known as Federal Street, in 1871. He sold popcorn to the workers who were rebuilding things that the Great Chicago Fire had destroyed. In 1873 he bought out his partner, Brinkmeyer. Then he sent for his brother who still lived in Germany, Louis Rueckheim (1849–1927). They were now called F.W. Rueckheim & Bro. They bought candy-making equipment which started marshmallow and other confections to their well off business. The brothers moved five times between 1875-1884. Then in 1885 they settled down in a three-story brick building at 266 South Clinton Street. In 1887 the building was destroyed by fire. In 1893 the brothers made combined peanuts, popcorn, and molasses.<<
4. More history on Cracker Jacks: http://inventors.about.com/library/inventors/blcrackerjacks.htm
>>Rueckheim came to Chicago in 1872 to help clean up after the famous Chicago fire. He also worked selling popcorn from a cart. Together with brother Louis, Rueckheim experimented and came up with a delightful popcorn candy, which the brothers decided to mass market. Cracker Jack was first mass-produced and sold at the first Chicago World's Fair in 1893. (The Ferris Wheel, Aunt Jemima pancakes, and the ice cream cone were also introduced at the event.) <<
5. Cracker Jack Boxes: Old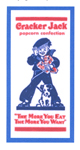 &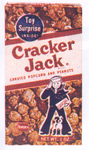 New
---
POPCORN IN BORODINO / BESS.: According to my grandmother Christine, nee Schweikert, Hein b. 1885 in Borodino/ Bess., someone brought back from America kernels of Indian Corn which was poped on those cold winter days in their home.

I am not certain if Indian corn was grown in or around Borodino.