Remmick-Hubert Home Site - Hein Family Genealogy: Ludwig Hein b. 1885 Borodino / Bessarabia S. Russia m. Christina Schweikert b. 1885 Borodino / Bessarabia, S. Russia - Child#9 Bertha Hein m. Albert Strobel
Hein Genealogy Page 8
Child # 9 of Ludwig and Christina, nee Schweikert, Hein
Bertha Hein - abt 1936, Sidney, MT
Bertha Hein b. 30 July 1918 on homestead near Torrington, WYO d. 5 May 2015 in Sacremnto, CA m. Albert Strobel b. 19 May 1916 Farm Home n. Marsh, MT d. 2 Sept 1978 Welton, Arizona, son of Gotfred Strobel (b. 1 Feb 1887 Ashley / McIntosch, ND, USA d. 14 Dec 1949 Terry / Cusster Co., Montana, USA) and Fredericka Stickel (b. 6 Nov 1889 Wittenberg / Bessarabia, S. Russia d. 15 May 1945 Terry) Issue:

Janice Strobel m. Donald Noteboom
Calvin Strobel m. (1) Jelin Rodney and m. (2) Elenita Fe Mendoz.
In 1964 Bertha wrote: "Bertha Hein Strobel was born"_____[date not given because she is still living], "Torrington, Wyoming, Gooden County and married Albert Strobel _____ at the home of her parents Mrs. and Mrs. Ludwig Hein in Sidney, Mont. Rev. T. Phenning officated. Albert was born 19th of May 1916 in Marsch, Mont (Cabin Creek Community) Prarie County to Gottfried and Friedrika (Stickel) Strobel.

"Albert and Bertha Hein Strobel have two children Janice and Calvin (Cal) J. Strobel.
Child One
Janice Strobel-
Janice Strobel m. Donald Noteboom Issue:
David Noteboom
Karen Noteboom
Child Two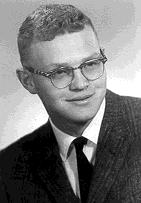 Calvin Strobel - 1960
Calvin Strobel m. (1) Jelin Rodney and m. (2) Elenita Fe Mendoz. Issue:
m. (1) Issue:
Jillian Strobel
Warren Strobel
m. (2) Issue: no children were issued however Calvin adopted her son ....
Dustin Strobel

Strobel Letters
Hi,
All of the Strobels from the Terry, MT area are related somehow or another. I have information from my mother-in-law which shows an Albert Strobel who married Bertha Hein as a son of Gottfried (G.G.) Strobel who was born in 1887 in Ashley, ND. I haven't worked on my husband's family very much, as I am just really getting started. It seems that alot of the Strobel men were named either Gottfried or Gottlieb, which makes it fun to try to sort them out. The patriarch of my husband's clan was Gottlieb Strobel who married Friedericka Motz in Beresina, Russia (Ukraine). When they first came to the US, they settled in McIntosh County, ND (Ashley). They then moved to the Cabin Creek (Terry) area of Prairie County, Montana, after reading about the land that the railroad was selling in SE Montana.
Do you have any information on Albert? By the way, I really like your web page. Do you live in Montana? My husband was born in Forsyth, I was born in Bozeman and our kids were born in Bozeman and Billings.
Claudia
STROBEL FAMILY
Gen. 1
Gotfred Strobel b. 1 Feb 1887 Ashley / McIntosch, ND, USA d. 14 Dec 1949 Terry / Cusster Co., Montana, USA) m. Fredericka Stickel b. 6 Nov 1889 Wittenberg / Bessarabia, S. Russia d. 15 May 1945 Terry, MT, USA
Gen 2
Gottlieb Strobel 28 Dec 1851 Beresina / Bess., S. Russia d. 27 May 1925 Fallon / Prairie Co., Montana, USA m. 12 May 1873 Beresina / bess to Friedericka Motz b. 3 Dec 1856 Beresina / Bess d. 26 Dec 1934 Fallon / Prairie Co., MT, USA, dau. of Friedrich Motz (b. 1821 d. 1934) (Source: ancestry.com / Wagner Famly Tree / owner: Matthew wagner) Issue:
Salome Strobel b. b. 15 Oct 1874 Beresina / Bess, S. Russia d. 2 Jan 1965 Lodi, San Joaquin, CA, USA m. Christian Wagner b. 1868 d. 1941

Reuben Wagner b. 12 May 1904 d. 3 July 1988 Circle / McCone, MT, USA m. Elsle Strobel b. 14 Oct 1907 Ashley / McIntosch, ND, USA d. 11 March 1990 Circle, McCone, MT, USA
Gen 3
Johann Martin Strobel b. 4 Aug 1812 Zirzki / __, Poland d. 25 April 1885 Beresina/ Bess., S. Russia 1885 m. Christina Barbara Hahn b. 5 Oct 1811 Baden, Germany d. 1 Jan 1896 Beresina / Bess., S. Russia, dau. of __NN___
Gen 4
Martin Strobel b. 24 Sept 1784 Suelz / Calw, Baden-Wuerttemberg d. 24 Feb 1833 Beresina / Bess., S. Russia m. Christine Kuebler b. 1785 __