Last Updated 16 Nov 2004
Myksvold Family Continued

In a message dated 9/29/03 4:38:03 PM, k5nrk@bellsouth.net writes:
<<Many thanks for your kind response. Again, I find it very interesting that our ancestors come from the same small fjord in Norway.
I thought you would enjoy seeing some photos that were taken during our trip to Norway last July:
Norway1: My daughter Blair (r) and her cousin Inger-Synnove (l) on top of Preikestolen near Stavanger. We hiked up (two hours) to this spot with four other cousins.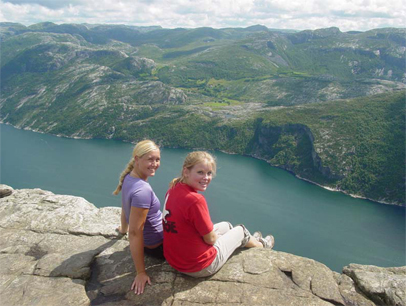 #1
Norway2: My cousin Einar Vatne (l) and I (r) taken at his home in Seim. Einar is the sheriff of the Lindas region. (Law enforcement must run in the family as our cousin Inglein Kvamme Killengren is an attorney and head of the Norwegian State Police. Her father is a supreme attorney (hosteradvokat) in Bergen.)

#2
Norway3: My American cousins with three of our Norwegian cousins at our family church in Seim. My Grandfather and Grandmother were married in this church and many Aunts and Uncles were baptized here. Lots of relatives are buried outside the church that is located just down the road from the King Hakkon gravesite.
#3
Norway4: Our Stavanger family reunion. (My Great-Aunt moved to Stavanger in the 1920s so a small section of the family resides there.)
#4
Let me briefly tell you a bit about ourselves. My wife, daughter and I live in Vicksburg, Mississippi. Both Dottie and I have worked at a research laboratory for the US Army Corps of Engineers for over 20 years. I am deputy chief of staff for our lab while Dottie is a research civil engineer involved in high-computational numerical modeling.
We have a ....daughter named Blair who seems to be fascinated by her Norwegian roots. I have been to Norway five times, Dottie once, and Blair twice. (Dottie stayed home this time as she is trying to finish up her Ph.D) All of our trips have been to visit family in Stavanger and Bergen; our Norwegian family reciprocates by visiting us often. And, you are right about the food as they overfeed and spoil us during our visits.
I give my Uncle credit for my interest in our Norwegian family. As I mentioned in my letter, he prepared a family tree that goes back into the 1600s. He made many visits to Norway to develop this tree and as a result that was the glue that has kept the Norwegian and American sides in contact with each other. In the 1970s he financed a hydroponics tomato farm on our family farm of Bokevoll in attempts to develop an economic base for the kids who wanted to stay in the area. Unfortunately it was a risky venture that was closed down in the early 1980s. Howeverwhile all of the first generation Americans are now gone, it is heartening to know that the second generation remains in constant contact with each other. E-mail and low overseas telephone charges have really helped...>>
<<hi. Again, many thanks for your kind note. Should you have any questions about our family please feel free to contact us.
Best regards/Beste hilsener fra,
Russ Tillman
Vicksburg, MS >>
---
In a message dated 2/25/03 7:51:13 PM, tlthomasii@sbcglobal.net writes:
<< You really have an interesting web page, lots of research is evident. Being half Norwegian (on my mother's side as they say in Minnesota), I've been tracking the tree back in Norway. I go back to the Palatinate near Strasbourg, France and Basil, Switzerland on my fathers side as well as to Jamestown Colony on his side.
Guess we are related. I descend from Harald Hardraade as well and have tracked the family back to Njord, Odin's priest of sacrifice and father of Frey and Freya. I descend from Frey according the tracking I've done in the Heimskringla. My Norwegian ancestors hail from Rogaland, Soggendals, traced back to royalty thru the Kirkebo and Tothammer farms.
My grandmother settled in Kansas in 1908 with her husband. She was from Løgevik, he from Knubedal, two farm/villages in Sogndal, near Joessingfjord, known is WWII where the British saved nearly 400 POW's from the Germans.
Keep up the good work on your web page. Really enjoyed it, fills in some info I didn't have on the really ancestral ancestors. >>
----
Letter
Subj: Re: Lineage
Date: Tuesday, September 28, 2004 7:20:51 AM
From: MagnesonR@ldschurch.org
To: RemMick@aol.com
Saturday I was working on my assignment in Medieval Families (I am a cataloger for the great Family History Library 80% of the time and 20% I am in Medieval Families).
I noticed that Erling Skakke was descended from the Hladejarls. I thought the Jarls of Orkney were too, so I looked at Ancestral File. It was then I noticed Finn Arnesson. I knew I had seen that name among the Jarls of Orkney, so I started tracing that out.
Erling's great grandmother and St. Rognvald's great grandmother were sisters and daughters of Finn Arnesson. If this is the same Finn Arnesson, he was one of several brothers who fought with St. Olav. Their brother, Kalv Arnesson, was one of those who mortally wounded St. Olav.
I have attached a brief descendancy chart.
Roger
Note: Attached chart:
Finn Arnesson b. abt 997, Earl [Jarl?] of Halland m. unknown Issue:
Sigrid Finnsdatter b. abt 1017 m. Orm Eilifsson Issue:

Ragna Ormsdatter b. abt 1034 m. Svend Svendssen Issue:

Orm ("Kyrplnge Orm") Svendseen b. abt 1070 m. Ragnhild Svenkesdatter Issue:

Erling "Skakke" Ormsson b. abt 1110

Ingebourg Finnsdatter b. abt 1021 m. Thorfinn Sigurdsson Issue:

Erland Thorfinnsson b. abt 1057 m. Thora Sumarlidisdatter Issue:

Magnus (St. Magnus]
Gunnhilda Erlandsdatter b. abt 1083 m. Kol Kalisson Issue:

Rognvald (Kali Kolsson) b. abt 1100