Last Updated: 3 Aug 2005
Remmick-Hubert Special Page - Lodi Union High School, Class of 1960-Newsletter

Lodi Uniorn High School

Class of 1960

Early Years to Senior Year at LUHS with Index

Newsletter: Vol. 1: 4 Oct 200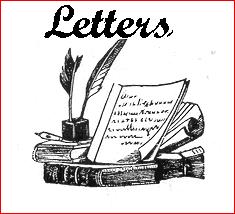 Letters from 2004-2005
If you wish me to remove you e-mail,, let me know and I will remove the e-mail as quickly as I can.

Letters:
#1
In a message dated 6/8/04 10:10:04 AM, ltsolari@bsiholdings.com writes:
Judy, I was the one who sent you information on the movie that I was executive producer of. I would appreciate being added to the address list. I am married, have four children, 3 grandchildren and live in Carmel, Ca.
In a message dated 6/9/04 10:43:22 AM, ltsolari@bsiholdings.com writes:
Judy, the name of the movie was "The 13th Child, Legend of the Jersey Devil, and featured Cliff Robertson, Lesley Ann Down, Robert Guillaume, and Christopher Atkins. It opened on the east coast theatrically in the fall of 2002, and was available on dvd and video in the fall of 2003 thru Blockbuster and Hollywood. Currently it is being promoted in all major foreign markets and will be available for sale in dvd etc thru most video establishments. The movie was well received and we are currently working on the financing for a squeal. As Executive producer I had little to do with the movie itself, but was responsible for the financing. It was an interesting, but expensive experience and being involved did provide opportunities to gain exposure to the industry, the cast, and even Clint Eastwood who is a very good friend of Cliff Robertson. Painted Zebra Productions, our production company, while working on Jersey Devil II, will be introducing a film this fall called "Malevolence" which our group was involved in financing. You can access the website for the 13th Child at www.thirteenthchild.com. Larry
------

#2
In message from Madeline erik790@attbi.com :
Judy - attaching 2 pictures of our backyard endeavor - we're working toward "Buchart Gardens" - may take us a while. I was able to get to the newsletter - don't know why I couldn't the first time you sent it. Enjoyed your pictures.
Madeline (Terrell) Maddox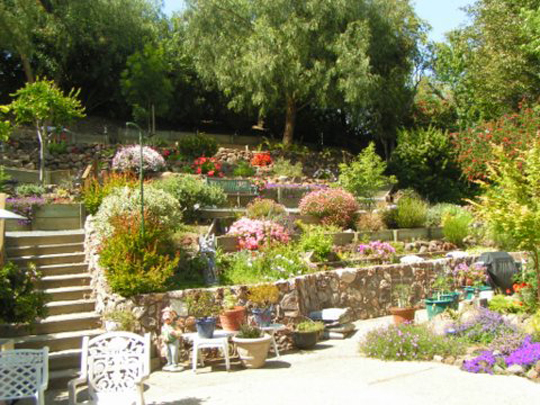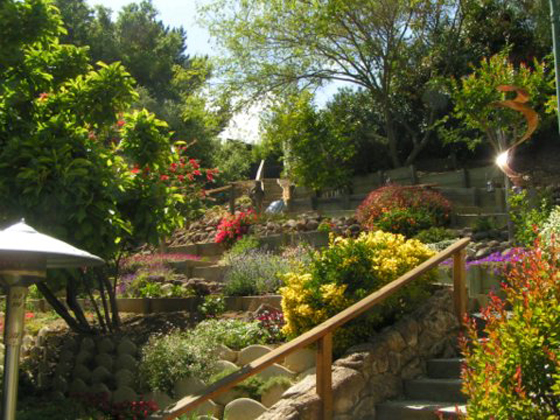 ----

In a message dated 7/12/04 2:43:11 PM, maralen@inreach.com writes:
Just to let you know that Rita Rott, one of our class mates passed away this
last Friday. I don't really have any of the details.
Maralyn
-----

In a message dated 7/21/04 9:02:47 AM, dalekretzer@comcast.net writes:
Hi, Judy;
I've been out of the loop for awhile, but wanted to make sure you've been contacted about the passing of Rita (Henry) Rott on July 9th in Lodi. She died in her sleep at home, probably of heart failure since she already had an artificial valve.
The reunion committee members got together for the funeral service, which had at least 400 persons in attendance. Rita was popular with a great many people, and will be severely missed, particularly by the committee members. There were a goodly number of classmates at the service, and we all grouped together at the Celebration of Life gathering afterwards.
I have her obit from the Lodi paper, along with funeral notes, etc., but you may not want to use that info because of not doing so for other deceased classmates. It's a sad task anyway, but perhaps some mention could be made on your Website because of her strong leadership for all the reunions.
I've gotten divorced, stayed single for awhile and then remarried a widow I met through her sister here in Sacramento. I now live in Citrus Heights and have retired early after undergoing five-way heart bypass surgery. I'm having a wonderful time and making every day count.
Please let me know if I can be of any help regarding information on Rita. I believe the committee has already set a tentative time and location for the reunion next year, but I'm too far away to serve on the committee any longer and will need to provide you with an e-mail contact within the committee if you don't already have one. As you can see, my e-mail address now is dalekretzer@comcast.net.
Cheers, Dale
-------

Hi Judy, first of all I want to make sure you have my new email address, it is diannamm@verizon.net and also would like to know if you have set any dates for the class reunion yet?
We just spent 2 months in Alaska, and while we were there I was able to visit with Nadine Schmidke Smith.....and we were talking and wondering when the reunion was going to be and where etc.
If you can give me any info I would appreciate it....thanks Dianna
------

In a message dated 9/22/04 9:53:49 PM, hharada@ihot.com writes:
Hello Judy,
I got your website link from Marsha Sanger, who knows our department admin, Judi, and Marsha recognized my name from a email joke that Judi had sent out. Marsha and Judi have a mutual friend.
Great website! You've done a lot of work.
Looking at your "memoirs" page, I noticed your elementary schools listed, and I had also gone to Garfield!
Just for the first grade, and I'm the one sitting next to Dennis Morita, not Robert Okamura. I later met Robert at Houston Elementary (Acampo Rd/Hwy 99) for the 7th/8th grades. I didn't know Barbara Boepple went to Garfield, I had Chemistry with her and she sat in front of me.
I just found my 1st grade picture!!, and on the back I have a few names for the top row,
#3 is Arlin Adams,
#4 is Don Baker, and I also have Gino Bulleri for #5. The only girl I have listed is Noreen, who I also saw in 3rd grade at Woodbridge school.
The only memory I have of Garfield is when I somehow got my left index finger tip smashed in the classroom door, and got sent to the office. Another time during the rainy season, near school somewhere, a bunch of us were riding our bikes thru the puddles of water in the gutter. Well, my bike slipped and I hit my heard on the street, woke up with a policeman in my face and a big bump on my forehead.
The only person I see from Lodi now and then is Newton Iwamura. Actually he knows my wife's older sisters from San Jose State. He retired from Lockheed about 2-3 yrs ago. The last I heard about Robert Okamura was that he lived in Pleasanton, but this was about 15 yrs ago.
Take care,
Hideo Harada
from: hharada@ihot.com
---

Judy,
My name is Richard Haas.
You probably won't remember me since I was a year behind you at Lodi High and I don't remember us ever crossing paths, although I do remember you from your picture.
But..... I want to thank you for a wonderful trip down Memory Lane on your web site.
I still don't know whatever possessed me to put "Lodi High School" in the search engine, but I just spent an hour or so wandering through the hallways of your memory, and it brought back things I hadn't thought of in decades!!
The first thing that caught my eye was the Hot Rods From The Past.......
Bob Liplets 1931 Ford Sedan is almost directly responsible for me being where I am today.
I remember the first time I saw it......I fell in love with a car before I fell in love with a girl!!!!!
That love of cars was to last me a lifetime....it seems that I have always been involved with the "Automotive Hobby" and still am today.
Currently I am a partner in Street Rods Forever in Austin, Texas. We buy, sell and locate Hot Rods for people from all over the world.
If you're interested, there are two web sites you can check out. The first is my Car Clubs site...you'll see on that site that I own a car today that is amazingly similar to Bob Liplets car!!! It's a 1929 Ford Sedan Hot Rod.
That web site is www.donutgang.com
The second web site is my business web. www.streetrodsforever.com
I have never been as happy in my whole life as I am now since I quit "working for the man" and got involved in this business.
I have made a lot more money most of my life ( it's a new business and I am sure it will grow) but I have never felt more at peace with myself!
The next thing that caught my eye was when I found a section from the Senior Play in 1060. I wasn't in the cast of "Our Town", but I was on the stage crew (under the direction of Mr. Mraz), and lo and behold, there I am in the cast and crew picture. I didn't even know that picture existed!!
Well, I'm starting to ramble and I know you probably have better things to do than listen to me carry on, but I did want to let you know that someone out here is very thankful and grateful that you took the time to put together all those fine memories.
I'll be back to your site again!
Class of '61
Richard Haas
richard@streetrodsforever.com
-----

In a message dated 3/19/05 12:24:24 PM, erik790@comcast.net writes:
Hi, Judy -
I just heard from Claire Omura and she asked whether I had heard about the 45th reunion - I haven't. I occurs to me that perhaps I didn't advise you that our e-mail address changed to erik790@comcast.net. Claire also said that a cruise may be in the offing for the 50th reunion - true?? Can you send me anything I may have missed. I think they quit forwarding e-mail around the middle of December, last.
Regards,
Madeline (Terrell) Maddox
------

Faye Doty: flaustin@comcast.net
Things are going well now that I retired. Yes, I plan on going to the reunion. Barbara Thompson is planning to go with me as well as Diane Becker. I'm sure it will be fun.
Faye Doty
flaustin@comcast.net
----
Responces for discovering new e-mail addresses:
------

Hi Judy ...
Looks like you have mine correct ...
Here's a new address for Dave Cristofani who moved to Arizona a few months ago. I know he's planning to attend the reunion.
adcris@cybertrails.com
Thanks for all your efforts.
Rich Coulter
---

In a message dated 6/17/05 4:51:11 PM, adcris@cybertrails.com writes:
Judy:
So you found us! Ann and I, both native Californians, just got sick of the place. We both enjoy warm weather, were getting to the point we could not handle California from the crowds, cost, political situation, etc. so we decided to scoot. Found this neat area north of Tucson and moved into a new home a few months ago. Still getting settled and we really are enjoying it. We will make it to the reunion and I am looking forward to visiting with friends, some of which I have known for 50 years. Gad that makes one feel old!!
Dave
---

Letters afer Reunion - 30 July 2005
See Reunion data for picnic on Friday night and dinner on Saturday: