Last Updated: 25 Oct 2007
WHAT IS A CHUTOR?
>>>In a message dated 3/1/07 7:52:13 PM, kleiji writes:
This is what I wrote about Khutors in "Odessa State Archives, Part III of IV" in the GCRA Newsletter somewhere around 1996:
"Guthe" is the older German way of spelling "Gute" or "Gut," meanings of which include estate, landed property, or farm. Other similar German words include "Gutshof and "Einzelhof". In Russia these small settlements of one or two hundred people were called "khutors", (English spelling), or Chutors, (German spelling) for the Russian "Xytoñ", which derives from the Hungarian word "Hatar". Khutors were separate rural settlements built on privately owned land and usually consisted of a single farm. Similar settlements have existed in Europe and Central Asia for many centuries. Khutors became widespread in Ukraine after serfdom was abolished in 1861. By the turn of the 20th Century, over 400,000 khutors existed throughout the Ukrainian gubernias. In the Cherson gubernia close to 25% of the farms were khutors. But by 1922 the proportion of these small farms fell to 4% because of the Soviet collectivization drive. By the time collectivization was completed, the khutor as a form of farming disappeared.
Reference:
Encyclopedia of Ukraine, Vol. 2, page 498, University of Toronto Press, 1988.
Jim Klein<<<
--------------
>>> Curt Renz 03/01/07 3:32 PM >>>
Does the following cover all the definitions of the term or are there other
definitions?
Thanks,
Curt.
KHUTOR (Chutor):
1- any Ukrainian / Maloruss / Little Russian settlements which do not have a
church;
or
2- a small hamlet, usually composed of a single homestead, populated by
settlers from another district or gubernia (i.e. non-locals);
or
3- farming homestead (main farm-house) standing in the middle of
privately-owned farm(land) which employs farm-workers/laborers.
----------
ROEMMICH CHUTORS
My Roemmich family owned 8 chutors and often married into other families like the Ochsners who, also, owned chutors.
Sometime ago, we had a discussion about "estates" and "chutors" and it was explained to me that our GR didn't have "estates" because one had to be of nobility and the "estates" were under the law of being inherited, therefore, only the property of the nobility could be called an "estate" in Russia during those times when Russia was under the Tsarist rule.
(I think I recall that correctly.) The Tolstoys, von Mecks were of the old Russian nobility from whom GR's purchased land, owned estates. In my list I tried to discover the names of the original owners of the land which was sold, in parts, to GRs:
Chutors were like our small American farms to the great size of our American ranches or southern plantations.. The majority were self sufficient. They could be owned by one family, like my Roemmich family, or owned by several families like the Perijon which my mother's father's family were 1/3 owner with several Catholic families Hahn and Heim.
There were times when a group of men would collectively buy property and make a settlement which included many families. This occured after the German-Russians had established themselves around the 1850s to 1918.
The Roemmich chutors varied in size and purpose.
If a family member was born on a chutor, he or she may or may not be recorded in the nearest GR colony but in a large Russian town. If you know the general area where the family member was born, check surrounding church records, especially the main parish of the area.
If the chutor was large enough, it could have incorporated as a Russian village, but this was rare.
The residence workers of the chutor usually attended a small religious meeting on Sunday in the home of one of the owners who had built a chapel, or, everyone went by carriage to a nearby colony where they attended church and church functions....
The GRs had a tendency of having huge barns and homes that varied from small to average in the early years. It was not considered to be proper to flaunt one's wealth to other GRs less fortunate. By the 1900s, however, the more wealthy GRs were building very nice homes....
Looking at our own Midwest history of GRs who migrated to the USA in the mid-1800s to the early 1900s is very similar. The larger farm and ranches began to show a families prosperity after 1918.
I have no clue as to how much land was owned by the Roemmich clan. Nor do I know the inner workings of how the men handled their position within this family unit. There is an excellent article in the AHSGR's Journal magazine on how the Oschner family grew prosperous by working hard and by learning the latest information on how to till the soil, crop rotation, etc. etc. ....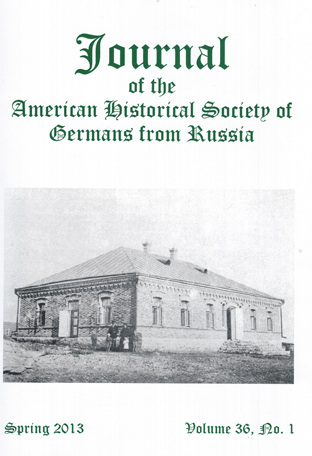 Podqurjewka, Ochsner Khutor about 60 milies north of the port City Odessa / Kherson Province, S. Russia.
See brief outline that holds the description of the Ochsner's Chutor
Nikolalus Ochsner [Johann Nickolaus] Ochsner] b. 25 May 1798 Edenkoben, Pf. d. 1876 Worms/ Od. S. Russiam. (1) m. abt. 1826 to Margareta Weikum b. abt 1808 Stebbach/ Sinsheim, Baden [Baden-Wuerttemberg, Germany] d. 30 June 1837 Worms/Od. S. Russia, dau. of Dietrich Weikum and Karolina Meidinger. He rem. (2) 26 Oct 1837 Worms/Od. S. Russia (#1882647-3-153-6) to Anna Maria Wuest [Wiest] b. abt. 1810 Erlenbach / Germersheim, Pf. d. 1894 Worms/ Od. S. Russia, dau. of Johann "Sebastian" Wues
See List of Roemmich,, Ochsner, Heim, Pfaff and Other Chutors and villages
The Roemmich family had 8 chutors from the early 1800s band up to the Russian Revolution in 1918 then early in the communist period all were under state rule..
See maps: Page3.2.html & http://www.remmick.org/Remmick.Family.Tree/PageChutor.html
My grandfather Edward Remick (spelled his name this way but born a Roemmich) was only six when he and his family migr. here to the USA so he really never had the knowledge of how all of these family members worked their lands.
I'd be greatly interested in any kind of information you can give about these chutors and if there are records which tell us the size and names of those who lived on these chutors.
remmick@aol.com
---------
See Pfaff, Ochsners, and, other ancestoral families who, also, had one or more chutors.
See the Hoffmann Chutor, known for their horses. Family married into the Roemmich family.