Schwabish Hall, Schwabish Hall, Baden-Wuerttemberg. A Remmick-Hubert Home Site Page
Last Updated: 4 Feb 2003

German Facts continued....
Schwaebish [Schwabish] Hall, Schwaebish [Schwabish] Hall, Baden-Wuerttemberg, Germany

Ill 2
Towns Coat-of-Arms
[Clicking on this symbol will return you to this page]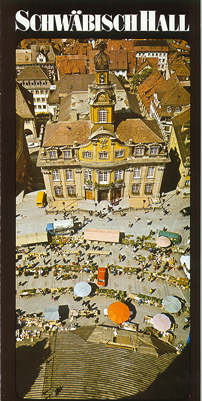 Tourist Leaflet
St. Michael Church and Square
Ill. 3
THE HISTORY OF SCHAEBISH HALL
Schwaebish Hall is a town with many old buildings in their original state to the delight of the many tourists and photographers visiting it every day just like my husband, Garry, and I did in 1991.
The German town was founded on a Keltic settlement site which was prosperous because of it salt springs which produced the salt needed for preserving food.
Under the Emperor Barbarossa the town received it's charter in 1156. 110 years later the town became a "free imperial city".
The city lies in tiers along the River Kocher and it's marvelous old footbridges are an added photographer's delight. One of the old road bridges is shown here..
Photograph # Ill. 1 & II 10 which is the larger photo

Click and See Larger Photo

A marvelous old bridge which crosses the River Kocher. Click on photograph and go to list of German villages in which the Remmick and Hubert Families lived before migration eastward to Austria-Hungary, Poland and, or, Russia.
The town is nestled along the north-eastern fringes of the Swabian Forest.
Highlights to see are the following and dated for additional information:
Pre-1156
Keltic settlement
Old Market Place where , in modern times, in June to August the "salt-boilers" dance continues step by step to the steps of the old St. Michael Church during the Salt Makers' Festival.
13th and 14th Century:
Remains of the Diebs Tower (Salienstrasse)
Church of St. Urban
Remains of the Malefix Tower (Saumarkt)
Ruins of the Burg Limburg, a 13th century castle
1343 -St. Katharina Church
1456 - St. Michael Church
1494 - M. Erhat's high altar and crucifix in St. Michael Church dated 1456
1505 - Keckenburg House which was a nobleman's family, now, is a museum showing historical collections of the town people
1585 - Goldener Alder Inn was built and continues to serve people as an Inn
1507 -The old arsenal known as "Gross Buechsenhaus", also known as the Great Hall
1515- Crailsheim Gate
1732 - The town hall was built in the Barque style.
Most roads of a town, known for it's production of salt are in direct line to large cities who's merchants carried the salt, were heavily traveled. Therefore, it is not at all surprising that a nobel family took a keen interest in the area and gained farther wealth by owning the mines. It was in the early 9th c. that one such family left it's mark.
Just three miles SE from Schwaebish Hall is the defensive Abbey of Comburg founded in 1076 by Graf Burkhard II of Rotenburg-Comburg.
The town had it's own mint which produced Imperial silver coins, known as "Haller pfennigne" or Heller, which some museums have on display. Hallers early coins can hold dated as far back as the 11th c..
MAPS
See General Map which shows where Schwaebish Hall can be found.
THE HISTORY OF SCHWAEBISH HALL, THE TOWN
List of Photographs of the town.
Tourtist Map: Nicker Valley Romantic Road
List of Photographs of the Town of Schwaebish Hall
---
BUTZ (Buss) FAMILY
A Remmick-Hubert Family History
Schwaebish Hall was where our ancestor Christian Butz [Buss] was born in 1716. His family 's history is connected to the brewing and selling of beer. Christian's father hosted/owned a place called White Horse Inn.
Christian Butz
b. 6 Jan 1716 Schwaebish Hall / Sch. Hall, Ba.-Wu., Germany
16 March 1767
m. (1) 4 Nov 1838 to Maria Christina Hausser b. 19 July 1718 d. 10 Sept. 1747, dau. of Jacob Hauser, a tanner in Nagold, Wu., Germany and Margarete Christine ___. They had 7 children. Three children died as infants, one son died at the age of 22, he was not married, two sons a daughter did survive and did marry
m. (2) 23 Feb 1748 to
Christina Frey, dau. of Greog Frey, a baker in Aidlingen, Wu., Germany
Issue (9):

Albrecht Butz b. 28 April 1764 Nagold/ Wu. d. Borodino/ Bes. S. Russia m. Barbara Scholderer, dau. of Johannes Ulrich Scholderer and Salomea Staehlin
Christian Butz's father , Jorge Butz, was not born in the town of Schwabish Hall but in the district of Schwabish Hall but in the village of Grossaspach where he owned/hosted the White Horse Inn.
Butz's White Horse Inn,

Grossaspach / Schwaebish Hall, Wu [Baden-Wu]
*blue indicates direct ancestor of Judy A. Remmick-Hubert, webmistress
See Schweikert Genealogy Home Site. - Index Page for other families connected to Butz
---
| | | | | | | |
| --- | --- | --- | --- | --- | --- | --- |
| | You Are There | Hubert Home Site | Remmick.Home.Site | Borodino Home Site | | |