Remmick-Hubert Web Site / Borodino.Home.Site: Butz Genealogy. Photographs of (1) Butz Family in Borodino / Bess. S. Russiaof; (2) Nagold / Wu. German and (3) Schwaebisch Hall, Wu. Germany
Schweikert Family continued....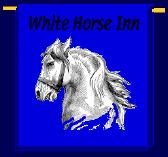 Gen. 1
P. [Philippina ] A. [Anna] Margaret Butz b. 11 April 1820 Borodino / Bess., S. Russia d. 1926 [106 years old], Borodino / Bess., S. Russia, dau. of Albrecht Butz and Ursula Schalkopf m. to Johann Schweikert II b. Jan 1816 Borodino / Bess., S. Russia d. 1919 Borodino / Bess. [103 years old] m. 6 Feb 1839 Kloetitz / Bess., S. Russia Issue:
Johann Schweikert (age 11) b. abt 1839 (Source: 1850 Borodino Census) d. USA m. Bippus.

Dau.
Gottfred Schweikert
Ludwig Schweikert

Jacob Schweikert* b. 2 March 1840 Borodino / Bess. , S. Russia d. 25 March 1923 m. (1) Johanna Bippus b. 1846, dau. of Johannes Bippus, the younger, and Johanna Reinhardt m. (2) Elisabeth Hager [Hoeger]
Andreas Schweikert b. 29 March 1844 Borodino / Bess.
Conrad Schweikert b. 23 June 1846 Borodino d. 8 March 1847 Borodino / Bess. S. Russia
Magdalena Schweikert b. 19 Jan 1848 Borodino / Bess.
Karolina Schweikert b. 1850 Borodino d. 14 March 1856 Borodino / Bess.
Margaretha Schweikert b. 9 May 1852 d. 8 May 1853 Borodino /Bess.
Albrecht Schweikert b. 8 May 1854 d. 2 March 1856 Borodino / Bess.
Conrad Schweikert b. 1 Oct 1856 Borodino / Bess.
Christina Schweikert b. 6 April 1859 d. 20 May 1860 Borodino /Bess.
Christian Schweikert [Schweigert] b. 17 April 1861 [? error 17 May 1861] m. Ruth Shock b. 18 June 1862 Borodino / Bess. Issue: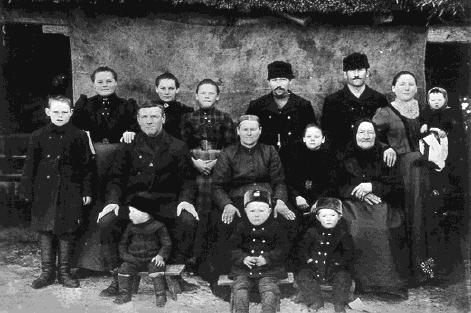 The eldest woman is Margaretha, nee Butz, Schweikert with one of her sons plus his family [children and grandchildren]. Picture taken before 1918 in Borodino.
Notice the thatched roof of the house.
Gen. 2
[correction 9 Aug 2003]
Albrecht [Albert] Butz [Buz]
b. & bap. 28 April 1764 Nagold / Wu., Germany [rec. #1 from Nagold; rec. #2 Borodino 17665444 Borodino / Bess. S. Russia]
Confirmed Ev. Lutheran Church, Nagold, Wu
d. Borodino / Bess., S. Russia
m. (1) 12 July 1787 Barbara Scholderer b. 5 Sept 1761 poss Rosenfeld/Balingen, Wu, [poss grand] dau. of Johannes Ulrich Scholderer of Rosenfeld / Balingen-Wu, Germany and Salomea Staehlin She died 1815... See their issue
rem. (2) 1815 Borodino / Bess. S. Russia
Ursula Schalkopf
.b. 19 April 1790 Boll / n. ___Goeppingen ,Wu., [Germany] /
d. 17 Oct 1857 Borodino as the widow of Friedrich Finkbeiner from Groszliebental #1884103/2 415 21; lists she was from Wu.
[Source: Ingrid Reule has stated that she was b. 14 April 1790 Boll / Goeppingen, Wu, d. 14 Oct 1857]
Issue:
------
Albrecht Butz's and his first wife's, Barbara Scholderer's, Issue
No children known at this time
CORRECTION 23 Oct 2007: No children are listed. The following were of the Lutz Family NOT Butz. See Ingrid Reule e-mail of 24 Oct 2007. Film #1768397 of marriage records and birth records of Boroino Film #038888
Johann Lutz b. 23 Aug 1788 Dornstetten, Wu [Germany) d. 25 May 1831 Teplitz/ Bess. S. Russia m. 31 Oct 1818 Kloestitz/ Bess. Auguste Neppke b. abt 1797 in Wihlelemsborn / Mecklenburg-Strehlitz (Germany)
Jakob Lutz b. March 1798 Neckarsau / Mannheim / Baden [Germany] d. 2 July 1853 Borodino / Bess. m. (1) 4 March 1820 Kloesstitz / Bess. S. Russia d. 23 July 1831 Borodino, Ester Regina Siegloch. dau. of Lorenz Siegloch and Marie Anges __NN__ (d. 1831) & m. (2) 18 Aug 1831 Kloestitz/Bess. S. Russia to Magdalena Gast b. 12 Nov 1811 d. 1864
Lutz Family remained friends in Borodino and my grandmother, Christina, nee Schweikert, Hein has in her photo collection some of the Lutz Fam. pictures.
Family History:
See Document
From Rev. Martin Benzing of Nagold, Wu., S-93, I received a letter with the data of the Butz family on 20 Dec 1974. He found in the records the name of Albrecht Butz was also Albert Buz. Albrecht was born and baptized the same day , the 28th of April 1764. His occupation was the same as his father's, which was a baker [Bauer]and brewer [Biersieder]. His first wife, Barbara, nee Scholderer who's father was a dyer (Faeber) in Rosenfeld. Her father had died before Barbara married Albrecht. Albrecht and his wife left for "West Borussia" in May of 1803. No child is listed as having been born to them in Nagold. Evidently they were for a time in Neckarsau /Mannheim / Baden where their son Jakob was born in March of 1798, so, they did ot go directly to "West Borussia"....
Nagold , Wu., German 1991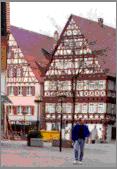 Where in "west Borussia" they migrated is unknown.
Update 24 Oct 2007: It appears from Ingrid Reule about Albert Butz:

>> In the book Altdeutsche Geschlecherkunde is given as name Albert. About 1805 he settled there with 2 persons. That means himself and his wife. 1805 they did not have any children. He did not come from Neckarsau, Baden.<<

>>28. Kol. Kanstadt Amt Potycz (bei Modridkow and Mikowlas) << [Kanstadt/ Canstadt m. Moscow]

>>31. Butz, Albert 2 W <<[Wuerttemberg], now in Germany]
In 1814 we find Albrecht Butz listed as having been an early colonists of the German-Russian colony of Borodino in 1814. He remarried in1815 to Ursula Schalkopf.
There is no record of his first wife dying since the early records were not kept in Borodino. We do know men did not remain widowers very long, especially if there was a child or children. Nor do we have a list of their children if they did have issue. And, we do know he remarried Ursula Schalkopf [Schelkopf].... [Update 24 Oct 2007: on first wife can be found on Scholderere Page: information from Kevin Scholder]
Since Ursula was 36 years younger than Albrecht, I assumed, she probably remarried after Albrecht's death. Two more marriages were found for Ursula.
Ursula Schalkopf was married three times : m. (1) 1815 [in or near Borodino / Bess] to Albrecht Butz; m. (2) 23 Nov 1843 Grossliebental / Od. S. Russia #1882594/2 319 30 - File: Grossliebental Marriage Records, 184x (D. Wahl) to Friedrich Schuler b. ___ d. ____ ; m. (3) Friedrich Finkbeiner from Groszliebental #1884103/2 415 21; lists she was from Wu., a widow
Gen. 3
Christian Butz
b. 6 Jan 1716 Schwaebish Hall / Sch. Hall, Ba.-Wu., Germany
d. 16 March 1767
m. (1) 4 Nov 1838 to Maria Christina Hausser b. 19 July 1718 d. 10 Sept. 1747, dau. of Jacob Hauser, a tanner in Nagold, Calw, [Ba] Wu., Germany and Margarete Christine ___NN__. They had 7 children. Three children died as infants, one son died at the age of 22, he was not married, two sons a daughter did survive and did marry
m. (2) 23 Feb 1748 to
Christina Frey, dau. of Georg Frey, a baker in Aidlingen, Boeblingen, [Ba-]Wu., Germany
Schwabish Hall, Schwabish Hall, Wu., Germany - 1991
Family History:

The widow Christina, nee Frey, Butz remarried in Nagold on the 25th of Jan 1771 to Johannes Schwenk, a baker of Nagold.
Gen. 4
Joerge Butz
b.
d. poss. Grossaspach / Schwaebish Hall, Wu., Germany
m. to
Anna Barbara _?_
Family History:
Joerge [Georg] Butz was "host" [owner] of the White Horse [Weissen Roessle] Inn in Gossaspach, a village in the county of Schwaebish Hall. His wife was Anna Barbara. Last name is not known. It is believed that Joerge was dead before his son , Christian, married in 1738.
Meaning of Butz
The name Butz or Buts or Buss is German .The old German word "Bozo" [Buzo] which translates to mean "a young messenger". In British-English the word is "butts", also, refers to mean "a young messenger" , the r.w. from old English is "buda".
But, I'm not sure this is the roots of our ancestral surname Butz [Buss, Bus] A peasant surname usually refered to a man's occupation. Our family dealt in brewing and selling beer. In the early German records "buss" was an early-beer which the Crusaders drank which was safer than the variety of water on their way to the Holy Lands. Here in the USA we still use the word "booze" which refers to an alcoholic drink.
In another dictionary it states that "buss" is from the old German word "busc" which means "thicket of brush". I think this is more in tune with the word "busch"
In the USA the word Bozo has taken on a different meaning after a famous circus clown ,who called himself Bozo, spread his silly fun around the world. This name Bozo, however, was not taken from German but an Italian word 'bussic" which refers to a man who is a heavy eater and fills his cheeks with food.
.
Letters
6 May 2002

E-mail from Ingrid Reule: ingrid.reule@t-online.de

Dear Judy, meanwhile I found out that the name Butz and not Lutz was. * 05.01.1817 Wilhelm Jakob Albrecht Buß;parends: Alberecht Buß and Ursula

* 11.04.1820 Philippina Anna Margaretha; "" Albrecht Butz and Ursula Schalkopf

* 06.03.1823 Katharina; "" Albrecht Butz and Ursula Schalkopf

There was a child born to Philipp Bippus and Elisabeth Reinhardt named Philipp, *26.08.1828

There was a child born to Johann Bippus and Johanna Reinhardt named Johann Gottfried * 14.09.1832

Taken from the birthrecord: births Borodino film: 1198710

I have copied the Borodino birthrecords by handwriting 1816-1835, but not every birth is there written down.I have also copied by handwriting all the Borodino family books from the beginning until 1940. I am able to answer every question.

Yours Ingrid
In a message dated 9/25/03 9:50:01 AM, Clark Kidder, cokidder@charter.net writes:
<< Hello,
Just following up on our e-mails the other day. If you would like to post something on your site that simply states that I am gathering information on the descendants of Jacob Butz that immigrated to America in the early 1700s, settling in Bucks County, Pennsylvania, that would be fine. He is said to be the son of Jacob Butz, who remained in Germany. I am descended through his son, Philip Jacob Butz, who had a son named Hans Michael Butz, b. 12 November 1726 in Springfield Township, Bucks County, Pennsylvania; m. Mary Elizabetha Weber abt. 1749; died July 30, 1779 in Fork Township, Northampton County, Pennsylvania.
I am currently compiling a Butz/Butts genealogy on my particular line, and would like to trace the family in German records as far back as possible.
Thanks for your help!
Best Wishes,
Clark Kidder
Janesville, Wisconsin USA
Clark Kidder,
Vice President of the Milton House Museum (A National Landmark), and Author of:
Marilyn Monroe UnCovers (Quon Editions, 1994);
Marilyn Monroe Collectibles (HarperCollins, 1999);
Marilyn Monroe Cover To Cover (Krause Publications, 1999);
Marilyn Monroe Memorabilia (Krause, 2001);
Orphan Trains and Their Precious Cargo (Heritage Books, 2001);
Marilyn Monroe Cover To Cover, 2nd Ed. (Krause, 2003);
A Genealogy of the Wood Family (Family Heritage Publishers, 2003).
Magazine Articles:
Wisconsin Magazine of History - "Wisconsin's Orphan Trains," 2003.
Family Tree Magazine - "Researching Orphan Train Ancestors," June, 2002.
My work with Wisconsin's Orphan Trains can be seen at:
http://www.rootsweb.com/~wiorphan >>