Jan. 1945 , I entered the Navy and we were sent to San Diego, CA. for boot camp training. I became Fireman First Class.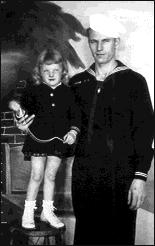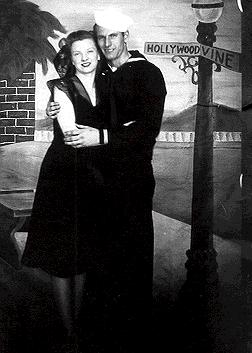 Edwin Remmick with his daughter and his wife in LOng Beach, CA 1945.
...May 1945, I was sent to Algiers, Louisiana to a Navy Base across the Mississippi River from New Orleans. Lillian and Judy came to be near me [we lived in New Orleans]. Here I was trained in ship repairs and overseas duty.
...Fall of 1945, we returned to California. I went to San Bruno and Lillian and Judy to Lodi.
That same Fall, I and my unit marched in the San Francisco parade welcoming home General Wainwright after his release from a Japanese prison.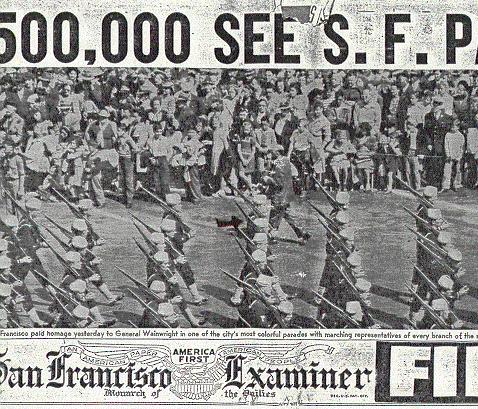 The hand drawn arrow shows Edwin Remmick marching in the San Francisco parade given for General Wainwright.
In August, we were all ready for the invasion of Japan when the H-bomb was dropped. Shortly, thereafter, I and my unit boarded a merchant ship for Japan. When we reached Japan, I was one of the five men to be chosen for duty aboard the battleship U.S.S. New Jersey, which was one of our top battle wagons , then , and has been refurbished for duty [in the 1980's] , again. Thus, I became a part of the occupation forces of Japan.
Ed Hein, my brother-in-law, was stationed at a hospital in Tokyo, also part of the occupation force. We spent time aboard ship with me and I in turn spent time with him ashore.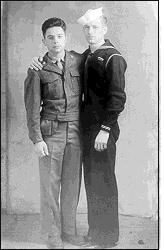 Eddie Hein and Edwin Remmick [right] in Tokyo, 1945
In the spring of 1946 the U.S.S. New Jersey was replaced and we returned home to dock at San Pedro, California where I was honorably discharged from the Navy.
1946 found me back in Lodi. After working for several other companies, I ended up working for General Mills, Inc. where I stayed for 32 years, until my retirement.
Now, I'm a goat herdsman....."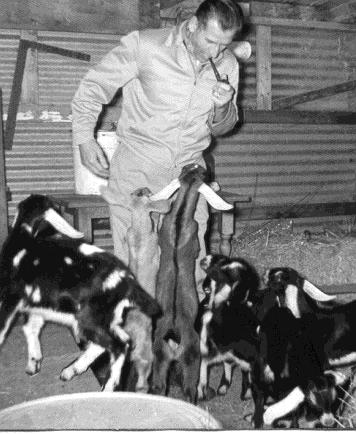 The Nubien kids [baby goats] love the smell of Edwin Remmick's pipe.
Note:
As of this rewrite in Nov. of 1988-- My father and mother retired to a ten acre farm near Acampo, California and were given several goats which multiplied like rabbits. Presently, there are breeding championship Nubiens and the "culls" are used for meat. Their farm is called PEACOCK ACRES.